This Dr. Axe content is medically reviewed or fact checked to ensure factually accurate information.
With strict editorial sourcing guidelines, we only link to academic research institutions, reputable media sites and, when research is available, medically peer-reviewed studies. Note that the numbers in parentheses (1, 2, etc.) are clickable links to these studies.
The information in our articles is NOT intended to replace a one-on-one relationship with a qualified health care professional and is not intended as medical advice.
This article is based on scientific evidence, written by experts and fact checked by our trained editorial staff. Note that the numbers in parentheses (1, 2, etc.) are clickable links to medically peer-reviewed studies.
Our team includes licensed nutritionists and dietitians, certified health education specialists, as well as certified strength and conditioning specialists, personal trainers and corrective exercise specialists. Our team aims to be not only thorough with its research, but also objective and unbiased.
The information in our articles is NOT intended to replace a one-on-one relationship with a qualified health care professional and is not intended as medical advice.
30 Best Quinoa Recipes
June 14, 2018
If you are looking to spice up your meals, while adding loads of nutrition and texture, it's time to try nutrition-rich quinoa and the best quinoa recipes out there!
Quinoa is a seed that acts like a grain but beats the other grains hands down with a huge kick of nutrition. This hardy, nutrient-dense seed is packed with protein and manganese, and it's one of those key foods high in phosphorous. It also boasts an unusually high ratio of protein to carbohydrate and contains an amazing level of essential amino acids (1).
If you are looking to add protein, fiber and a host of vitamins and minerals to your diet, plus great taste and versatile texture, try out these tasty quinoa recipes below. Not only is this superfood good for you, but it's delicious and easy to incorporate into your diet.
History
2013 was the "International Year of Quinoa" as designated by the United Nations due to its nutritional content and its ability to thrive in a variety of temperatures, soil conditions and elevations. (2) Native to Peru and Bolivia, it's now being grown in Canada, Kenya and other diverse ecological systems. Sacred to the Incans, quinoa has been cultivated in the harshest conditions, without need for pesticides, herbicides or irrigation for over 7,000 years.
This rising food star is related to beets, spinach and chard and is available in white, red or black. The bitter coating naturally protects it from insects and other pests but is easy to remove by a thorough rinsing. Today, most quinoa available at grocery stores is pre-rinsed; however, you can rinse the quinoa prior to cooking to remove any residual bitterness that may remain.
Whether you select white, red or black quinoa, you can rest assured that your family is getting one of the purest and most natural forms of protein available from the plant world. Being gluten-free, it's an ideal addition for those who have a gluten intolerance or celiac disease (3). Try these quinoa recipes below to add this extraordinary seed, that acts like a grain, to your diet.
How to Cook Quinoa
Quinoa is easy to cook:
1. Bring water or broth to a boil in a saucepan.
2. Add your quinoa. You want to use a 2:1 ratio of water/broth to quinoa, or one cup quinoa to two cups water or broth. One cup raw quinoa makes about three cups of cooked quinoa.
3. Reduce the heat and simmer for about 15–20 minutes (or until most of the liquid is absorbed and quinoa looks bigger, feels tender and starts to separate).
4. With a fork or spoon, break up the quinoa and fluff it up to get all the seeds separated. And you're done!
You can store cooked quinoa for a few days, and it will retain its texture (much better than pasta will, actually).
30 Best Quinoa Recipes
Ready to give quinoa a try? Here are our top 30 quinoa recipes that will not only make you fall in love with this amazing seed, but enjoy all the quinoa health benefits as well.
Note: I recommend using natural sweeteners like raw honey, real maple syrup or organic coconut sugar to get the most nutrients out of these recipes. Also eliminate conventional cow's milk and use coconut milk, almond milk or organic grass-fed goat milk or cheese, replace table salt with sea salt, and replace canola and vegetable oil with coconut oil, olive oil or ghee. Replace olive oil with avocado oil when cooking at a high temperature.
Quinoa Recipes for Breakfast
Yes, you can enjoy quinoa for breakfast! This superfood is a great way to start your day, giving you a boost of one of the more unexpected high-protein foods as well as essential nutrients to keep your energy levels high until lunch. Try these hearty and delicious quinoa recipes for breakfast!
Did you know that quinoa has more than twice the fiber, protein and potassium as oatmeal? If you have gotten tired of the same ole oatmeal, try this slightly sweet and satisfying coconut quinoa porridge. Start making the quinoa as you sip your tea or coffee and let it finish cooking while you are getting ready. Plus, it calls for coconut oil, and the health benefits of coconut oil are many, including being good for your immune system. This vegan-friendly recipe would be great topped with a sprinkling of chopped nuts or fresh fruit.
Who says breakfast has to be sweet? Savory breakfasts can keep you from the mid-morning dip in energy that naturally follows an overly sweet breakfast. In the morning, cook quinoa as directed, adding the vegetables until liquid is absorbed. Top with a fried sunny-side up egg (or a soft-boiled egg or poached egg) and enjoy this nutrient-dense, fresh and satisfying breakfast.
A healthy, gluten-free way to get your day started! This is one of the quinoa recipes for breakfast that pairs perfectly with pure maple syrup or raw honey for some added sweetness!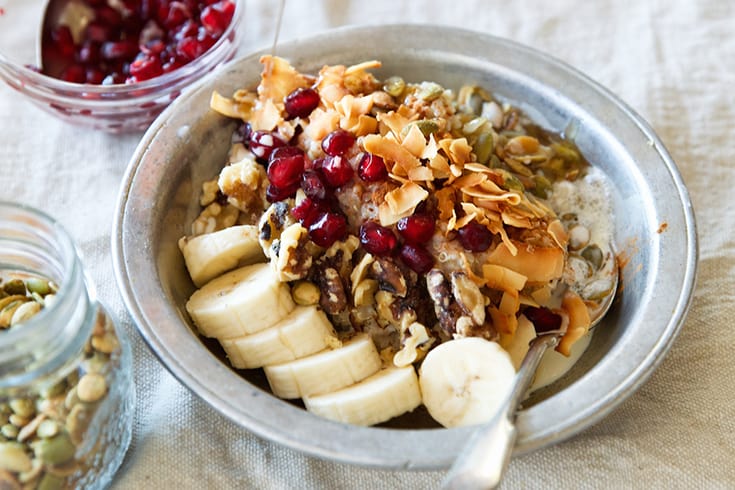 This basic quinoa recipe is loaded with protein and iron. This is a breakfast meal that you can tailor to your own tastes with different toppings options to create several variations!
Do you have an abundance of fresh fruit or blueberries waiting to be consumed? This vegan-friendly warm quinoa bowl is made with unsweetened almond milk, quinoa and vanilla extract, and then topped with fresh fruit. High in protein, low in fat, this breakfast helps you to start the day with the essential nutrients you need to thrive until lunch.
One of my favorite breakfast foods is eggs. Scrambled, poached or fried in coconut oil, they are a great source of nutrition. When added to quinoa, it really gets your energy going for the day. Try this quinoa scramble with avocado for a delicious grain-free, hearty and nutrient-dense breakfast. Mix it up by adding a spicy salsa or black beans for an extra boost.
This is a basic quinoa recipe that is simple and delicious! It's vegan, vegetarian, gluten-free and packed with protein.
This is one of the amazingly simple quinoa recipes for breakfast that features toasted pecans, cinnamon and dried cranberries. Feel free to substitute the dried cranberries for raisins or even dried cherries. Be sure to use pure maple syrup or raw honey.
Quinoa Recipes for Lunch
Tabbouleh has been enjoyed for generations throughout the Middle East. By replacing the bulgur with quinoa, this side dish moves to center stage. The magnesium-rich food quinoa is also high in protein and potassium, making it perfect for your mid-day meal.
This is one of the quinoa side dish recipes that are filling and satisfying. This salad is packed with cucumbers, tomatoes and scallions and is easily prepared in advance. Don't worry about the garlic in the salad dressing; the fresh mint and fresh parsley are natural breath fresheners. Quinoa tabbouleh travels well, making it perfect as a healthy lunch at your desk, or packed into school lunches.
Packed with all of the flavors you love from Italy, this quinoa salad recipe is perfect for lunch, or a quick dinner. Quick and easy to prepare, the combination of tomatoes, basil and mozzarella, topped ever so lightly with olive oil is satisfying and healthy.
The recipe calls for red quinoa, adding to the visual appeal, but any color of quinoa will suffice. Speed up the preparation by using leftover quinoa, and in just a matter of minutes, you can be enjoying this light, flavorful and healthy lunch.
This Greek-inspired burger feels like a splurge, but in reality, it's packed with protein from the quinoa, beans and yogurt. Prepare the burgers as directed a day ahead and brown just before serving. Instead of cooking these quinoa burgers in olive oil, brown in coconut oil for extra healthy coconut oil benefits. Top as desired with cucumber, fresh tomatoes, yogurt sauce and enjoy!
To make this a healthy and healing option, I always switch out the off-the-shelf pita and choose a sprouted grain bun or homemade sourdough. This tangy, protein-dense treat will quickly become a favorite in your home.
Fall brings some of the most beloved vegetables of the year, and this hash recipe is sure to please. For a quick lunch, use leftover quinoa and roast the sweet potato and beets the evening before. Prior to serving, poach an egg to top this earthy, colorful and luscious combination.
This is another quinoa recipe for salad that is as nutritious as it is beautiful. In this recipe, the quinoa is tossed with radishes, cucumbers, almonds, dates, cheese and a zesty lemon dressing. Then, you top it with chunks of avocado! Abundant with flavor and texture, this is one of my must-try quinoa recipes.
This vegan-friendly wrap incorporates a variety of textures and flavors, making it a satisfying and nutrient-dense meal. The golden raisins add a touch of sweetness, the salty pumpkin seeds add crunch and the tapenade just adds a touch of acidity.
For this recipe to meet my approval, I always substitute sprouted-grain tortillas. For those following a gluten sensitivity diet, use gluten-free tortillas. And if you are going to take this to work for lunch, pack the filling separate from the tortillas and wrap just before serving to avoid sogginess.
Who doesn't love a quesadilla? This recipe incorporates broccoli and quinoa into this traditional dish, boosting the protein, while helping to lower cholesterol. Replace the cheddar cheese for a cheese from my Healing Foods Shopping List, and use tortillas made from sprouted whole grains. If you like something to dip your quesadilla in, mix goat's milk yogurt with a touch of lemon or lime juice and enjoy. You could even try this quinoa recipe with chicken as well!
Quinoa Recipes for Dinner
Do you need to break out of your quinoa routine? Is your go-to recipe for quinoa just cooking it with stock or water and serving it as a side dish? Then these recipes will break you out of the rut, provide outstanding nutrition and satisfy even the choosiest of eaters.
Winter squashes — including delicata, acorn and the dumpling squash this heavenly recipe calls for — add a sweet, creamy and rich addition to your plate. Perfect for a fall evening with family, this easy recipe combines quinoa with dates, pistachio nuts, onion, lemon and a touch of cinnamon. Serve as a side dish for roasted meats, or as the main course with a salad. Try it, and maybe it will make the cut for your Thanksgiving table!
Are you ready for a healthy, filling and exotic dinner featuring quinoa? Falafel has been updated in this Middle Eastern classic with the addition of quinoa. The combination of chickpeas, fresh herbs, spinach and tahini in these baked falafel patties pairs perfectly with avocado dressing, warm sprouted pita bread and some tzatziki.
This dish proves that we do eat with our eyes first. The combination of quinoa, brown rice, carrots, broccoli, kale, shitake mushrooms, avocado, tahini and sprouts creates a warm and inviting dish that is packed with vitamins, minerals, fiber and protein. Perfect as a main course, this vegan-friendly bowl of goodness is guaranteed to satisfy.
In less time than it takes to have a pizza delivered, you can be enjoying this bowl full of pizza-inspired quinoa! Satisfy your pizza craving with this healthy alternative with all of the flavor — and none of the guilt. Quinoa provides the protein and satisfying chewy texture, while the arugula adds a bit of a bite.
Yes, one of the tastiest quinoa recipes is actually made for your slow cooker! Start in the morning … By dinner time, your house will smell divine, and your dinner will be ready. Enjoy a bowl full of this healthy, protein-packed chili without guilt. Top with fresh diced tomatoes, green onions and just a sprinkle of raw cheese.
Sometimes you just need something yummy and comforting. For those nights, try out this delicious quiche-style quinoa spinach bake. Sure to please every crowd, it's full of flavor and crunchy texture with a sesame crust.
22. Beef and Quinoa Stuffed Bell Peppers
Looking for a filling meal that doesn't feel heavy in your stomach? The beef and quinoa stuffed bell peppers recipe may just be the answer you've been searching for. This dish is bursting with flavor thanks to the green chiles and fire-roasted tomatoes.
This Indian quinoa recipe includes chickpeas, tomatoes, fresh cilantro and sweet potatoes. You can make different variations by substituting some of the veggies for your own favorites. If you don't have any garam masala, substitute it for curry powder.
Desserts and Snacks
Quinoa is truly one of the most versatile foods on the planet. Quinoa for breakfast, lunch and dinner — but how about for snacks and yummy desserts, you ask? Here you go!
Not only is this quinoa chocolate bark not full of high fructose corn syrup, it's actually filled with incredible superfoods like quinoa, chia seeds and hemp seeds.
Healthy fudge? Well, it can be in moderation. Just don't splurge on it every day. This vegan, gluten-free fudge is rich and decadent, with the texture of a chocolate truffle. To keep fresh, be sure to refrigerate as directed. The key to this recipe is transforming quinoa into flour; this is easily accomplished with a coffee grinder or blender. And definitely forego the agave syrup in favor of maple syrup.
Who doesn't love a guiltless midday snack? This spin on the classic snack allows rice to be substituted for quinoa. This basic quinoa recipe is sure to be a staple in your snack stash.
Similar to traditional rice pudding, this creamy quinoa pudding recipe combines quinoa, milk (or your favorite nut milk), cinnamon and vanilla for a rich dessert. Instead of the sugar called for in the recipe, use coconut sugar or raw honey. Top with your favorite fresh berries and enjoy.
When you just need to splurge and have a cookie, try this recipe that includes only five simple ingredients. Unsweetened coconut, quinoa, raw honey, egg whites and a pinch of sea salt are the only ingredients you need for this treat.
This is a delicious midday snack to have at work or on the go. This recipe is perfect to get a heap of fiber, protein and healthy fats to help you feel full … Not to mention the potassium from the banana and vitamins and minerals you're obtaining from the zucchini. You can't go wrong with making this snack!
A basic quinoa recipe that is quick and easy to make! Feel free to use real eggs, flax eggs or another egg substitute of your liking. This is a simple snack recipe that helps you stay on track with your dieting needs and is delicious, too.
Final Thoughts
Quinoa is truly a versatile food. Don't limit quinoa to a simple side dish cooked with water. It adapts well to a variety of cuisines, including Middle Eastern, Italian, Mexican, Indian and many others.
Even if you haven't enjoyed quinoa in the past, pick a few of these recipes to try. Much of the preparation for these recipes can be completed in advance. So why not cook up a big batch of plain quinoa and try a few of these quinoa recipes this week?