Double Layer Nachos Recipe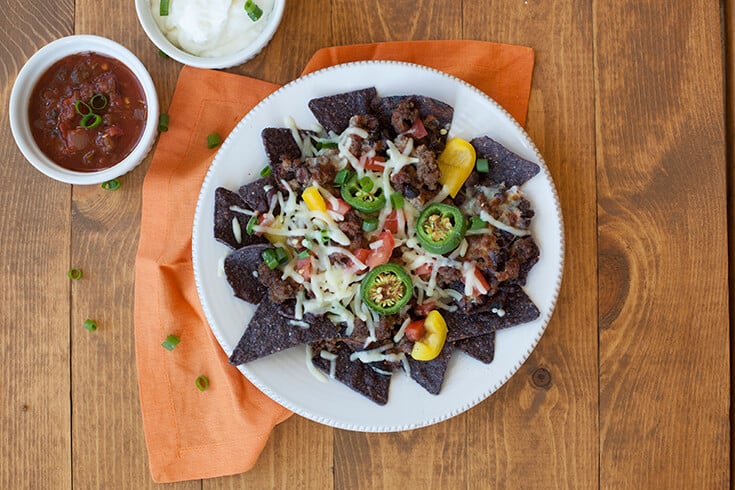 Nachos are one of my favorite appetizers to serve. They're cheesy, crunchy and always a crowd-pleaser. But you haven't had nachos until you've tried my Double Layer Nachos. These nachos are the real deal.
They are loaded with perfectly seasoned, grass-fed ground beef and topped with all sorts of delicious ingredients, like benefit-packed raw goat milk cheese, fiber-rich black beans and spicy jalapeños, so each bite is packed with flavor. If the sound of everything delicious baked in one dish gets you excited, let's make these double layer nachos.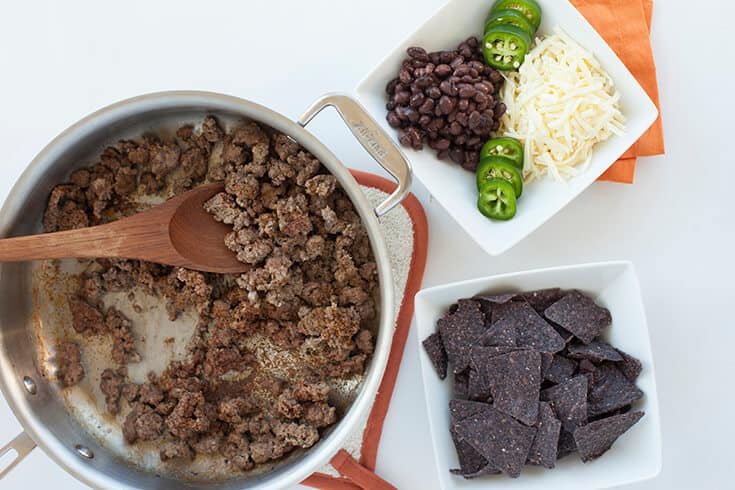 We'll begin by heating a skillet over medium-high heat and add in the ground beef, chili powder, cumin and salt. Since the beef has its own natural oil, there's no need to add oil.
Cook until the beef is no longer pink and is done, about 10 minutes. Remove the pan from heat and crank up the oven to 425 F. Arrange a layer of chips in a 9 x 13-inch baking dish or roasting pan. Add half of the beef and cheese to the chips.
Then, arrange another layer of chips in the pan. Here's where the double layer nachos come in! Sprinkle the rest of the beef onto the chips, then add the black beans, tomato, jalapeños and fresh peppers to the chips.Bake for 3-6 minutes in the oven, or until the cheese has just melted. Remove from the oven and serve with your favorite toppings. I enjoy these double layer nachos with scallions, salsa, sour cream or yogurt.
I love that these nachos are full of protein, fiber and fresh veggies and so simple to make. Serve these at your next game day party, as an appetizer or even as an easy weeknight meal. I hope you love these double layer nachos as much as I do.
---
Today and tomorrow, I'm hosting a free presentation all about what I've created to be the fastest and most authoritative way to become a Certified Essential Oil Coach.
And you're invited! Click Here to Register
Whether you're in pursuit of essential oil mastery or you want to build an essential oil business, this is a must-see presentation. Plus, I've set aside a half hour to answer your questions.
Like I said, no charge and you can register here.
Double Layer Nachos Recipe
Total Time: 20 minutes
Serves: 8-10
Ingredients:
1 pound ground beef
1 tablespoon chili powder
1 teaspoon cumin
¼ teaspoon salt
16 ounce bag organic corn chips
6-8 ounces raw goat's milk cheddar, shredded
15 ounce can of black beans, drained and rinsed
1–2 jalapenos, sliced
1 large tomato, diced
1 large orange or yellow pepper, diced
½ bunch scallions, chopped
One 16-ounce jar of salsa
Once 16-ounce tub of goat's milk yogurt or sour cream
Directions:
Heat a medium skillet on medium-high heat and add ground beef, chili powder, cumin and salt. Cook until beef is done, about 10 minutes. Remove from heat.
Preheat oven to 425 F.
Arrange a scant layer of chips on a roasting pan or 9 x 13 dish. Sprinkle half the beef and cheese on chips.
Arrange a second layer of chips on pan. Sprinkle the rest of the beef on chips.
Add beans, tomato, jalapenos, and peppers to chips and cover with remaining cheese.
Bake for 3–6 minutes, or until cheese is just melted.
Remove from oven, scatter scallions over nachos, and serve with salsa and yogurt or sour cream.
Get FREE Access!
Dr. Josh Axe is on a mission to provide you and your family with the highest quality nutrition tips and healthy recipes in the world...Sign up to get VIP access to his eBooks and valuable weekly health tips for FREE!
Free eBook to boost
metabolism & healing
30 Gluten-Free Recipes
& detox juicing guide
Shopping Guide &
premium newsletter