Gluten-Free Gingerbread Cookies
Gingerbread is a staple when it comes to holiday treats. The warm spices and sweetness from blackstrap molasses bring a delightful addition to your Christmas cookie collection. My gluten-free gingerbread cookies are perfect to add to your holiday traditions while packing some nutritional punch.
History of Gingerbread Cookies
Gingerbread has been around as far back as 2400 B.C. in Greece. The recipes adapted from country to country, and gingerbread was traditionally decorated with animals or nature.
Queen Elizabeth I is credited with the idea to decorate gingerbread cookies, which is why we see so many gingerbread man cookies these days. It was popular to make gingerbread men and other cookie shapes for fairs or dignitaries visiting the Queen's court.
When English colonists came to America, they brought their gingerbread recipes with them and typically baked gingerbread as soft loaves. (1)
Real Ginger Cookies… Without the Flour
These gluten-free gingerbread cookies wouldn't be anything without fresh and ground ginger added to them. Ginger has been used for thousands of years as tonics for ailments and was a priceless commodity in the Roman empire around the time of Christ. It's a powerful antioxidant and anti-inflammatory agent, and I personally keep ginger essential oil stocked in my cabinet.
Ginger can combat nausea, indigestion and even stroke and heart disease. I've included fresh ginger and ginger powder in my gingerbread cookie recipe to really pack in the powerful, healthful punch of ginger. If you have ginger essential oil on hand, this would be a perfect recipe to pour a drop or two in! Traditional gingerbread cookies have lots of flour, but I found a grain and gluten-free alternative to give these cookies a soft, chewy texture: cashew butter.
How to Make Gluten-Free Gingerbread Cookies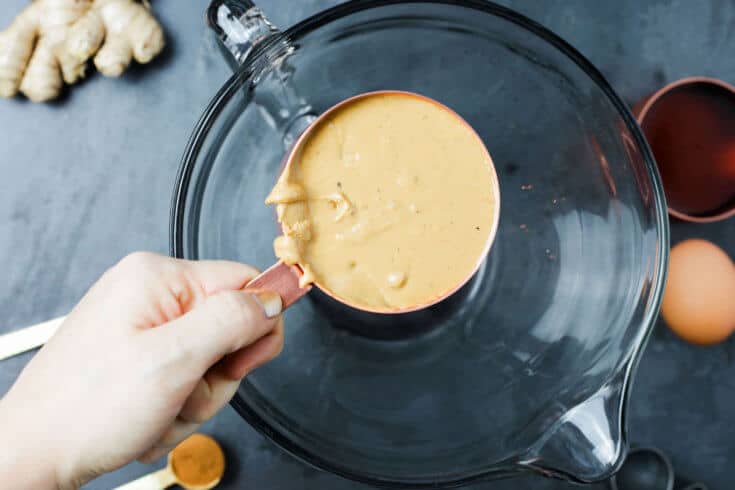 Line a baking sheet with parchment paper and set aside. You'll need to preheat your oven to 350 F. while preparing your cookies. This gluten-free gingerbread cookies recipe is super easy, because it only requires one bowl to mix it all up.
I used cashew butter as the "flour" for this recipe. Cashews and cashew butter are rich in minerals like magnesium, copper and zinc. Cashews are full of healthy fats, protein and dietary fiber, making it a filling snack. Add cashew butter into a large mixing bowl, along with my favorite natural sweetener maple syrup.
Next, pour in blackstrap molasses. Blackstrap molasses is a perfect pairing with ginger, and is a traditional sweetener for gingerbread recipes.
Like other natural sweeteners, blackstrap molasses is loaded with vitamins and minerals not typically found in refined sugar. It is high in iron, which can help relieve PMS symptoms in women, and vitamin B6, which can help reduce stress.
Take a knob of fresh ginger, peel, then grate about one tablespoon into the cashew butter mixture. The more fresh ginger, the spicier your gluten-free gingerbread cookies will be! I added one pastured egg to help bind the dough together.
A teaspoon of vanilla extract rounds out the ginger flavor and adds another nice layer of antioxidant power. Top off the cashew butter mixture with cinnamon, ground ginger and sea salt. Mix all this together until well-combined.
I also added in fiber-rich coconut flour to soak up some of the moisture of the dough, and keep these gingerbread cookies Paleo-friendly.
Take a tablespoon and scoop out each cookie and place on the parchment lined baking sheet. The dough is sticky, so put water on your fingertips to help scoop the cookie dough onto the parchment paper. Bake in the oven for 12–15 minutes.
*If you want to make a gingerbread man, roll out some of the dough onto the baking sheet and bake for 10–12 minutes. Remove from oven, use a gingerbread man cookie cutter to cut out the shape, and place back in the oven to bake for a couple more minutes. The dough is soft and easily crumbled, so handle him delicately!
Ingredients:
1 cup cashew butter
½ cup maple syrup
¼ cup blackstrap molasses
1 tablespoon fresh grated ginger
1 egg
1 teaspoon vanilla extract
1 teaspoon cinnamon
1 teaspoon ground ginger
½ teaspoon sea salt
⅓ cup coconut flour
arrowroot starch, for dusting (optional)*
Directions:
Preheat oven to 350 F.
Line a baking sheet with parchment paper and set aside.
In a large mixing bowl, add in cashew butter, maple syrup, blackstrap molasses, fresh ginger, egg, vanilla extract, cinnamon, ground ginger and sea salt.
Stir until well combined.
Add in coconut flour and mix well again.
Use a tablespoon to measure out the dough for each cookie.
Bake for 12–15 minutes.
Remove from oven and dust cookies with arrowroot starch for added effect, if desired.
Get FREE Access!
Dr. Josh Axe is on a mission to provide you and your family with the highest quality nutrition tips and healthy recipes in the world...Sign up to get VIP access to his eBooks and valuable weekly health tips for FREE!
Free eBook to boost
metabolism & healing
30 Gluten-Free Recipes
& detox juicing guide
Shopping Guide &
premium newsletter