Slow Cooker Pot Roast Recipe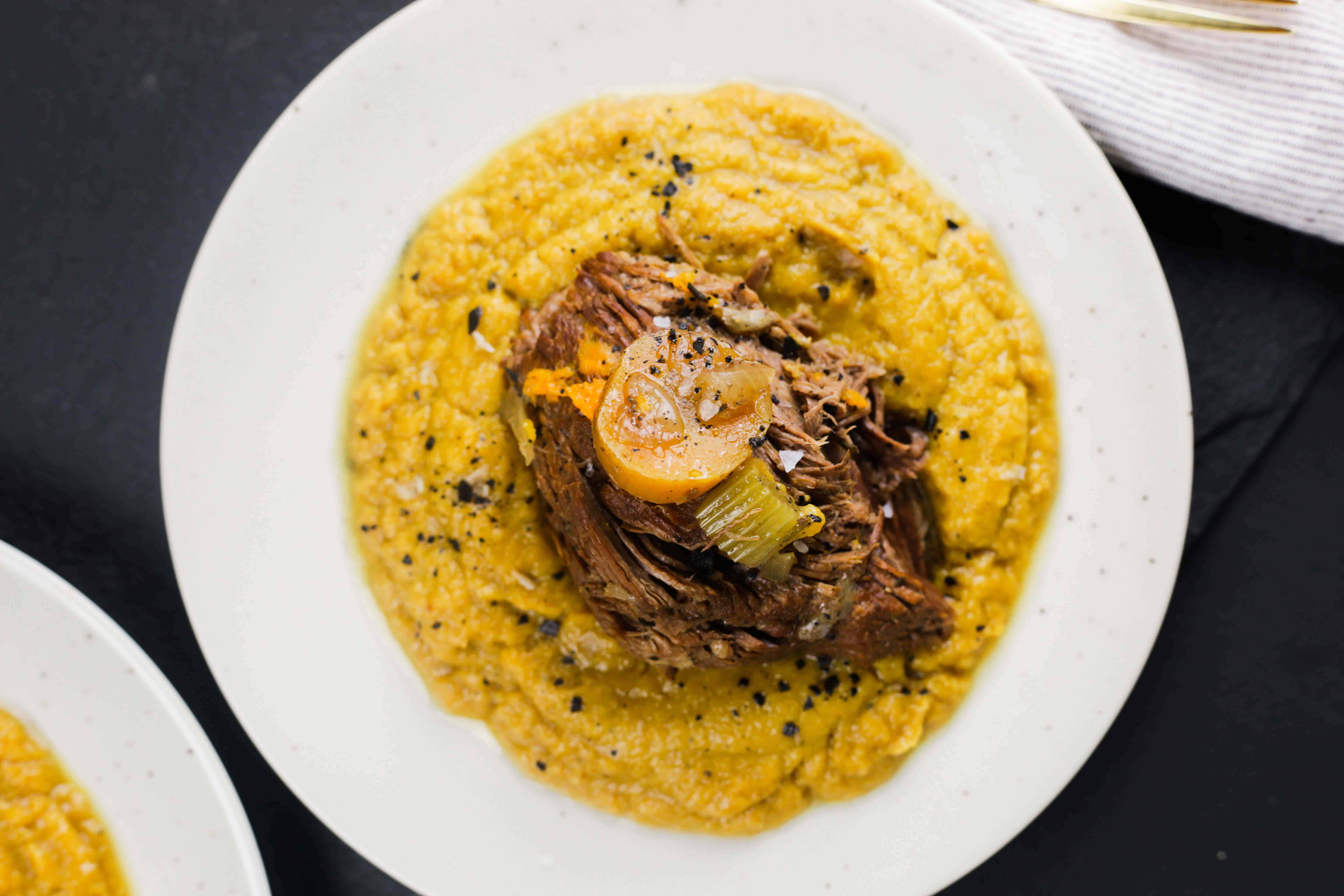 Pot roast is one of my favorite meals during the cold months of winter. It's hearty and filling, and it's packed with nutrients that will boost your immunity. This slow cooker pot roast recipe allows you to prepare a healthy dinner for the family with minimal time and effort, helping you to relieve stress during your busy day.
Short History of the Pot Roast
Pot roast is an American version of the French dish Boeuf à la mode or "beef in the style." French and German immigrants brought this method of tenderizing meats to the United States. It serves as a way to prepare a tougher cut of beef what wouldn't break down as easily in the oven. By slow cooking the meat in liquid, along with vegetables in season, it becomes tender and creates a rich and flavorful gravy.
Slow Cooker Pot Roast Recipe
The best thing about this slow cooker pot roast recipe — all it takes is some chopping and your work is done. Start by placing 2 to 3 pounds of boneless chuck roast at the bottom of the slow cooker. Then it takes about 10 minutes to prepare your vegetables and seasoning. Chop 2 parsnips, 2–3 carrots, 2 stalks of celery and a red onion, then add it all to the pot.
These root vegetables have a number of health benefits. Research suggests that the vital nutrients found in many root vegetables, including vitamin A, vitamin C, potassium, magnesium and dietary fiber, can help you to fight cancer, diabetes, obesity and inflammatory-based disorders like heart disease and arthritis. (1) Plus, they tend to be low in calories and have a low glycemic index load.
The combination of garlic and thyme will help to bring out the traditional flavor of this pot roast — I add one and a half teaspoons of each.
Did you know that thyme has a long history of use as a medicinal healer and protector? Thyme has strong antimicrobial properties, it can help to reduce blood pressure and cholesterol levels, and it works as a natural remedy for coughs, which are so common in the winter months. (2)
Next I add 1 to 2 teaspoons of salt and pepper and 2 bay leaves, which I'll take out later before I serve my pot roast.
Now for the liquid, which is what tenderizes the meat and softens the vegetables. You want to cover the roast and veggies with liquid, so about 1–2 cups of water and 1 cup of beef bone broth.
The healing power of bone broth cannot be overemphasized. Bone broth contains minerals in forms that your body can easily absorb. Plus, it helps to protect your joints, maintain healthy skin, heal your gut, boost detoxification and support immune function. If you don't have beef bone broth on hand, you can add protein powder made from bone broth to water instead.
After about 8 hours in the slow cooker, your pot roast is ready. You can serve it as is, or you can separate some of the vegetables and create a creamy base for your meal.
Simply add half of the vegetables from your pot roast and some of the liquid to a blender or food processor, and puree the mixture to create a velvety base for your roast. This really adds some decadence to your meal.
I love loading my plate with veggies because they are low in calories and provide a ton of immune-boosting nutrients, and I think puréeing the vegetables for this dish makes that even easier. Now I can control my portion of meat versus veggies.
How easy was that? Crockpot recipes like this make it easy to prepare healthy every day. Your slow cooker pot roast is ready to be served … enjoy!
Total Time
Prep: 10 minutes; Total: 8 hours 10 minutes
Ingredients:
2–3 pounds boneless chuck roast
2 parsnips, chopped
3–4 carrots, chopped
3 stalks celery, chopped
1 red onion, chopped
1½ teaspoon thyme
1½ teaspoon garlic
1–2 teaspoons salt
1–2 teaspoons pepper
2 bay leaves
2 cups beef bone broth
1–2 cups water
Directions:
Add everything to a large crock pot and cook on low for 8 hours.
Serve as is or, add half of the vegetables from the pot roast and some of the liquid to a blender or food processor and puree the mixture, creating a velvety base for the roast.