This Dr. Axe content is medically reviewed or fact checked to ensure factually accurate information.
With strict editorial sourcing guidelines, we only link to academic research institutions, reputable media sites and, when research is available, medically peer-reviewed studies. Note that the numbers in parentheses (1, 2, etc.) are clickable links to these studies.
The information in our articles is NOT intended to replace a one-on-one relationship with a qualified health care professional and is not intended as medical advice.
This article is based on scientific evidence, written by experts and fact checked by our trained editorial staff. Note that the numbers in parentheses (1, 2, etc.) are clickable links to medically peer-reviewed studies.
Our team includes licensed nutritionists and dietitians, certified health education specialists, as well as certified strength and conditioning specialists, personal trainers and corrective exercise specialists. Our team aims to be not only thorough with its research, but also objective and unbiased.
The information in our articles is NOT intended to replace a one-on-one relationship with a qualified health care professional and is not intended as medical advice.
27 Healthy Grilling Recipes for Year-Round Deliciousness
July 14, 2022
With the dog days of summer upon us, it's a perfect time to get outside and fire up the grill. Whether you're confident in the kitchen or just starting out, cooking on the grill has plenty of benefits, especially when you cook up healthy grilling recipes.
Grill recipes tend to be simpler, grilling lets flavors shine through, and, of course, it helps keep the house cool during those warm days and nights.
The best part of healthy grilling recipes? There's no need to make the same boring dishes over and over again.
Skip the hot dogs and overcooked burger patties, and try some of these delicious grilled recipes instead. From hearty steaks to veggie-friendly pizzas, you can cook them all on the grill for less muss and fuss.
After all, even if you know how to eat out, it's always healthier to eat in.
And don't forget, the fun doesn't have to end when the hot weather does. For those of us in cooler climates, most of these healthy grilling recipes are easily adaptable to cook on a grill pan, in a skillet or in the oven, making them delicious options year-round.
27 Healthy Grilling Recipes
Meat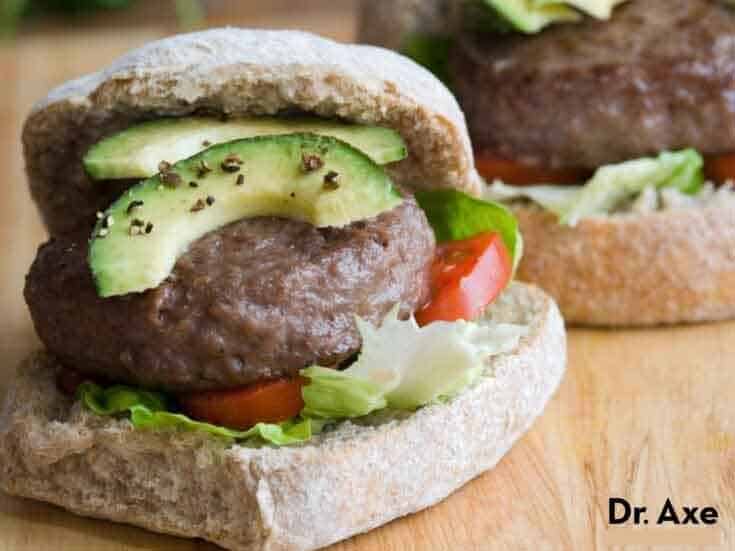 Get your healthy grilling recipes off to a fast start by using avocados, which are packed full of healthy fats. I love incorporating them into my diet in new ways, like topping this delicious bison burger.
Dijon mustard, fresh thyme and shallots add lots of flavor without compromising the bison taste. Be sure to let these burgers chill in the fridge before grilling so they don't fall apart!
When you need a Tex-Mex fix, this grilled fajita recipe should be at the top of your list. It's so simple to make: Add peppers and onions onto grill, place seasoned chicken on top, squeeze some lime juice and wrap it all up.
Warm up the tortillas on the grill, too, and finish the fajitas off with your favorite toppings. I love a sprinkle of cheese and fresh salsa.
If you're like me, you love flavorful chicken marinades that don't require many ingredients. With just a handful of standard ingredients, like nutritious coconut milk, lime juice and red onion, this one is easy to make and customize.
Cilantro haters, leave the herb out. Spice lovers, add extra jalapeno.
I do suggest sticking to chicken thighs. They're a lot juicier, and leaving the skin on imparts extra flavor. (If you'd like, you can remove the skin after cooking, though you'll lose the great grill marks!)
Serve these chicken skewers at your next barbecue or potluck. They're easy to make and cook up in just minutes.
Marinate bite-sized chicken pieces in a balsamic vinegar and honey mix for 15 minutes or even overnight to save time the next day. Grill the chunks, and use the reserved marinade to whip up a decadent-tasting sauce on the stove. Then brush it on the chicken pieces.
You're done! These make a great appetizer, or elevate them to main dish status by serving with grilled vegetables and a side salad.
Get all the benefits of a Mediterranean diet recipe right on the grill. With lemon juice, garlic and fresh veggies, it's got all the ingredients of a quintessential Greek dish that cooks up quickly.
While the kebabs taste great solo, make the accompanying tzatziki sauce to wow your taste buds.
These budget-friendly burgers have all the good stuff, like leafy green spinach, feta cheese, red onions and sun-dried tomatoes, mixed right into the ground turkey to ensure each bite is packed with something delicious. The yogurt-dill sauce that tops these healthy patties takes them over the top.

Photo: Peanut Butter & Peppers
When you have a craving for buffalo wings, skip the greasy bar version, and make your own instead. Use your favorite hot sauce, butter and celery salt for a homemade wing sauce.
Butterfly boneless, skinless chicken breast, stuff it with your favorite type of cheese, brush the sauce over it and grill — s simple yet so good. This is just as good without the cheese, too.
Try using this chicken to top a hearty salad or serving it alongside grilled vegetables.
If you think of chicken as boring, this grilled recipe might change your mind. It requires very little hands-on time: just enough to throw your favorite cut of chicken in a sealed plastic bag along with oil (I recommend using avocado oil), herbs, garlic, Dijon mustard and lots of zesty lemon juice.
Marinate for several hours or overnight, fire up the grill and there you have it — some of the juiciest chicken around.

Photo: Healthy Seasonal Recipes
This Thai-inspired steak is so infused with flavor, no one would blame you for thinking you're on a beach in Thailand. The secret is using coconut milk, coconut sugar, lime juice (and zest), fish sauce and grated ginger root as a marinade.
These tropical tastes are in each bite of steak long after the marinade has been discarded. Watch the meat closely while grilling these. Skirt steak, particularly when grass-fed, cooks quite quickly.
Don't forget the tiki torches!

Photo: Something Sweet Something Salty
When you want a new spin on poultry, this spicy wild turkey grilled recipe is it. After all, isn't anything wrapped in bacon a winner? If you can't find wild turkey, check your local farmers market, or grab turkey breast at the grocery store.
First, cut the breasts into one-inch chunks, and marinate for a few hours — you'll likely have all the ingredients for it already. Next, cut bacon slices in half (skip the pork and opt for beef bacon here).
Place one jalapeno and a turkey chunk in the center of each slice, wrap, and secure with a toothpick. Grill until the bacon is fully cooked, and let stand for five minutes before serving.
These are great as an appetizer and can easily be modified for a full meal. Just skip chopping up the turkey, and wrap a whole bacon slice around each breast instead.
A little sweet, a little zesty, this chicken belongs to the type of healthy grilling recipes that becomes second nature. Honey, lime juice, soy sauce and seasonings are the base of the marinade you'll make for the bite-sized chicken pieces.
Let them soak up the flavors for an hour, thread on skewers, then grill.
Make this on a busy weeknight: Prep the rest of your dinner, help the kids with homework while the chicken marinades and then enjoy.
Korean food is experiencing a renaissance in the U.S. In fact, kimchi is one of my favorite probiotic foods.
Don't fret if you can't make it to an authentic Korean barbecue joint. You can make the beef right at home thanks to this grill recipe.
Rice wine, low-sodium soy sauce, sesame oil, sugar (use coconut) and garlic are all part of the marinade, giving boring steak an Asian spin. Serve with brown rice and vegetables for an Eastern dining experience right at home.

Photo: The Iron You
If the thought of bun-less burgers brings up nightmares of sad, limp lettuce, then you're in for a treat. These beef patties are great in their own right, but with a grilled tomato "bun" and an avocado-yogurt sauce topping them, they go from good to amazing. That's right: Bye-bye, buns means hello, flavor.
Fish
A great option on hectic evenings, these healthy tuna steaks taste great and can be whipped up quickly. I love the crunch that the sesame seeds add and how much flavor scallions provide.
Grill these for just three minutes on each side to prevent overcooking, and serve with your favorite vegetables and a little extra soy sauce on the side!

Photo: Against All Grain
Wild-caught salmon is one of the most nutritious foods available and loaded with benefits. You'll love it in this blackened grilled recipe.
A spicy Cajun rub gets tempered by the sweet mango-avocado salsa. Peaches would also stand in well for mango, and the rub can do double-duty on chicken for those who don't enjoy fish, though this meal might just change their minds!
The marinade is a sweet ginger mix that keeps the salmon tender. Always be sure to use wild-caught salmon, not dangerous farm-raised fish, or swap out another fish. Mahi-mahi would taste just as good.
Serve this with a side of veggies and a pat of butter for a summer meal that everyone will love.
Together, lemon and dill make a refreshing flavor combination. These salmon skewers with lemon and dill are perfect for a large get-together or as a go-to weeknight meal.
Just be sure to swap out the olive oil for an oil with a higher smoke point, like avocado oil.
Vegetarian
Photo: Foodness Gracious
These artichokes are billed as an appetizer, but I love them as a side dish, too. The artichokes are trimmed and steamed, then are finished off on the grill for a smoky flavor.
Drizzled with melted butter, rosemary and a little Parmesan cheese, you'll want to make extras. Bonus: Because they're messy, kids love 'em!

Photo: Veggie Belly
Thanks to its meaty texture, nutrient-dense eggplant is the star in this burger recipe. You'll whisk an Italian-style dressing, made of olive oil (I recommend swapping for avocado oil), balsamic vinegar and Italian seasoning, onto thick eggplant slices.
Grill the eggplant first, and then grill the halloumi cheese. If you substitute another cheese, like mozzarella or feta, skip grilling it, or you'll have a real mess on your hands!
After your eggplant slices and cheese are grilled, assemble the burgers by stacking one slice of eggplant, another of cheese and a dollop of pesto (try my homemade Basil-Tomato Pesto) onto a bun. Top with lettuce, tomato and any other favorite burger fixings, and enjoy.
Who says vegetarians can't have it all? This portobello-based burger proves that carnivores don't have a monopoly on the barbecue favorite.
Mushrooms are brushed with a coconut oil, balsamic vinegar and garlic mix and then grilled to perfection. Served atop a bun with grilled red peppers, tomatoes and onions, even non-vegetarians will want some of these.

Photo: Add a Pinch
While it's a staple in the South, okra doesn't seem to have caught on throughout the country the way other "trendy" vegetables have. It's a shame, because okra is one of the best high-fiber foods and tastes great.
While it's often served fried, it's even tastier when grilled. With just some simple seasonings, this recipe turns a plain vegetable into a tantalizing side.
When grilled, potassium-rich sweet potatoes take on a sweet, caramelized flavor. When you add your favorite seasonings and fresh herbs, the result is a quick, easy and super healthy side dish or snack you'll feel great about serving.
Just be sure to swap out the olive oil for avocado oil or another oil with a high smoke point.
You read that right: nachos prepared right on the grill! Use your favorite tortilla chips, or make your own using organic corn tortillas.
With fiber-rich black beans, sour cream (go organic), tomatoes and scallions, these loaded chips make a great appetizer for barbecues or even a full dinner. Just add ground beef to the mix, and serve with a side of avocado for even more healthy benefits.

Photo: The Wicked Noodle
This is the mother of low-maintenance recipes. It's only three ingredients, including the nutrition-rich zucchini!
This resembles a pizza boat, but the addition of goat milk cheese makes it feel fancier.
After scooping out the zucchini seeds, season the vegetable with salt and pepper, and then add half the goat cheese, scooping marinara sauce on top. Add a little more goat cheese, and grill until the marinara sauce is bubbling, the cheese is warm and you can't stand refraining from eating any longer.
Sprinkle some fresh parsley or basil on top, and you're done!

Photo: Bev Cooks
The idea of this recipe is using naan, an Indian bread that's a staple at mealtimes, as the crust for this veggie-full pizza. Grill all the best summer vegetables — squash, zucchini, corn and asparagus — on the grill, and then chop them all up.
Spread pizza sauce on each piece of naan, add the grilled vegetables, then tomatoes and scallions and, finally, cheese.
Grill the whole thing until the cheese is melty and delicious. Perfection. Because these make individual pizzas, it's easy to tailor them to your family members' different tastes, but I encourage you to try the recipe as is — it's worth it!
Sometimes healthy grilling recipes can involve a simple wrap, bumping it up a notch by grilling the zucchini. It's then stuffed into a tortilla (also grilled) , along with creamy hummus, cheese, kale, onion and tomato.
The result is a quick, delicious meal that can be served for lunch or dinner.

Photo: The Pioneer Woman Cooks
You might be wondering what in the world lemon salt is. The short answer? It's what will transform ordinary, garden-variety zucchini into an out-of-this-world side dish.
The longer answer is that it's zucchini dressed with lemon juice and topped with lemon zest and kosher salt. I'd suggest serving this as a side, but it probably won't stay on the kitchen table long enough for that!