Secret Detox Drink Recipe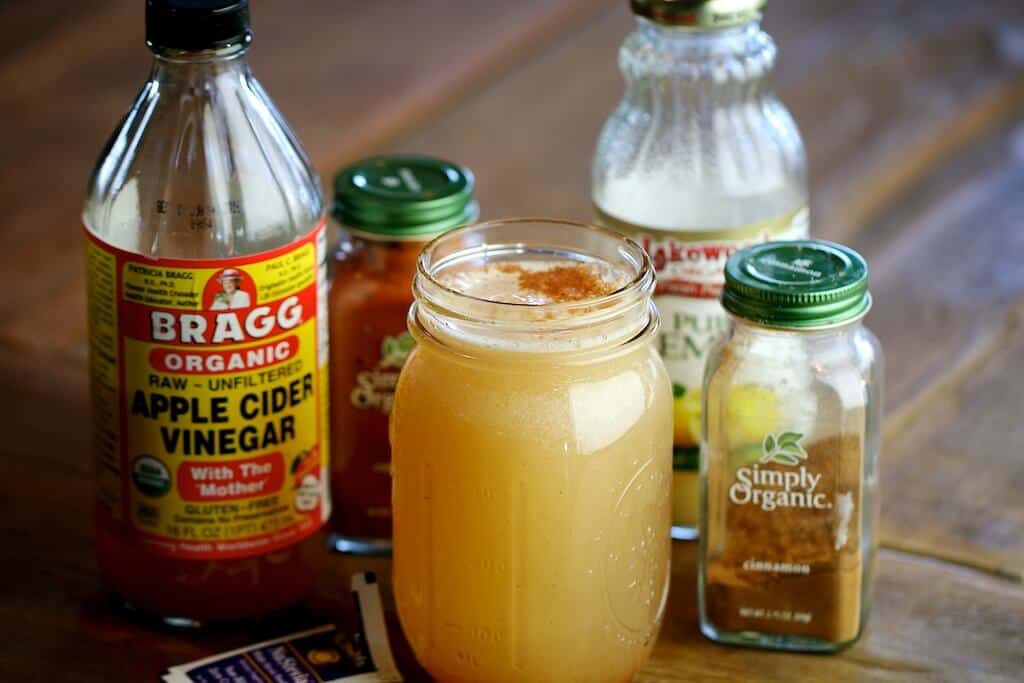 Ingredients:
1 glass of warm or hot water (12-16 oz.)
2 tablespoon apple cider vinegar
2 tablespoon lemon juice
½-1 teaspoon ground ginger
¼ teaspoon cinnamon
1 dash cayenne pepper
1 teaspoon raw, local honey (optional)
Directions:
Warm the water.
Mix all ingredients together.
Best served warm but drink at desired temperature.
Secret Detox Drink Recipe Ingredients
If you want to cleanse, lose body fat, boost energy and help reverse disease, then adding natural detox drinks to your diet can help you improve your quality of life … fast!
Try this Secret Detox apple cider vinegar drink recipe for fast results:
Apple Cider Vinegar is full of enzymes and good bacteria. It contains acetic acid, which has been shown to lower blood pressure up to 6 percent. It can also help eat up the starches if you do eat grains in your diet.
Lemon juice helps balance blood sugar and has an alkaline effect on your body helping to regulate PH. It also contains vitamin C.
Cinnamon is one of the best antioxidants on the planet. It's the number one herb/spice for balancing blood sugar.
Cayenne pepper has been shown to drop blood pressure, increase metabolism.
I recommend consuming this drink three times daily 20 minutes before meals for two weeks, then consuming it one time a day before breakfast or lunch.
---
From the sound of it, you might think leaky gut only affects the digestive system, but in reality it can affect more. Because Leaky Gut is so common, and such an enigma, I'm offering a free webinar on all things leaky gut. Click here to learn more about the webinar.
Get FREE Access!
Dr. Josh Axe is on a mission to provide you and your family with the highest quality nutrition tips and healthy recipes in the world...Sign up to get VIP access to his eBooks and valuable weekly health tips for FREE!
Free eBook to boost
metabolism & healing
30 Gluten-Free Recipes
& detox juicing guide
Shopping Guide &
premium newsletter