Dr. Axe

>

Recipes

>

Gluten-Free
Lemon Roasted Cauliflower Recipe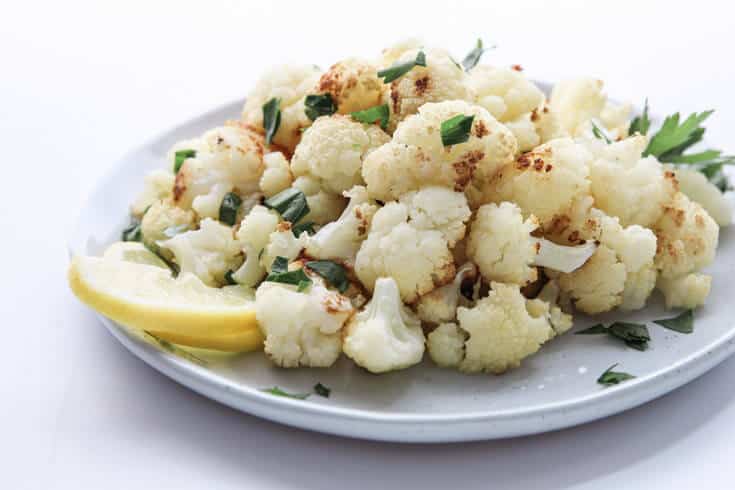 Ingredients:
2 tablespoons coconut oil
1 large head cauliflower, broken into bite sized pieces
1 clove garlic, minced
juice of ½ lemon
½ teaspoon sea salt
parsley as garnish (optional*)
Directions:
Grease baking sheet with oil.
In a mixing bowl, combine cauliflower, garlic and sea salt.
Spread on baking sheet.
Bake for 30–40 minutes at 425 F.
Sprinkle lemon juice over top and garnish.
Cauliflower has been the veggie darling for the past few years. I love using it to make a gluten-free cauliflower pizza crust with garlic and a grain-free, cauliflower mac and cheese. But sometimes you just want to use cauliflower and enjoy its great taste without sneaking it into other dishes. Enter this lemon roasted cauliflower recipe.
With just garlic, lemon juice and coconut oil, there are no overpowering flavors or obscure ingredients. Instead, you get an easy-to-prepare side dish that's elegant, tasty and good for you too. Let's get cooking!
Start by greasing a baking sheet with half the coconut oil. Then in a mixing bowl, combine the other half of the coconut oil along with the cauliflower, garlic and sea salt.
Spread the spruced up vegetable on the baking sheet and slide in the oven. Roast for 30–40 minutes at 425 F, turning the cauli pieces halfway through so they brown evenly.
When time's up, remove the pan from the oven and squeeze the fresh lemon juice onto the roasted cauliflower. Serve with lemon slices and parsley for some color and a little extra kick.
This recipe is fantastic as a side to a heavier main protein or even just to nibble on solo. Because it requires so few ingredients, when you make this lemon-roasted cauliflower, choose the best quality vegetable you can find — your local farmers market should have some good options.
Get FREE Access!
Dr. Josh Axe is on a mission to provide you and your family with the highest quality nutrition tips and healthy recipes in the world...Sign up to get VIP access to his eBooks and valuable weekly health tips for FREE!
Free eBook to boost
metabolism & healing
30 Gluten-Free Recipes
& detox juicing guide
Shopping Guide &
premium newsletter