Aioli Recipe: The Go-to Sauce for the Mediterranean Diet!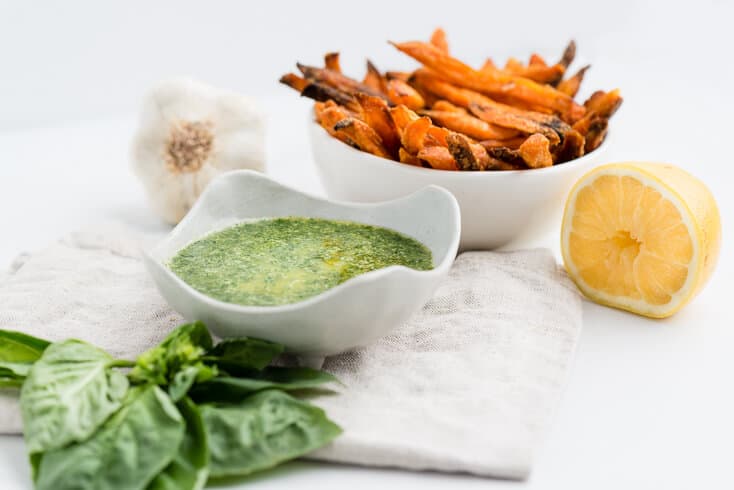 Aioli is often described as a flavored version of one of the most classic and relatively neutral condiments: mayonnaise. What is mayonnaise? Mayonnaise is a creamy, thick sauce typically made of oil, egg yolks, lemon juice or vinegar. Aioli typically contains plenty of fresh garlic, which takes the neutrality of mayonnaise up a few notches for sure.
This aioli sauce recipe contains healthier versions of the usual aioli/mayonnaise ingredients plus some bonus ingredients. I say "healthier varieties" because while many mayonnaise and aioli recipes contain genetically-modified canola oil, this aioli recipe includes extra virgin olive oil along with avocado oil. How else does this aioli recipe rise above? It also uses pink Himalayan sea salt rather than ultra-processed table salt. And if you love a good garlic aioli recipe, don't worry — this recipe contains a lot of garlic.
If you're looking for an aioli sauce recipe that stays true to the core ingredients yet has a slight twist, this recipe is going to be perfect for you. It is loaded with fresh, health-boosting ingredients so you end up with a super flavorful sauce that makes whatever it is added to that much better!
What Is Aioli?
Aioli sauce often appears in Mediterranean diet recipes, as it originated in the Mediterranean and is especially popular in areas of France (particularly Provence), Spain and France. So what is aioli? The Merriam-Webster aioli definition: a mayonnaise flavored with garlic and sometimes other ingredients (such as red pepper). (1) Aioli is spelled differently across countries, but our American way of spelling it is said to have its roots in the French word aïoli, from the Occitan or Provençal language of France. (2)
Nowadays, aioli is also very popular in the United States. Back in the 1980s, many people started calling any flavored mayonnaise "aioli." The name aioli is a combination of garlic (ai) and oil (oli), which makes perfect sense because these are two of any aioli recipe's most key ingredients.
Aioli is thought to be closely related to the classic emulsion known as mayonnaise. However, traditionally speaking, aioli was originally intended to be made by first grinding garlic with a mortar and pestle and then adding this garlic paste into the traditional mayonnaise ingredients. So originally, aioli was a garlic mayonnaise. In recent years, there are many twists on this "original" aioli recipe. (3)
For this aioli recipe, I included garlic, but I also added a popular herb. I'm talking about basil, which science has shown to have potent health benefits, including being an anti-inflammatory, pain-reducer, potential cancer-fighter, immune-booster, diabetes-preventer, stress-reducer and more! (4)
Nutrition Facts
One serving of this aioli recipe contains:
202 calories
22 grams fat
1 gram carbohydrate
1 gram protein
107 grams sodium
0 grams sugar
12.5 milligrams potassium
2.2 percent DV vitamin A
1.4 percent DV vitamin B12
1.5 percent DV vitamin B6
1 percent DV vitamin C
How to Make This Aioli Recipe
You have a lot of different options when it comes to how to make aioli more interesting and flavorful. Many people love lemon aioli or garlic aioli. Well, this recipe includes both lemon juice and garlic — plus a nice dose of basil.
As long as you have all of the ingredients on hand, this aioli recipe doesn't require much more than throwing them all in a food processor and blending. Then you have yourself  a delicious and dynamic sauce to enjoy as a condiment on sandwiches or as a dip for sweet potato fries.
First, you'll want to make sure you remove the stem from your fresh basil leaves.
After putting the basil leaves into the food processor, add in the raw garlic. The garlic can be whole cloves or chopped.
Next, add in the eggs yolks.
Add a tablespoon of lemon juice, ideally fresh lemon juice to really brighten up the flavor.
You're almost ready to blend. Put the olive oil and avocado oil into the food processor along with the pink Himalayan salt.
Blend all ingredients until well-combined. You may need to scrap down the sides of the food processor to get the aioli fully out of the food processor. Plus, you don't want to leave any of that goodness behind!
Use immediately as a dip with sweet potato fries or fresh veggies. You can also add it to your next healthy sandwich.
If you're not going to use your homemade aioli immediately, you can store in an airtight container in the refrigerator for up to two weeks.
Ingredients:
1 medium bunch of basil, leaves only
3–4 garlic cloves
2 egg yolks
1 tablespoon lemon juice
½ teaspoon Himalayan salt
¼ cup avocado oil
½ cup extra virgin olive oil
Directions:
Add everything to a food processor and blend until well-combined, scraping the sides down if needed.
Use immediately or store in an airtight container for up to two weeks.