Homemade Tartar Sauce Recipe
There are a lot of reasons to love tartar sauce. If you're a a big fan of seafood, it may already be one of your favorite condiments, but have you ever had homemade tartar sauce? With the perfect balance of creamy, salty, tangy and sweet, this tartar sauce recipe can be used on much more than a piece of fried fish.
What is tartar sauce? It is a condiment or dip that starts out with a base of mayonnaise or aioli and then has other ingredients added to it. Tartar sauce recipes can vary slightly, but most will add relish, onion, herbs and lemon juice.
Like other condiments, tartar sauce is only as good or as healthy as its ingredients, which pretty much always include mayonnaise and sweet relish or pickles. As you may already know, a lot of mayonnaise and pickle brands include unwanted preservatives, flavorings and coloring. Plus, sweet relish or pickles are usually loaded with refined sugar.
This recipe for tartar sauce includes homemade mayonnaise and probiotic-rich homemade dill pickles, which really takes the taste of this sauce to another level. It's also a paleo-friendly recipe. Before you keep reading, don't worry, how to make tartar sauce is not hard, and it's so worth the effort because homemade tartar sauce always has that freshness and flavor that you just can't get in any pre-made version.
What Is Tartar Sauce?
Since the 19th century, tartar sauce has been found in various cookbooks. It's name is said to come from the French name for this condiment: "sauce tartare". (1)
Tartar (sometimes misspelled as "tarter") sauce is most commonly paired with seafood, but it really goes great with a lot more than fish sticks or a fish sandwich.
Looking for more delicious tartar sauce combinations? Try using tartar sauce with:
Broiled fish
Burgers of all kinds — from grass-fed beef to chicken to veggie
Sandwiches
Baked potatoes
Salads (as a dressing)
Vegetable chips such as kale chips or zucchini chips
Nutrition Facts
One serving of this homemade tartar sauce recipe contains about: (2, 3, 4, 5, 6, 7, 8, 9, 10)
140 calories
0.6 grams protein
15.6 grams fat
1 gram carbohydrates
<1 gram fiber
0 grams sugar
140 milligrams sodium
14.7 milligrams cholesterol
4.3 microgram vitamin K (5.4 percent DV)
As I said earlier, one of the reasons this tartar sauce recipe is healthier than store-bought tartar sauce is the fact that per serving, this recipe has zero grams of sugar, which is great news for your blood sugar as well as your waistline.
Thanks to the inclusion of homemade dill pickles, this tartar sauce also has a noteworthy amount of vitamin K, which is vital to the human body for so many reasons. Two major health benefits of vitamin K include its ability to promote healthy blood clotting and optimal bone health. (11) The dill pickles also provide probiotics that are excellent for helping to heal leaky gut. (12)
How to Make Tartar Sauce
Why buy tartar sauce from the grocery store when this recipe barely takes any time out of your day? This easy tartar sauce can be made in only five minutes. So how do you make tartar sauce? Well, once you have all of your ingredients ready to go, you simply toss them into a blender or food processor and mix them up.
To prep for this tartar sauce recipe, you'll want to have your pickles and onions chopped up.
Start putting all of your ingredients into the blender. You can start by putting the solid ingredients like the onions and pickles in first.
Now add the garlic cloves.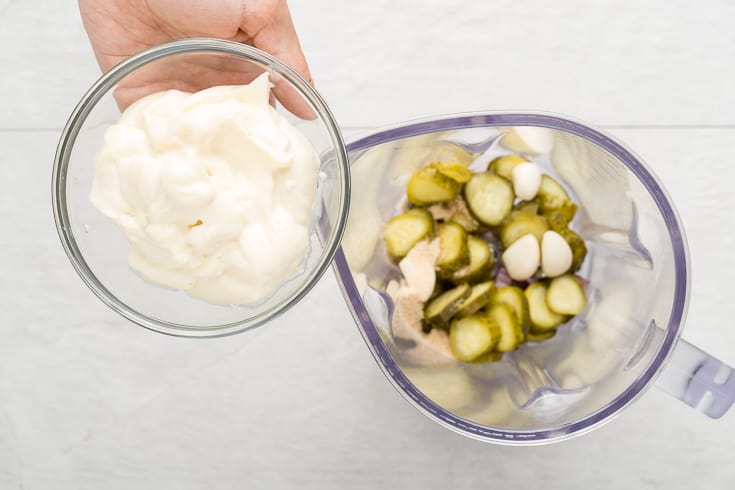 Next up is the key base ingredient: your homemade coconut oil mayonnaise or a high-quality paleo mayonnaise if you're pressed for time.
All of your tartar sauce ingredients are now in the blender or food processor. Put it on high until everything is well-combined.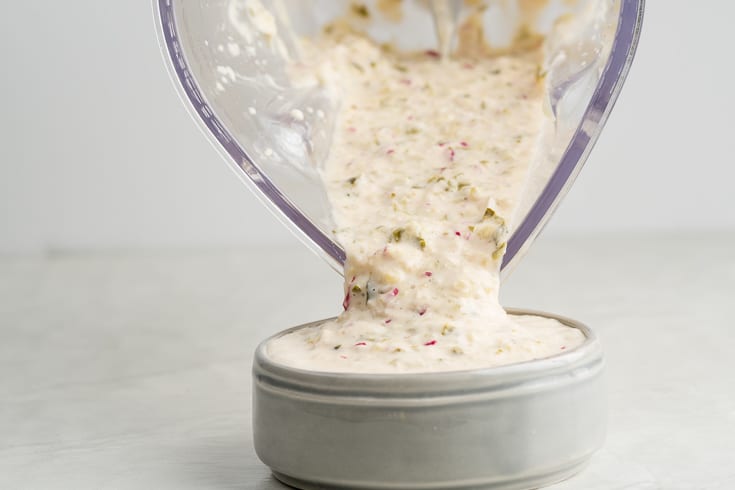 Now, serve and enjoy!
Ingredients:
1 cup paleo mayo or 1 cup Coconut Oil Mayonnaise
1 cup Homemade Dill Pickles
1 tablespoon fresh dill
1 teaspoon lemon juice
1 teaspoon maple sugar
¼ teaspoon freshly ground black pepper
2 tablespoons onion, finely chopped
2–3 garlic cloves
Directions:
Place everything in a food processor or high-powered blender, blending until well-combined.
Get FREE Access!
Dr. Josh Axe is on a mission to provide you and your family with the highest quality nutrition tips and healthy recipes in the world...Sign up to get VIP access to his eBooks and valuable weekly health tips for FREE!
Free eBook to boost
metabolism & healing
30 Gluten-Free Recipes
& detox juicing guide
Shopping Guide &
premium newsletter