Dr. Axe

>

Recipes

>

Gluten-Free
Ingredients:
1 bunch kale, chopped
1 tablespoon lemon juice
2 tablespoons coconut oil
¼ teaspoon sea salt
Directions:
Preheat oven to 350 degrees F.
Chop kale into ½-inch pieces.
Place all ingredients in a large bowl and massage the oil, lemon juice and sea salt into the kale using your hands.
Place on parchment-lined baking sheets and bake for 12 minutes.
When you're looking for something to munch on, it can be easy to turn to unhealthy snacks for a little bit of crunch. With this baked kale chips recipe, you don't have to. Only requiring 15 minutes, an oven, baking sheet and four ingredients, you'll be able to whip these up even on your busiest (or laziest) days.
---
The Most Versatile Snack
Kale nutrition is pretty impressive. These leafy greens are loaded with vitamin A, vitamin K and vitamin C, which help support the incredible health benefits of kale.
One thing I really love about kale chips is just how versatile they really are. These roasted kale chips fit just about any diet. Following a gluten-free, Paleo, vegetarian/vegan, gut friendly or ketogenic diet? You can have them!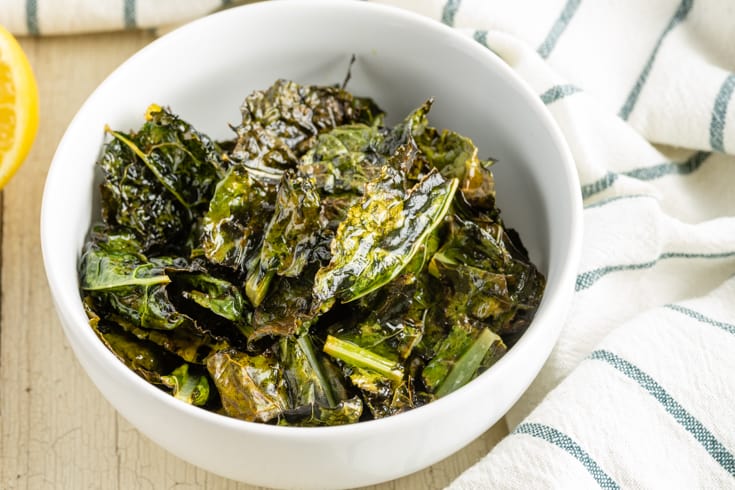 While this homemade kale chip recipe keeps things simple, you can always switch up the seasonings for something like paprika … or even parmesan (or nutritional yeast like in these spicy kale chips for those with dairy intolerances).
Some kale chip recipes will call for olive oil, but olive oil actually has a low smoke point and begins to decompose at about 200 degrees Fahrenheit. When you heat olive oil above this threshold, it can oxidize and become rancid/toxic.
---
Kale Chips Recipe Nutrition Information
The nutrition information for these kale chips is not completely accurate since some of the coconut oil, lemon juice and salt drips down to the bottom of the bowl, but one serving of these kale chips (the recipe makes two) contains approximately the following: (1)(2)(3)(4)(5)
150 calories
2.41 grams protein
14 grams fat
3.61 grams carbohydrates
2.4 grams fiber
377.5 milligrams sodium
2,108 IUs vitamin A (42.16 percent DV)
7.6 milligrams vitamin C (8.44 percent DV)
96 milligrams calcium (7.38 percent DV)
.93 milligrams iron (5.17 percent DV)
---
How to Make Kale Chips
Start prepping for making this kale chips recipe by preheating the oven to 350 degrees Fahrenheit and lining a baking sheet with parchment paper.
Chop the bunch of kale into ½-inch pieces — but not before the kale is washed. Be sure to thoroughly dry the leaves. If you want, you can put them in a salad spinner, but patting them with a paper towel also works just fine.
Place all of the ingredients in a large bowl.
Massage the oil, lemon juice and sea salt into the kale using your hands.
Place on a parchment lined baking sheet and bake for 12 minutes.
Your homemade kale chips should be browned and crispy, but you can adjust the baking time to get the perfect amount of doneness for your preference. If you want crispy kale and your pan isn't big enough to hold all of your kale chips without much overlap, I recommend you do one batch and then another to avoid having hidden patches of mushy kale that couldn't quite get roasted. I used two baking sheets.
Once these chips come out of the over, you're done. Grab a kale chip and enjoy!
I hope you make this healthy low-carb, keto snack again and again.
Get FREE Access!
Dr. Josh Axe is on a mission to provide you and your family with the highest quality nutrition tips and healthy recipes in the world...Sign up to get VIP access to his eBooks and valuable weekly health tips for FREE!
Free eBook to boost
metabolism & healing
30 Gluten-Free Recipes
& detox juicing guide
Shopping Guide &
premium newsletter