Hydrating Watermelon Smoothie Recipe with Strawberries and Banana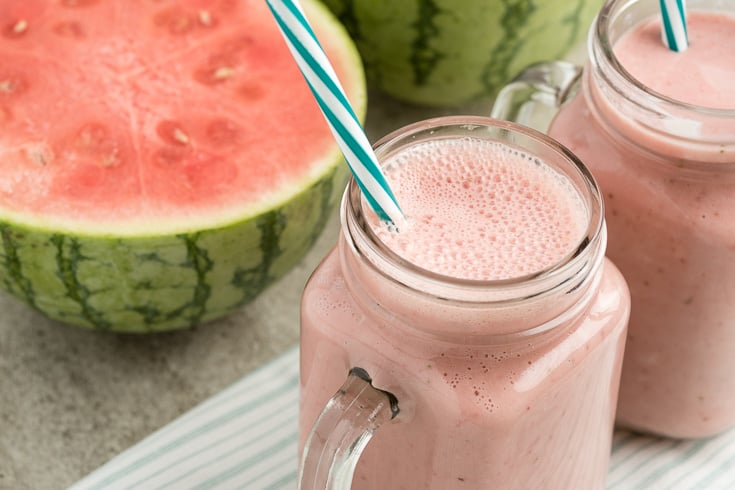 This fresh, sweet and thirst-quenching watermelon smoothie is exactly what you need to boost your energy levels, aid your digestion, improve the health of your skin and immune system and promote detoxification.
The watermelon and strawberries in this smoothie give it a sweet, delicious flavor, while the yogurt and banana provide the creamy texture that makes this smoothie go down easy. This is the perfect mid-afternoon snack or nutrient-dense dessert with a slew of health benefits.
A Delicious Hydrating, Detoxifying Smoothie
There are all kinds of water smoothies, but I really think this is one of the tastiest! This delicious watermelon smoothie is an easy way to promote detoxification, ridding the body of excess water and fluids that lead to bloating and swelling. Watermelon is a hydrating alkaline food that helps to balance your body's pH levels. It also promotes circulation and allows oxygen to reach your cells.
You're probably already familiar with watermelon's status as a thirst quencher. On a hot day, after a job or yoga class, or anytime you feel drained and weighed down by toxins or excess water, try this detoxifying watermelon smoothie and notice the benefits.
Nutrition Facts
One serving of my watermelon smoothie, without maple syrup, contains roughly the following: (1, 2, 3, 4, 5)
218 calories
7 grams protein
6.6 grams fat
36 grams carbohydrates
5 grams fiber
24 grams sugar
39 milligrams vitamin C (52 percent DV)
1032 IUs vitamin A (44 percent DV)
0.3 milligrams vitamin B6 (26 percent DV)
0.26 milligrams vitamin B2 (24 percent DV)
1 milligram vitamin B5 (21 percent DV)
0.45 micrograms vitamin B12 (19 percent DV)
0.15 milligrams vitamin B1 (14 percent DV)
1.5 milligrams vitamin B3 (11 percent DV)
37 micrograms folate (9 percent DV)
32 milligrams choline (8 percent DV)
215 milligrams phosphorus (31 percent DV)
0.5 milligrams manganese (31 percent DV)
74 milligrams magnesium (24 percent DV)
0.2 milligrams copper (23 percent DV)
212 milligrams calcium (21 percent DV)
1.3 milligrams zinc (17 percent DV)
655 milligrams potassium (14 percent DV)
7.9 micrograms selenium (14 percent DV)
1.2 milligrams iron (7 percent DV)
60 milligrams sodium (4 percent DV)
Here's a quick glance at some of the top health benefits associated with the ingredients in this watermelon smoothie:
Watermelon: Watermelon is a high antioxidant food that serves as an excellent source of vitamins A, C and B, potassium, magnesium and manganese. Consuming watermelon or watermelon juice can help protect the health of your skin, boost detoxification and support your immune system. (6)
Strawberries: Strawberries have a relatively low amount of sugar, and they are a good source of fiber. Plus, strawberry nutrition contains anti-inflammatory and anti-aging antioxidants that help protect you from chronic disease. (7)
Chia seeds: Chia seeds support the health of your heart and digestion. They are an excellent source of fiber and contain manganese, phosphorus, calcium and zinc. Eating chia seeds can help to fight against diabetes, promote strong, healthy bones and boost your energy levels. (8)
How to Make a Hydrating Watermelon Smoothie
Making this fresh watermelon smoothie is so easy. Depending on your desired smoothie viscosity, you can play around a bit with this recipe. If you like a smoothie that is slushy, you can try doing one or all of the following:
Use chunks of frozen watermelon rather than fresh.
Add a couple of ice cubes (this will also decrease the sweetness and up the water content).
Simply freeze your final product until it reaches your desired level of slushy goodness.
Start by adding 1 banana and ½ cup of frozen strawberries to your blender.
If you like your smoothies on the sweeter side, you can also add optional maple syrup, but I think you'll likely agree that the juices of the strawberry and watermelon chunks combined with the banana make this recipe perfectly sweet enough.
Then add in 1 cup of coconut yogurt and 2 cups of fresh watermelon (frozen watermelon can work too and will make the end result more slushy). An optional ingredient for this refreshing smoothie is a tablespoon of chia seeds, which I recommend because of their many health benefits and nutrients.
Blend the ingredients until they are well-combined.
Your smoothie will be creamy, frothy and delicious and it didn't take you longer than 5 mins. Enjoy!
Ingredients:
1 banana
2 cups fresh or frozen seedless watermelon
½ cup frozen strawberries
1 cup plain coconut milk yogurt
1 tablespoon chia seeds (optional*)
Maple syrup to taste (optional*)
Directions:
Add all the ingredients to a blender, blending until well-combined.
Get FREE Access!
Dr. Josh Axe is on a mission to provide you and your family with the highest quality nutrition tips and healthy recipes in the world...Sign up to get VIP access to his eBooks and valuable weekly health tips for FREE!
Free eBook to boost
metabolism & healing
30 Gluten-Free Recipes
& detox juicing guide
Shopping Guide &
premium newsletter