Slow Cooker Beef Stew Recipe
How do you make beef stew from scratch? It's actually not as hard as you might think, especially if you're using this beef stew slow cooker recipe. With delicious and nutrient-rich ingredients like grass-fed beef, carrots, parsnips and hearty beef broth, this just may be the best beef stew recipe you've ever tasted!
Unlike stove top beef stew recipes, you don't have to worry about watching or stirring with this easy version of a classic recipe. This recipe for beef stew only takes about five minutes to physically make, and the rest is just effortless cooking time.
Get ready to create one of the tastiest beef stew recipes around!
The Ultimate Winter Comfort Food
Homemade beef stew recipes provide a comforting mix of flavors, textures and warmth that can't be beat, especially in the colder months of the year. Many people are looking for an old-fashioned beef stew recipe to experience that same goodness they loved eating as kids.
How do you make old-fashioned beef stew? It's really not very different from this beef stew recipe at all. An old-fashioned beef stew meat recipe typically contains potatoes, but I'm using parsnips here instead because of their notable nutrition as well as their distinct earthy flavor that pairs so well with beef.
Unlike old-fashioned beef stew recipes, I'm also leaving out the unhealthy refined vegetable oil and using avocado oil instead. I'm also keeping this recipe completely gluten-free by using arrowroot starch rather than wheat flour.
Are you wondering, "How do you make beef stew on the stove?" You could use the same ingredients listed here, but you would have to brown the meat and the onion, combine all of the ingredients in a large pot, bring it to a boil, reduce the heat to low and then let it simmer for two hours, stirring every so often.
But if you want a quicker, easier recipe, stick with the directions I've laid out here.
Recipe Nutrition Facts
Is beef stew good for you? One of the best ways to answer this questions is to show you its impressive nutritional content. One serving of this easy beef stew recipe contains about: (1, 2, 3, 4, 5, 6, 7, 8, 9, 10, 11, 12, 13, 14, 15, 16, 17, 18)
450 calories
38 grams protein
18 grams fat
32 grams carbohydrates
5.2 grams fiber
14.5 grams sugar
106 milligrams cholesterol
770 milligrams sodium
8,383 IUs vitamin A (over 100 percent DV)
33 milligrams vitamin C (37 percent DV)
4.2 milligrams iron (23 percent DV)
679 milligrams potassium (14 percent DV)
34 micrograms folate (8.5 percent DV)
0.1 milligrams thiamin (8.3 percent DV)
92 milligrams calcium (7.1 percent DV)
1.2 IUs vitamin D (6 percent DV)
0.1 milligrams vitamin B6 (5.9 percent DV)
51 milligrams phosphorus (4.1 percent DV)
16 milligrams magnesium (3.8 percent DV)
0.5 milligrams vitamin E (3.3 percent DV)
0.4 milligrams niacin (2.5 percent DV)
0.2 milligrams zinc (1.8 percent DV)
How to Make This Beef Stew Recipe
How do you make homemade beef stew? It's truly a 1-2-3 process with this recipe. You cut up the vegetables, combine all the ingredients in a slow cooker and then let it cook for hours. Yes, that's it! As you may have guessed, this low and long cooking time results in a incredibly flavorful stew that is perfect for lunch or dinner.
A too thin or too thick beef stew recipe misses the mark, but I think you'll find that this upgraded yet perfectly basic beef stew recipe has a consistency that is just right. If you have the time, don't forget about my beef broth recipe so you can make this recipe even more homemade.
Ok, let's get started!
First, you'll need to get your veggies sliced and diced.
Now you have the mushrooms, onions, parsnips and carrots cut up and ready to go into the pot.
Add the chunks of beef to the slow cooker and then begin adding the vegetables.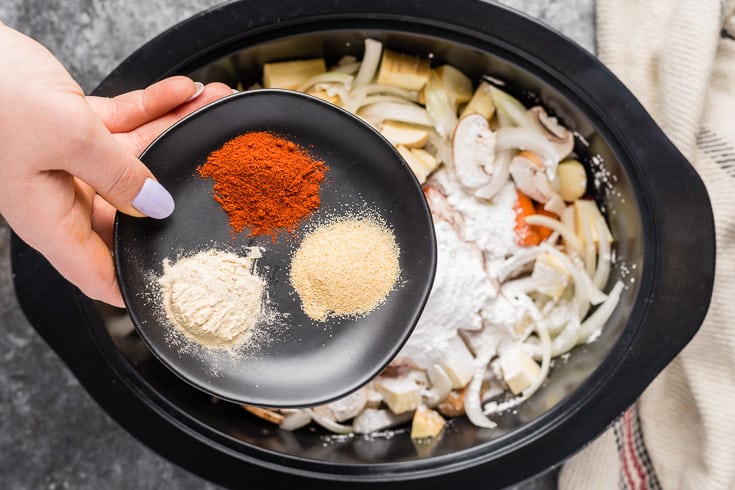 Add in all of the remaining ingredients, including the flavor-boosting spices.
Last but not least, add in the fresh herbs.
Cook on low for six to eight hours.
Top with fresh chopped parsley and serve.
I hope you enjoy this healthy take on a good old-fashioned beef stew recipe.
Ingredients:
2 pounds grass-fed beef stew meat
4 carrots, coarsely chopped
2 parsnips, coarsely chopped
2 cups beef broth
2 tablespoons Worcestershire sauce
2 tablespoons balsamic vinegar
6 ounces tomato paste
2 cups fire-roasted tomatoes
1 cup mushrooms, sliced
1 onion, sliced
1 teaspoon garlic powder
1 teaspoon onion powder
1 teaspoon smoked paprika
2 tablespoons fresh dill, chopped
3 sprigs thyme
3 bay leaves
2 tablespoons avocado oil
4 tablespoons arrowroot starch
1 teaspoon sea salt
1 teaspoon black pepper
Parsley, for garnishing
Directions:
Place all ingredients into a slow cooker except for the parsley.
Cook on low for 6–8 hours.
Top with chopped parsley and serve.
Get FREE Access!
Dr. Josh Axe is on a mission to provide you and your family with the highest quality nutrition tips and healthy recipes in the world...Sign up to get VIP access to his eBooks and valuable weekly health tips for FREE!
Free eBook to boost
metabolism & healing
30 Gluten-Free Recipes
& detox juicing guide
Shopping Guide &
premium newsletter