Vegetable Beef Barley Soup (Slow Cooker Recipe)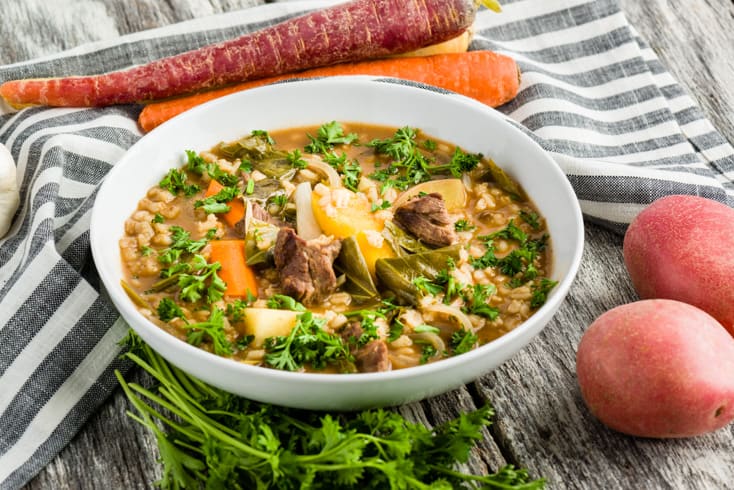 Slow cookers are a serious time-saver in the kitchen. If you're busy, don't particularly like cooking or are feeling uninspired (or all of the above!), using a slow cooker means you can dump in a bunch of ingredients, set a timer and forget about it until the delicious smells let you know it's ready — even for breakfast!
Soups are usually a favorite, though, because you can pile on the veggies, add in some broth and have a warm-your-bones meal ready with little hands-on time. That's the case with this beef barley soup recipe. We'll combine beef stew meat with barley, vegetables and seasonings for a truly delicious slow cooker recipe.
What Is the Difference Between Hulled and Pearled Barley?
I love beef and barley soup because it's an opportunity to cook with some ingredients I don't use as often, like collard greens and barley.
Have you tried barley before? It's an ancient grain that is rich in fiber and can help improve digestion. (1, 2) But like so many foods available today, there are several different types of barley available in stores. The two most common are hulled barley and pearled barley. What is the difference between hulled and pearled barley?
Hulled barley is the whole-grain version of barley. Only the outermost hull of the grain, which is inedible, has been removed, so the grain is minimally processed. Hulled barley is the most nutritious type and, ideally, is the one you purchase at the store. (3) It's ready in about an hour.
Pearled barley is the most common type of barley. This bad boy is not a whole grain, because as it gets "pearled," some, or all, of the outer bran layer, along with the inedible hull, is removed. This is what you'll usually find at the store. While it's less healthy than hulled barley, it's not completely nutritionally void, because some of the bran may be intact.
Additionally, because barley's fiber is found throughout the grain, not just in outer layers that are removed, you're still getting some of the good stuff. If you're short on time, pearled barley can be a good choice, too — it's ready in about 40 minutes.
Because both types of barley take some time, they're both excellent to use in a slow cooker beef barley soup recipe. Who cares about time in the slow cooker? The beef is a good choice for the same reason. Without slow cooking, stew meat can be quite tough. But after eight hours cooking, it's super tender and delicious.
Nutrition Facts
When you chow down on this vegetable beef barley soup, what exactly are you getting? One serving provides:
348 calories
17.42 grams protein
5.38 grams fat
59.73 grams carbohydrates
5,955 IUs vitamin A (255 percent DV)
0.79 milligrams vitamin B6 (61 percent DV)
38.5 milligrams vitamin C (51 percent DV)
1.1 micrograms vitamin B12 (46 percent DV)
40.1 micrograms vitamin K (45 percent DV)
5.98 milligrams vitamin B3 (43 percent DV)
0.24 milligrams vitamin B1 (22 percent DV)
0.20 milligrams vitamin B2 (18 percent DV)
0.89 milligrams vitamin B5 (18 percent DV)
0.96 milligrams vitamin E (6 percent DV)
How to Make Beef Barley Soup
This recipe is seriously simple to make. Before getting started, chop up your veggies.  You can even do this the night before to save time.
When you're ready to make the beef and barley soup, heat the avocado oil in a large pan until the oil is hot. Add beef and brown on each side, about 1–2 minutes. The meat will finish cooking in the slow cooker, but you want it to get a nice color.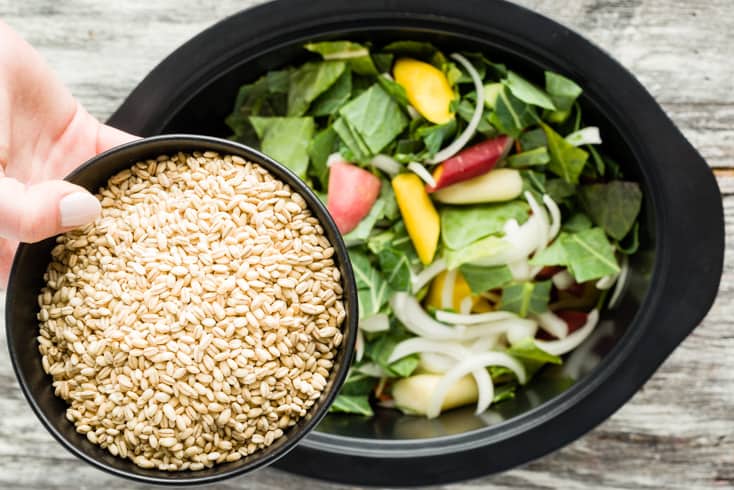 Next, add all the ingredients to the slow cooker.
That includes the fresh herbs as well as …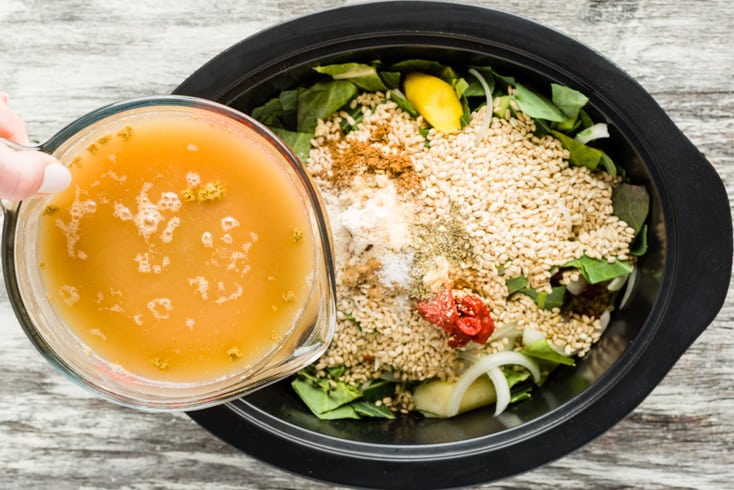 the broth and the beef.
Turn the slow cooker to low and cook for the next 8 hours.
The result will be a fresh bowl of hearty soup, ready to be eaten!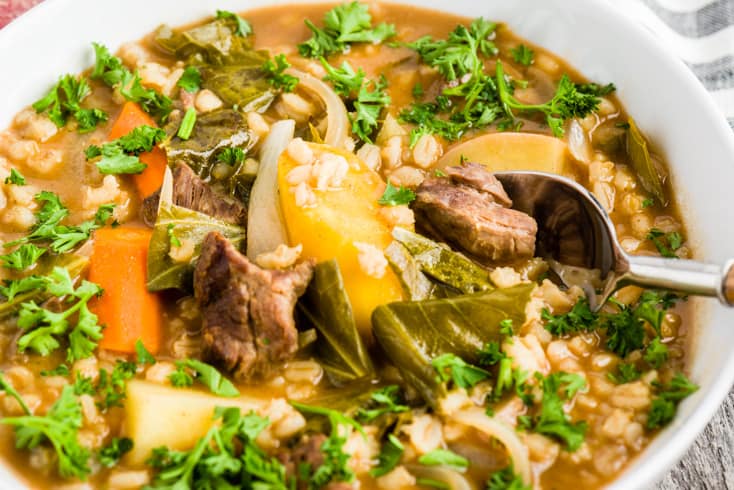 Serve the soup warm with a side of sprouted bread if you'd like to soak up some of the delicious broth.
Total Time
8 hours 5 minutes
Ingredients:
1 pound beef stew meat
2 tablespoons avocado oil
8 cups beef broth
1 cup uncooked barley
2 cups collard greens, chopped
1 tablespoon tomato paste
½ sweet onion, sliced
1 teaspoon fresh thyme
5 carrots, chopped
3 potatoes, chopped
1 tablespoon Dijon mustard
2 tablespoons coconut aminos
1 tablespoon coconut sugar
1 tablespoon apple cider vinegar
1 teaspoon garlic
1 teaspoon onion powder
½ teaspoon cinnamon
1 teaspoon sea salt
1 teaspoon pepper
Directions:
In a large pan over medium-high heat, warm oil.
Add beef to brown each side, about 1–2 minutes.
Add all ingredients, including beef, to the slow cooker and cook on low for 8 hours.