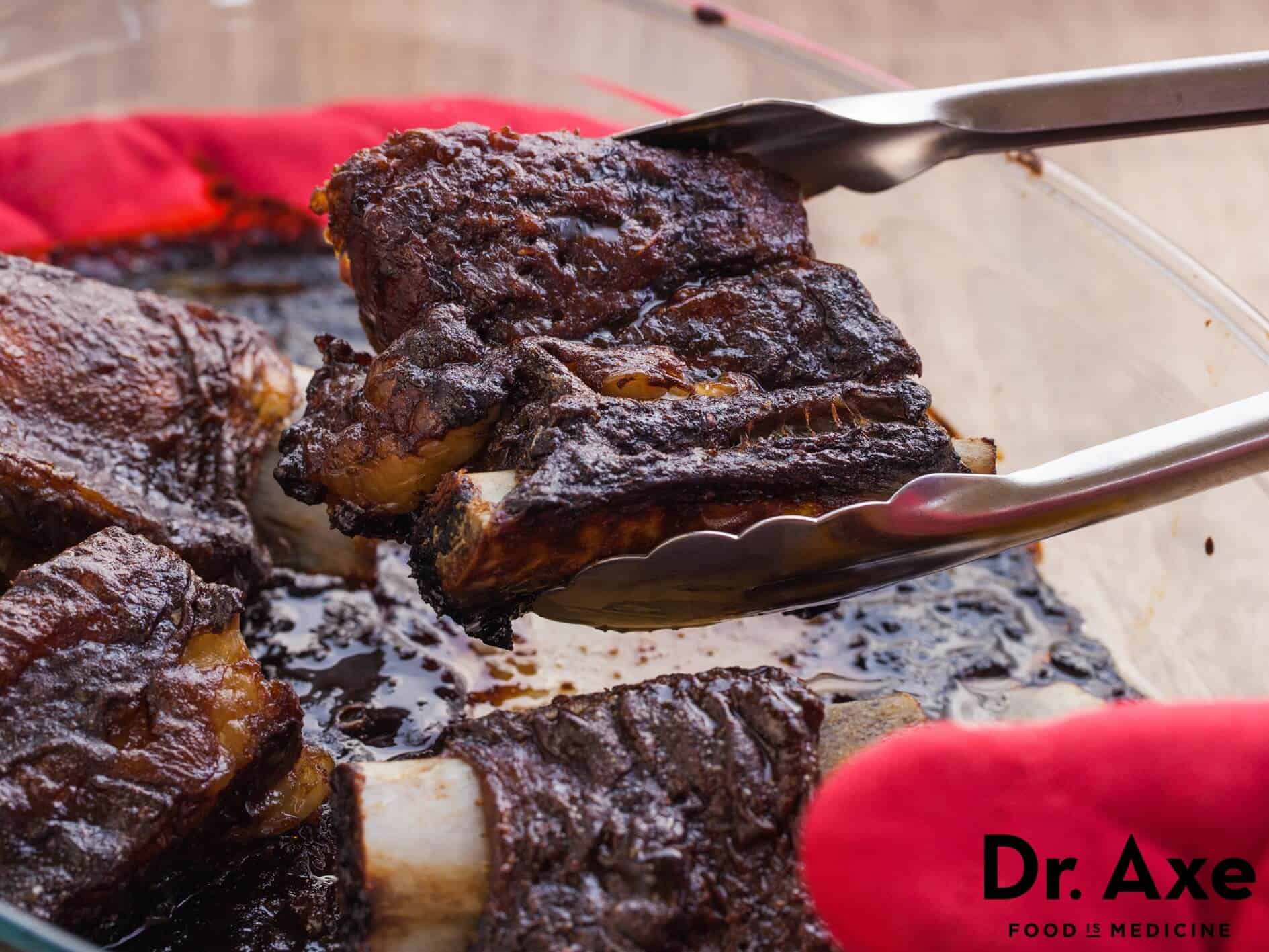 Have you ever made grass-fed beef short ribs? They're a dish that's frequently on upscale restaurant menus, but people shy away from making at home. It might be because the cut isn't always pre-packaged at the supermarket. But trust me, it's worth chatting up your butcher to get short ribs.
For starters, the meat is less expensive than "fancier" steaks and tenderloins, so you can often get a good deal on it. And, unlike my grass-fed steak recipe, which is best cooked for the shortest amount of time you can stand, beef short ribs really benefit from a longer cooking time. With minimal effort, you'll have juicy, fall-off-the-bone meat, which is ideal for cold winter nights and hearty meals.
I know you'll love these beef short ribs as much as I do.
Start by preheating the oven to 300 degrees F. Cooking these beef short ribs at a relatively low temperature ensures they'll remain super moist while packing in a ton of flavor.
Next, place the ribs in a 9 x 13 pan and season with salt and freshly ground pepper to your liking.
In a bowl, combine the other ingredients — coconut sugar through ketchup — and mix them all up together. This is going to be your marinade, so make sure everything is evenly distributed.
Pour the sauce over the ribs, making sure the meat is well coated. Don't be afraid to get your hands dirty! The end result will be worth it.
Cover the pan with foil and slide into the oven. You'll want to cook these for about 3 hours or until the meat is cooked through. Because you'll want to uncover the ribs for the last 20 minutes of oven time to make sure they're nice and browned on top, I recommend checking on them at about the 2 hour an 40 minute mark.
Let them rest for about 10 minutes before serving, to let the beef's juices redistribute.
How lick-your-lips good do these beef short ribs look? You can eat them so many ways, too. They're great atop a bed of mashed faux-tatoes, sweet potatoes or cauliflower. They go really well with grilled vegetables, too. And with only about 5 minutes of hands-on time, you can get these cooking and get on with the rest of your day. Bon apetit!
Total Time
3 hours, 15 minutes
Ingredients:
4 pounds beef short ribs cut into 3-inch pieces
Sea salt and black pepper to taste
1/2 cup coconut sugar
1 teaspoon paprika
1/2 teaspoon garlic powder
1 tablespoon apple cider vinegar
1/2 teaspoon thyme
1 tablespoon mustard
3 tablespoon Worcestershire sauce
2/3 cup ketchup
Directions:
Preheat oven to 300 degrees F.
Place ribs in 9x13 pan and season with salt and pepper.
In a separate bowl, combine remaining ingredients.
Pour sauce over ribs and mix well to coat all the pieces.
Cover with foil and roast for about 3 hours or until cooked through.
During last 20 minutes of cooking, remove the foil to brown the top of the ribs.