Chewy, No-Bake Homemade Granola Bars
Have you ever tasted homemade granola bars? If you have, you already know there is a world of difference between store-bought versions and what you can make in your own kitchen. With oats, almond butter, dark chocolate chips and coconut, these healthy and gluten-free granola bars are absolutely delicious as well as nutritious. Plus, this granola bar recipe takes the health benefits to another level with the inclusion of protein powder made from bone broth.
Can it get any better? Actually, yes, because these are no-bake granola bars, which means this is also a chewy granola bar recipe. If you're looking for a great recipe for oat bars or coconut bars, this recipe has you covered on both accounts with hearty oats and rich pieces of coconut. You'll want to keep reading because how to make granola bars doesn't get much easier, healthier or tastier than this. After tasting your final product, you'll likely agree that these are some of the best gluten-free granola bars ever!
Why Are Conventional Granola Bars Unhealthy?
Granola and pre-packaged granola bars commonly make the list of secretly unhealthy foods for good reason. The problem with most granola bars on shelves today is that they are not made of healthy, whole-food ingredients. Instead, they are loaded with refined sugars and unhealthy fats yet low in fiber, healthy fat and vital nutrients. The source of sugar in many conventional granola bars is often health hazardous high fructose corn syrup.
The high sugar content of most granola bars, even many homemade granola bar recipes, is something you really want to avoid for the sake of your health. Consuming too much sugar is well-known to lead to weight gain, inflammation and even wrinkles — plus negative health effects for your teeth, joints, liver, kidney, pancreas, and heart. (1)
Conventional granola bars (and granola cereal) are also known for containing unhealthy partially hydrogenated oils, which means they contain trans fat. This is a highly concerning ingredient since trans fat increase LDL ("bad") cholesterol in the body while lowering HDL ("good") cholesterol. (2)
This recipe completely skips the refined sugars and gets its sweetness from raw, organic honey and dark chocolate chips. These bars wouldn't be the same if they were totally unsweetened plus the honey helps to bind the ingredients together. If you're not a fan of honey, molasses is another natural sweetener with a similar consistency to help hold the bars together.
What about using coconut palm sugar? It could work well in other homemade bar recipes, but for this no-bake, chewy granola bar, it's best to stick with natural sweeteners that have a binding ability like honey or molasses.
Instead of hydrogenated oils, these homemade granola bars contain blood sugar-balancing good fat from ingredients like almond butter and coconut. Other healthy fat additions you might want to consider adding to homemade chewy granola bars or crunchy granola bars include chia seeds and nuts like pecans, almonds or walnuts.
Nutrition Facts
One serving of these homemade granola bars contain about: (3, 4, 5, 6, 7, 8, 9)
308 calories
9 grams protein
14.8 grams fat
35 grams carbohydrates
4.6 grams fiber
19.9 grams sugar
What makes this granola bars recipe healthy? Here are some of the healthy and delicious stars of this homemade granola bar recipe:
Almond butter: When you purchase almond butter, you're looking for one that only has one ingredients: almonds. Almond nutrition is rich in protein, fiber, calcium, iron and many other essential nutrients. (10)
Oats: Oats are a wonderful source of soluble fiber, specifically a type called beta-glucans, which research has shown can help to naturally lower cholesterol when eaten regularly. (11) To avoid any cross-contamination with wheat, rye or barley, look for oats labeled "certified gluten-free." Puffed rice is another gluten-free ingredient that you could use along oats.
Dark chocolate chips: Not all chocolate is created equal, so if you're looking to get the highest antioxidant and nutrient content from your chocolate, opt for an organic dark chocolate with at least a 70 percent cocoa content or higher. The higher the cocoa content, the lower the sugar as well, so that's another plus. And did you know dark chocolate is actually one of the reasons why this recipe is so high in iron, which is key to blood health and energy production in the body? (12)
How to Make Homemade Granola Bars
Since these are no-bake granola bars, you don't even need to preheat the oven before you get started making this healthy granola bar recipe. This recipe also only has seven ingredients — many of which you may likely have on hand already. Minus the "cooking time" (more like sitting time) in the fridge, these homemade granola bars only take about 10 minutes to make!
The first step is to add the almond butter and honey to a small pot over low heat and stir until they are well combined but are not hot (this shouldn't take long at all). Once the almond butter and honey are mixed together, you can remove the pot from the heat and set it aside.
Start putting the remaining ingredients into a large bowl.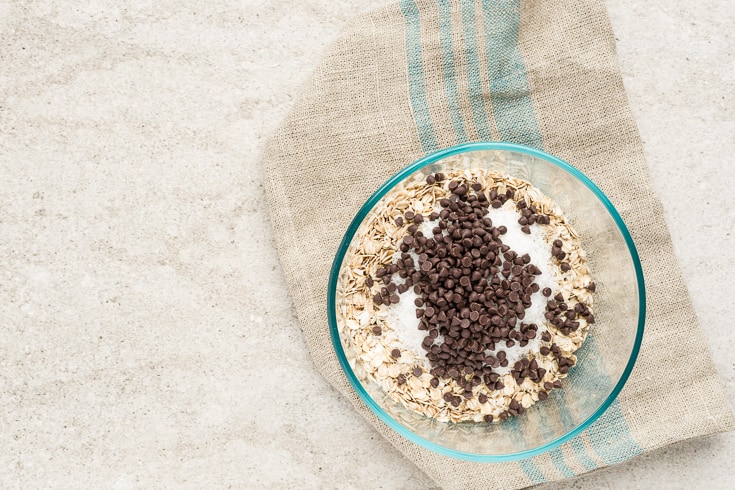 Once you have everything in the large bowl, you can mix it together lightly.
Pour the warm almond butter mixture atop the contents of the large bowl.
Stir until well incorporated.
In an 8×8 baking dish greased with coconut oil, dump, pack and flatten the mixture using your hands.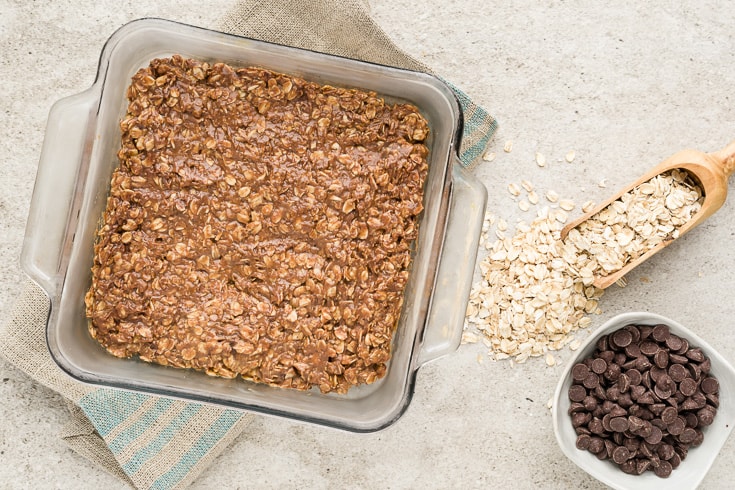 Cover the baking dish and refrigerate until firm (about an hour).
Slice into bars or squares, and that's it.
Enjoy your homemade healthy granola bars!
Total Time
1 hour 10 minutes
Ingredients:
2-2½ cups organic, gluten-free rolled oats
¾ cup creamy almond butter
¾ cup honey
1 scoop peanut butter protein powder made from bone broth
½ teaspoon sea salt
¼ cup dark chocolate chips
¼ cup desiccated coconut
Directions:
In a small pot, over low heat, add the almond butter and honey, stirring until well-combined but are not hot (this should happen quickly).
Remove from heat and set aside.
In a large bowl, add the remaining ingredients.
Pour the warm almond butter mixture atop, stirring until well-incorporated.
In an 8x8 baking dish, greased with coconut oil, dump, pack and flatten the mixture using your hands.
Cover and refrigerate until firm (about an hour).
Slice into bars or squares.