Crispy Orange Beef Recipe
One of my favorite kitchen tricks is making takeout fakeouts, like my Thai Coconut Chicken Soup or Sweet and Sour Chicken. Now there's another delicious one to try: this Crispy Orange Beef recipe. For starters, it's gluten-free, perfect for those with gluten sensitivities. It takes only 30 easy minutes to prepare, making it an excellent weeknight choice — this is ready in less time than delivery. Plus, did I mention it tastes great?!
With fresh orange zest, coconut oil and a whole head of broccoli, there's a lot to love with this crispy orange beef.
We'll start by mixing coconut sugar, rice wine vinegar, salt and coconut aminos in a bowl. If you've never cooked with amino acids before, it's a liquid seasoning similar to soy sauce — without the soy. It's a great ingredient to introduce to your Asian cooking.
Set this bowl aside for now.
It's time to get that crispy beef going! Heat the coconut oil in a deep pot or wok. Toss the beef strips in immunity-boosting arrowroot powder, making sure they're fully coated, and then add to the wok. The arrowroot powder will give the beef strips that crunch coating without needing to use flour.
Once the beef has cooked, remove it from the pan and set it aside on a plate. Drain all but 1 tablespoon of oil from the wok. Add in the orange zest, ginger and garlic to the pot and let it cook for 2–3 minutes.
Next, add in that coconut aminos mixture to the pot and bring to a boil. That sauce is going to coat our crispy orange beef. Yum!
Once the mixture has thickened, return the beef to the pot along with the steamed broccoli and mix everything up, making sure the crispy orange beef is nice and saucy.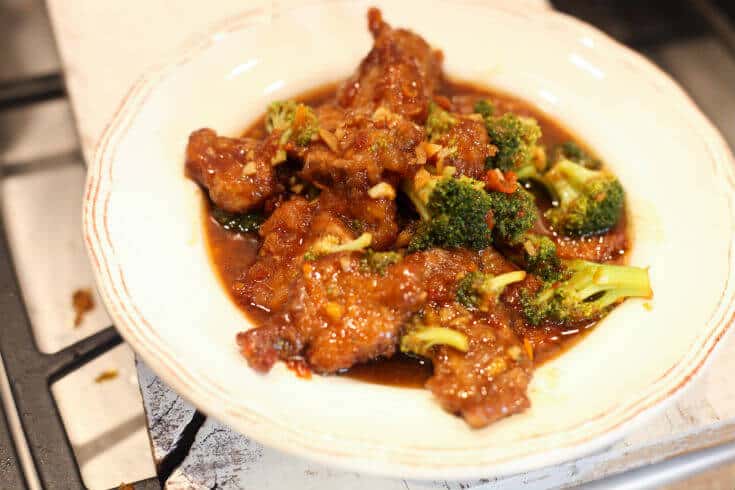 That's all there is to this dish! How easy is that? You can eat this as is or serve with cauliflower rice to soak up all that sauce. It'd be fantastic wrapped in lettuce leaves, too. However you serve it, I know your family will love it.
Ingredients:
1–1/2 lbs top sirloin beef, thinly sliced
1/3 cup coconut sugar
1/3 cup rice wine vinegar
1 teaspoon sea salt
1 tablespoon coconut aminos
2 cups coconut oil
1/4 cup arrowroot powder
2 teaspoon orange zest
3 tablespoon ginger
3 garlic cloves, minced
1 broccoli head, chopped and steamed
Directions:
In a bowl, mix coconut sugar, vinegar, salt and coconut aminos.
Heat oil in a wok or pot over medium high heat. Toss beef strips in arrowroot powder to coat.
Fry in wok until crispy then remove from the pan and set aside.
Drain all but 1 tablespoon of oil from wok.
Add orange zest, ginger, and garlic to oil and cook for 2–3 minutes.
Add amino sauce mixture to wok and bring to a boil. Cook until mixture gets thick, about 5 minutes.
Add beef and broccoli and stir to coat.