Key lime pie makes me think of spending warm, sunny days with my family in Floria. This creamy, sweet and acidic pie provides bold flavors and health benefits, too. In fact, limes are thought to boost your immune system and even help improve the health of your heart. (1, 2, 3) And when mixed with condensed coconut milk, gluten-free arrowroot flour and maple syrup, the lime juice used in this key lime pie recipe creates a thick and creamy texture that makes this pie so popular.
If you've tried my gluten-free lemon meringue pie or my vegan banana cream pie, this one has to be next on your list. Not only is it decadent looking, because of the vibrant sliced limes on top, but it's also absolutely delicious.
What Is Key Lime Pie?
Traditionally, key lime pie is made with juice from the small key limes that grow throughout Florida. Compared to the Persian limes that we see year-round in our grocery stores, key limes are smaller, lighter and more acidic. Key limes also have a stronger aroma than Persian limes and are known for their unique flavor. Although the scientific name for key limes is Citrus aurantiifolia, they've become known as key limes because of their popularity in the Florida Keys.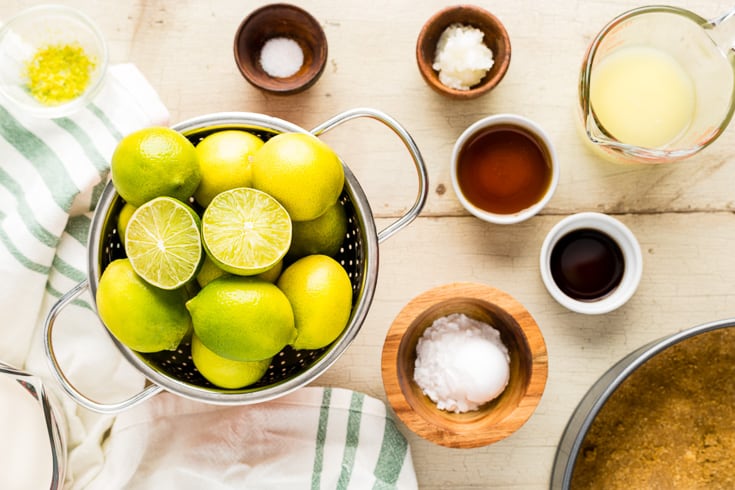 Key lime pie is traditionally made with a combination of key lime juice, egg yolks, sweetened condensed milk, sugar and pie crust that's made with all-purpose, white flour. In an effort to make my key lime pie recipe as healthy as possible, I use maple syrup as a natural sweetener, condensed coconut milk that provides healthy fats and arrowroot flour that makes my pie gluten-free. I also typically use lime juice and zest from the Persian limes that you find in your local grocery store in an effort to make this recipe accessible. Plus, the maple syrup, vanilla extract and salt in this recipe contributes greatly to the robust flavor.
Instead of relying on store-bought pie crusts made with refined sugar and flour, I make my gluten-free pie crust that's made with gluten-free flours, grass-fed butter, date sugar and eggs.
Did you know that when the acidic lime juice is mixed with the coconut milk and arrowroot flour, it causes a reaction that makes the filling of the pie thicken? This is why key lime pie doesn't need to be baked. So, give my recipe a try … Eating this key lime pie will make you feel like you're sitting on a sunny patio in Florida.
Recipe Nutrition Facts
One serving of my key lime pie made using this recipe contains roughly the following: (4, 5, 6, 7, 8)
258 calories
2 grams protein
17 grams fat
25 grams carbohydrates
0.4 grams fiber
10 grams sugar
0.9 milligrams manganese (53 percent DV)
0.25 milligrams vitamin B2 (23 percent DV)
268 milligrams sodium (18 percent DV)
0.13 milligrams copper (15 percent DV)
2 milligrams iron (12 percent DV)
31 milligrams magnesium (10 percent DV)
66 milligrams phosphorus (9 percent DV)
0.6 milligrams zinc (8 percent DV)
4 micrograms selenium (7 percent DV)
28 micrograms folate (7 percent DV)
0.08 milligrams vitamin B1 (7 percent DV)
0.7 milligrams vitamin B3 (6 percent DV)
4.7 milligrams vitamin C (6 percent DV)
40 milligrams calcium (4 percent DV)
176 milligrams potassium (4 percent DV)
0.13 milligrams vitamin B5 (3 percent DV)
How to Make Key Lime Pie
Your first step in preparing this key lime pie is to combine 2 tablespoons of arrowroot flour and 1 tablespoon of coconut oil in a saucepan over medium heat. Simply whisk the starch and oil for about a minute until it creates a roux.
Next, add 2 cups of evaporated or condensed coconut milk. You want to whisk this mixture continuously until it thickens and forms a custard-like consistency. This should take about 10 minutes of whisking.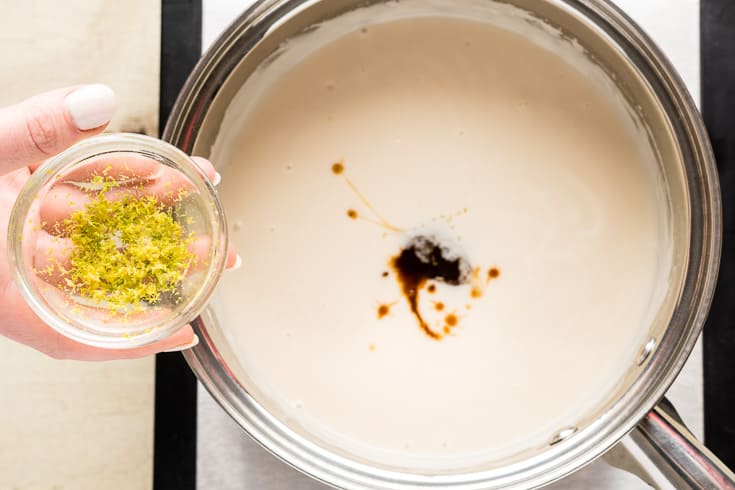 Now add in ½ cup of key lime juice, 1 teaspoon of lime zest, 1 teaspoon of vanilla extract and ½ teaspoon of sea salt.
Keep whisking the mixture for about five minutes until it becomes even thicker.
Well, that was easy, wasn't it? Your pie filling is done. Now, just pour it into your gluten-free pie crust and allow it to cool.
Once it's cool, chill your pie in the freezer for about an hour.
I like to top my key lime pie with two to three sliced limes for garnish. This is a really colorful finishing touch.
And just like that, your key lime pie is ready to enjoy!
Total Time
1 hour 20 minutes
Ingredients:
2 cups evaporated or condensed coconut milk
½ cup key lime juice
1 teaspoon lime zest
1 teaspoon vanilla extract
½ cup maple syrup
1 tablespoon coconut oil
2 tablespoons arrowroot starch
½ teaspoon sea salt
2–3 limes, sliced for garnishing
Directions:
In a saucepan over medium heat, combine starch and coconut oil. Whisk to create roux.
After about one minute, add coconut milk. Whisk continuously until mixture thickens into a custard-like consistency, about 10 minutes.
Add lime juice, lime zest, vanilla, maple syrup and salt. Whisk until mixture thickens even more, about five minutes.
Pour mixture into pie crust and allow to cool, then chill the rest of the way in the freezer, about one hour.
Top with sliced lime for garnish and serve.
Get FREE Access!
Dr. Josh Axe is on a mission to provide you and your family with the highest quality nutrition tips and healthy recipes in the world...Sign up to get VIP access to his eBooks and valuable weekly health tips for FREE!
Free eBook to boost
metabolism & healing
30 Gluten-Free Recipes
& detox juicing guide
Shopping Guide &
premium newsletter