Vegan Banana Cream Pie Recipe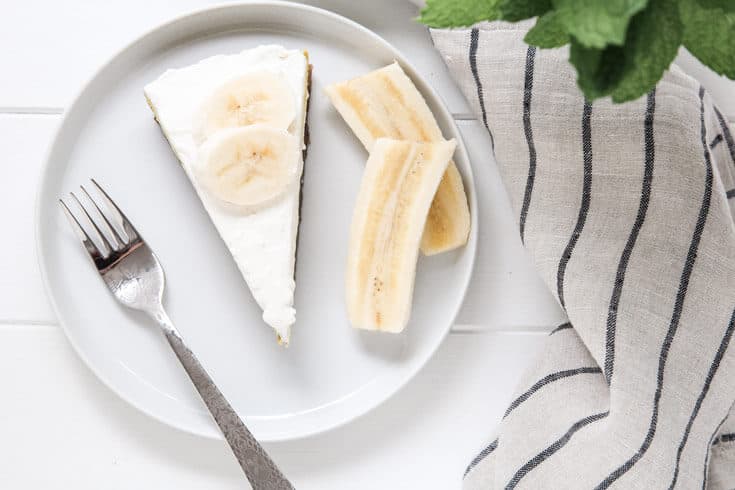 A sweet, creamy homemade pie that's perfect for spring and summer that's healthy and vegan? Get ready for my Vegan Banana Cream Pie to knock your socks off.
It's incredible how such few ingredients can produce such a tasty dessert that's suitable for everyone. For starters, you need just four ingredients for the crust, and everyone knows that's one of the best parts of any pie! The heart-healthy walnuts make up the crunchy base and add a boost of healthy fats, while Medjool dates keep it naturally sweet.
The filling really takes this vegan banana pie to the next level, though. It's made from banana, soaked cashews, vanilla, lemon juice and coconut oil — you likely have these all on hand right now! No dairy doesn't mean you have to skimp on a rich, creamy texture. Oh, and did I mention that this pie is no-bake?! You can't get better than that.
Are you ready for one of the best desserts of your life? Let's make this vegan banana cream pie!
We'll start by pulsing the walnuts, dates, vanilla and sea salt in a blender until a dough forms. Spread the dough evenly in the bottom of ungreased 9-inch springform pan and let it set in the freezer for 30 minutes.
In the meantime, let's get this vegan banana cream pie filling going. Add the filling ingredients to the blender, blending at low speed until everything is mixed together nicely. I love adding turmeric to this recipe — it's going to give this pie a lovely yellow color without artificial coloring.
After the pie crust's 30 minutes in the freezer are up, remove it and pour the filling mixture on it, spreading it evenly.
Now you can choose: if you need the pie ready quickly, place it in the freezer for two hours to set and then let it thaw in the refrigerator for 20 minutes before slicing and serving.
If you have time on your side, let the vegan pie chill in the refrigerator for 6 hours, removing right before serving. Try serving with a dollop of my Coconut Whipped Cream!
Because this vegan cream pie is chilled, it's great for serving on warm evenings. It's also a fantastic recipe to make ahead when you're entertaining. You can soak the cashews and prepare the pie the night before, letting it chill overnight in the refrigerator and freeing the next day up for other tasks.
Best of all, I bet no one will catch on how healthy this recipe really is! I hope your family loves this recipe as much as we do.
Total Time
3 hours 5 minutes
Ingredients:
For the crust:
3 cups walnuts
2 cups Medjool dates, pitted
1 teaspoon vanilla
dash of sea salt (about 1/6 teaspoon)
For the filling:
1 cup mashed banana
⅔ cup raw cashews, soaked and rinsed well*
⅓ cup pure maple syrup
1 tablespoon vanilla
2 teaspoons lemon juice
1 tablespoon turmeric, optional* (for color)
⅓ cup melted coconut oil
Directions:
In a food processor, blend together the walnuts, dates, vanilla and sea salt until dough is formed.
Spread the dough evenly in the bottom of an ungreased 9-inch springform pan.
Place the pan in the freezer for 30 minutes.
Place all of the filling ingredients into a blender and blend on low speed until well blended.
Remove the crust from the freezer.
Pour the filling mixture on top of the crust, cover the pan and replace the cake in the freezer.
Chill for at least 6 hours for pie like consistency or freeze for 2 hours.
If putting cake in freezer, defrost in the refrigerator for 20 minutes before serving.
*Quick soaked cashews: To cut down on soaking time, add cashews to a pot and cover with water by 1/2 inch. Bring to a boil and boil for 2 minutes. Remove from the heat and allow the cashews to soak for 1 hour. Drain the cashews, rinse with cold water, and use.