Matcha Latte: the Ultimate Anti-Aging Drink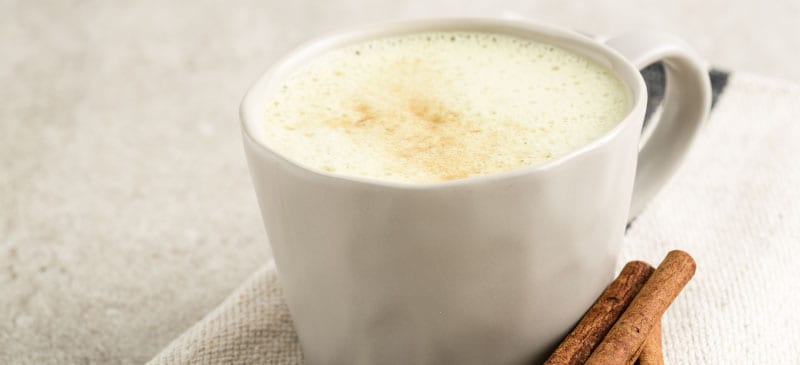 By now, you've probably heard about the power of matcha tea. Matcha is not your typical green tea — it's a concentrated Japanese tea that works as an effective detoxifier, fat burner and health promoter.
That's exactly why I drink this green tea latte made with antioxidant-rich matcha. And what makes this latte even more beneficial is the scoop of collagen protein. If you're still asking yourself "what is collagen?," then try this green tea latte and notice the benefits. Collagen protein improves the health of your skin, hair, bones, muscles, liver and heart. Not only is this green tea latte a delicious treat, it works to boost your energy levels and promote overall well-being, too!
The No. 1 Anti-Aging Drink
Green tea is the No. 1 anti-aging drink because it's packed with flavonoid, polyphenol and catechin antioxidants. Drinking green tea regularly promotes better health and longevity because it works to reduce inflammation and oxidative stress that leads to so many health issues.
Research shows that the benefits of green tea include its ability to boost heart health by lowering blood pressure and cholesterol levels, prevent memory loss and brain cell damage, prevent insulin resistance, promote bone health and protect your vision.
Matcha is a concentrated form of green tea, so you're getting all of the powerful nutrients in just one scoop of high-quality, ceremonial-grade matcha. Matcha is the best food source of catechin antioxidants, so adding a scoop to this green tea latte is a simple way to help prevent and relieve a number of major health concerns.
Nutrition Facts
One green tea latte made using this recipe contains roughly the following:
290 calories
3.9 grams carbohydrates
11.6 grams protein
32 grams fat
4.6 micrograms vitamin B12 (194 percent DV)
0.8 milligrams vitamin B2 (77 percent DV)
714 milligrams calcium (71 percent DV)
10 milligrams vitamin E (68 percent DV)
866 IUs vitamin A (37 percent DV)
2.7 milligrams zinc (34 percent DV)
0.49 milligrams manganese (28 percent DV)
0.24 milligrams copper (28 percent DV)
15 milligrams vitamin C (21 percent DV)
150 milligrams phosphorus (21 percent DV)
296 milligrams sodium (20 percent DV)
57 milligrams magnesium (18 percent DV)
0.12 milligrams thiamin (11 percent DV)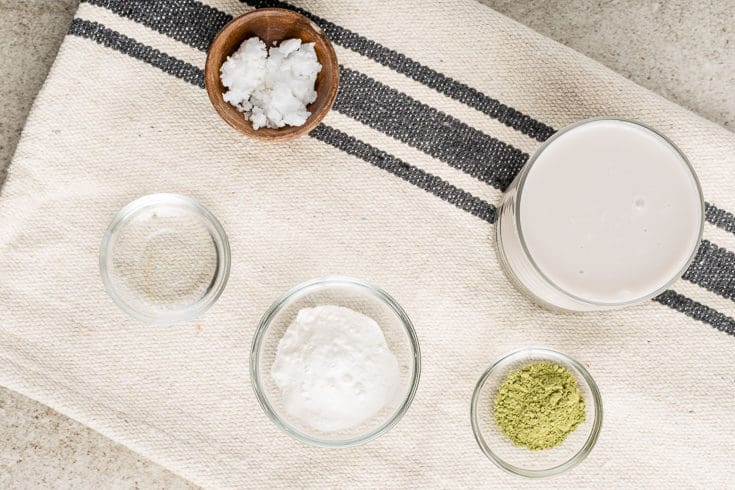 Along with matcha green tea, here's a quick glance at some of the other top health benefits of the ingredients in this green tea latte:
Coconut oil: Coconut oil benefits come from its medium-chain fatty acids that serve as a perfect source of energy, are easier to digest and aren't stored as fat as quickly or as easily as other types of fats. Studies indicate that coconut oil can help to prevent heart disease, protect your liver, reduce inflammation and boost your immune system.
Coconut butter: Coconut butter is ground-up coconut meat that has a buttery consistency. Coconut butter is about 60 percent oil, while coconut oil is 100 percent, so they are a little different. Unlike coconut oil, coconut butter contains fiber, which is important for controlling blood sugar levels and regulating digestion.
Coconut milk: Coconut milk is free from dairy, lactose, nuts, grains and soy, so it's the perfect choice for plant-based eaters. Plus, coconut milk nutrition includes manganese, magnesium, iron and potassium. Just like coconut oil, coconut milk helps to improve heart health, build muscle, prevent fatigue and boost weight loss.
Collagen protein: Collagen is found in your muscles, skin, bones, blood vessels and digestive system. It reduces joint pain and degeneration, promotes the health of your skin, hair, nails and teeth, and improves the health of your liver and heart. Your body's collagen production naturally slows down with age, so adding collagen protein to your smoothies or recipes like this green tea latte can help keep these bodily systems running properly.
This matcha latte is friendly for almond any diet, including keto, Paleo, vegan and more.
How to Make This Green Tea Latte
The first step to preparing this green tea latte is warming 1½ cups of either reduced fat coconut milk or unsweetened almond milk in a small pot or tea kettle.
Next, add the warm milk, coconut oil and coconut butter to a blender.
Then add in the ceremonial-grade matcha and 1 scoop of collagen protein. When choosing matcha at the grocery store or online, opt for an organic, GMO-free option. You also want the only ingredient on the label to be matcha — with no added sugars.
If you'd like to add a little sweetness to your latte, try using 1–2 teaspoons of maple syrup.
Now all of your ingredients are added and you're ready to blend. Blend on high until your mixture is well-combined.
You'll notice that the coconut or almond milk gets nice and frothy, and you won't even notice that this latte is completely dairy-free. I like to top my latte with a little cinnamon, which adds to its antioxidant properties.
Enjoy your healthy green tea latte!
Print
Matcha Green Tea Latte
---
Author:

Total Time:

5 minutes

Yield:

1

1

x

Diet:

Vegan
Description
This green tea latte is made with antioxidant-rich matcha, healthy fats from coconut and a collagen protein for your skin and joints. It'll become a regular in your morning rotation!
---
1½ cups

coconut milk (reduced fat) or unsweetened almond milk

1 teaspoon

ceremonial-grade matcha

1

scoop collagen powder

1 teaspoon

coconut oil

2 teaspoons

coconut butter

1

–

2

teaspoons maple syrup (optional)
---
Instructions
In a tea kettle or small pot, warm the milk.
In a blender, add the milk and all the other ingredients.
Blend on high until well-combined.
Top with cinnamon, serve and enjoy!
Prep Time:

5 min

Category:

Beverages

Method:

Blender

Cuisine:

Japanese
Nutrition
Serving Size:

12 ounces

Calories:

290

Sugar:

0g

Sodium:

15mg

Fat:

32g

Saturated Fat:

28.3g

Unsaturated Fat:

1.8g

Trans Fat:

0g

Carbohydrates:

3.9g

Fiber:

0.2g

Protein:

11.6g

Cholesterol:

0mg
Keywords: matcha green tea latte, green tea latte, matcha latte