Moo Shu Chicken Lettuce Wraps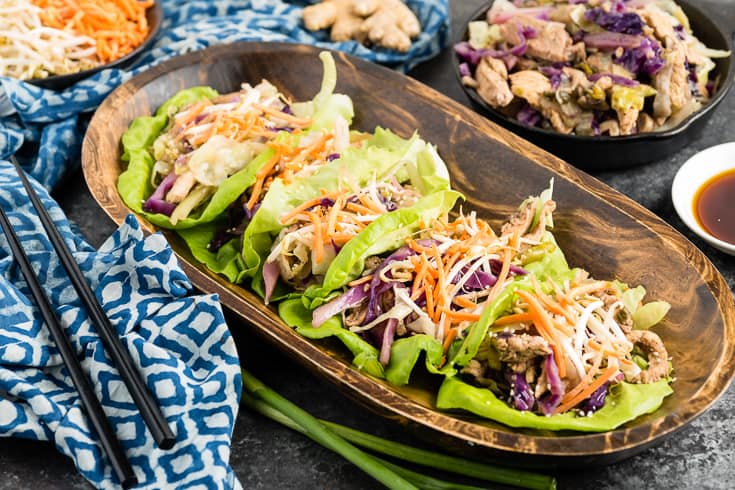 When you get that craving for comfort food, how often do you consider ordering takeout Chinese? Yep — it can be a guilty pleasure on those nights you really don't feel like cooking. But I promise you, my moo shu chicken recipe is very easy to prepare, taking about the same amount of time you'd be waiting for your food to be ready at a restaurant, and it's a much, much healthier option.
For this recipe, I use an array of veggies, anti-inflammatory foods like garlic and ginger and organic chicken. Plus, like my fish taco recipe, I use lettuce wraps instead of turning to flour tortillas that are typically used to make moo shu chicken. Not only is my moo shu chicken recipe gluten-free, it's also Paleo- and keto-friendly. No guilt here!
What Is Moo Shu Chicken?
Moo shu chicken originated in Northern China, where it was prepared as a stir-fry dish made with chopped chicken (or pork) and Chinese cabbage. There are a number of variations out there, but moo shu chicken is also commonly made with scallions, mushrooms and scrambled eggs, too.
Traditionally, moo shu chicken would be served with rice, but in America, it's often served on wraps made with flour that are called "moo shu (or mandarin) pancakes," and then it's eaten like a taco.
For my moo shu chicken recipe, I use a combination of veggies, including red cabbage, green cabbage, green onions and mushrooms. I also include garlic and ginger for flavor, plus carrots and sprouts for garnishing. These veggies give you that perfect crunch when you bite into the moo shu chicken wrap. And in an effort to keep this recipe gluten-free and keto diet-friendly, which is how I prefer to eat, I use butter lettuce as wraps.
One of the staple ingredients in moo shu chicken is cabbage. Do you know that red cabbage is loaded with antioxidants, and it contains more vitamin C than oranges? Mushrooms are also commonly used in moo shu chicken recipes, and I love using mushrooms in my cooking because they help to reduce inflammation.
And for my moo shu chicken recipe, I avoid using vegetable oil and soy sauce. Instead, I use avocado oil for cooking and a combination of sesame oil and coconut aminos to add flavor.
Recipe Nutrition Facts
One serving of moo shu chicken made using this recipe contains roughly the following: (1, 2, 3, 4, 5, 6)
178 calories
18.7 grams protein
9.4 grams fat
4 grams carbohydrates
1 gram fiber
1.8 grams sugar
2,149 IUs vitamin A (92 percent DV)
8 milligrams vitamin B3 (57 percent DV)
0.7 milligrams vitamin B6 (55 percent DV)
19 micrograms selenium (36 percent DV)
202 milligrams phosphorus (29 percent DV)
25 micrograms vitamin K (28 percent DV)
0.17 milligrams copper (19 percent DV)
0.19 milligrams vitamin B2 (18 percent DV)
221 milligrams sodium (15 percent DV)
38 milligrams magnesium (12 percent DV)
0.12 milligrams vitamin B1 (11 percent DV)
403 milligrams potassium (9 percent DV)
6 milligrams vitamin C (8 percent DV)
1.15 milligrams vitamin E (8 percent DV)
26 micrograms folate (7 percent DV)
0.17 micrograms vitamin B12 (7 percent DV)
1.06 milligrams iron (6 percent DV)
47 milligrams calcium (5 percent DV)
How to Make Moo Shu Chicken
Before I start prepping my veggies, I marinate 2 boneless, skinless chicken breasts that are thinly sliced in 1 tablespoon of sesame oil, 2 tablespoons of balsamic vinegar, 2 tablespoons of coconut aminos, 1 teaspoon of grated ginger, 2 cloves of minced garlic, ½ teaspoon of salt and ½ teaspoon of pepper.
Just combine these ingredients in a medium-sized bowl and set it aside.
Next, it's time to start chopping. You'll need to slice one-fourth of a green cabbage …
and one-fourth of a red cabbage.
Then chop ½ cup of mushrooms and slice ¼ cup of green onions.
Next, take out a large pan and over medium heat, combine 2 tablespoons of avocado oil, your chopped green onions and your chopped mushrooms. Sauté these veggies for about 5 minutes until they become soft.
Then add in your chicken that's been marinating. You're going to let it brown in the sauce pan, which should take about 8 minutes.
Once your chicken has browned, add in your sliced cabbage and reduce the heat to low. Cover your pan and let everything simmer for about 10 minutes, until the cabbage becomes soft. Just stir the ingredients occasionally so everything is cooked evenly.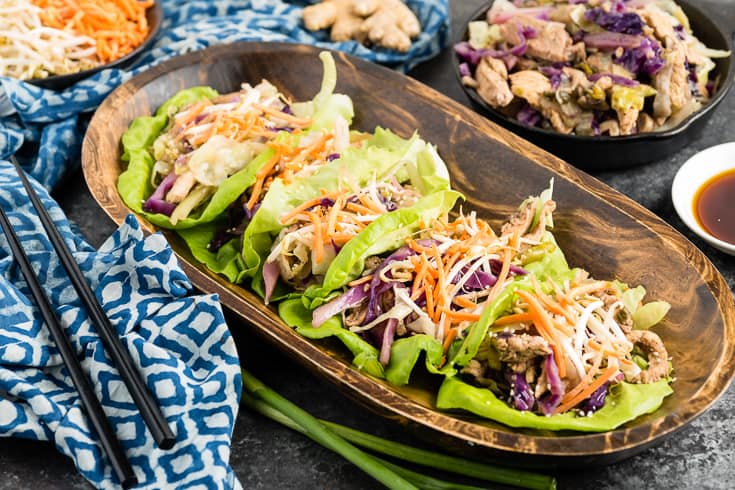 That took no time at all, right? Your moo shu chicken is done. Now just divide it up into your butter lettuce wraps …
and top each wrap with shredded carrots, sprouts and sesame seeds.
You can eat your moo shu chicken like a taco, or use a fork or chop sticks to eat it in the way it was traditionally served in China. Either way — it's super healthy and delicious! Enjoy.
Ingredients:
2 tablespoons avocado oil
2 tablespoons balsamic vinegar
1 tablespoon sesame oil
2 tablespoons coconut aminos
2 boneless skinless chicken breasts, thinly sliced
¼ green cabbage, thinly sliced
¼ red cabbage, thinly sliced
¼ cup green onions, sliced
½ cup mushrooms, chopped
2 cloves garlic, minced
1 teaspoon ginger, grated
½ teaspoon sea salt
½ teaspoon black pepper
Carrots, shredded for garnishing
Sprouts, for garnishing
Sesame seeds for topping
Butter lettuce for wraps
Directions:
In a medium-sized bowl, add sesame oil, balsamic, coconut aminos, ginger, garlic, salt, pepper and chicken. Mix thoroughly and set aside.
Chop the vegetables accordingly.
In a large pan over medium heat, combine avocado oil, onions and mushrooms. Sauté for about 5 minutes.
Add chicken to brown, about 8 minutes.
Add cabbage and reduce to low. Cover and let simmer for about 10 minutes, or until cabbage is soft. Stir occasionally.
Serve with lettuce wraps and top with carrots, sprouts and sesame seeds.