Baked Chile Relleno Casserole Recipe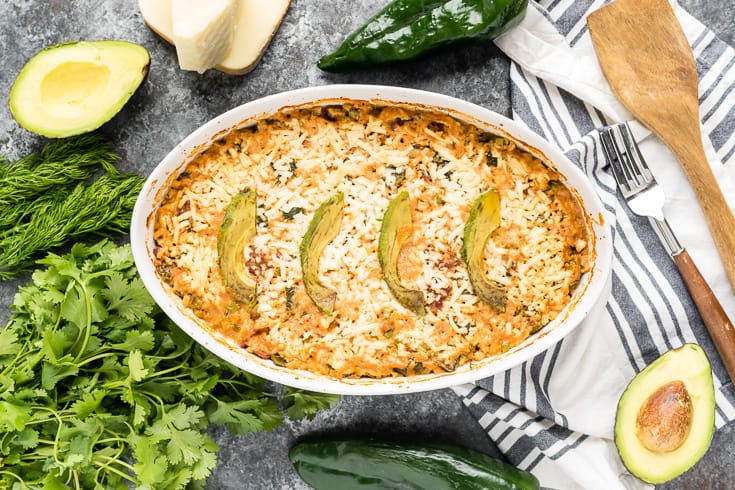 I'm a huge fan of Tex-Mex foods. But usually, heavy carbs make up the base of these recipes. Fajitas, enchiladas and tacos all rely on tortillas. That's why this chile relleno casserole recipe is so special. Not only is it packed with the seasonings and ingredients you love ­— yes, including cheese! — but it's keto-friendly and delicious.
What Is Chile Relleno?
Chile relleno, or "stuffed chile," is a Mexican recipe originating from the city of Puebla; This is where poblano peppers, the type of peppers we'll use in this recipe, get their name. (1) Traditionally, the poblano peppers are roasted and then filled with a cheese and meat filling. Next, they're dipped in an egg batter and deep fried, then smothered in sauce.
They're enjoyed throughout the year, which is no surprise considering how tasty they are. In this recipe, I've kept the best parts of the classic recipe and given it little twist by turning this dish into a chile relleno casserole!
We'll broil the spicy poblano peppers to get that charred look and flavor you'd get if roasting over a grill, but instead of stuffing the peppers, which can get messy, we'll chop the peppers up, tossing them with some other epic ingredients, like beef bacon, cheese, cauliflower rice, mushrooms, tomato sauce and avocado.
If you're following a keto diet, this version of chile relleno is definitely a keto-friendly recipe you want up your sleeve. With two types of cheeses and avocado, this chile relleno casserole is packed with healthy fats to help keep you in ketosis. To adhere to a high-fat, low-carb lifestyle, we'll skip the white rice that's common in Mexican cooking and replace it with cauliflower rice to keep the texture and taste without extra carbs.
Recipe Nutrition Facts
What kind of nutrition are you getting in this chile relleno recipe anyway? Here's what you can expect from one serving:
574 calories
31.07 grams protein
44.12 grams fat
17.58 grams carbohydrates
105.5 milligrams vitamin C (141 percent DV)
621 milligrams phosphorous (89 percent DV)
0.593 milligrams copper (66 percent DV)
615 milligrams calcium (62 percent DV)
1,283 IUs vitamin A (55 percent DV)
0.548 milligrams vitamin B2 (50 percent DV)
0.515 milligrams vitamin B6 (40 percent DV)
1.887 milligrams vitamin B5 (38 percent DV)
31.8 micrograms vitamin K (35 percent DV)
2.813 milligrams vitamin B3 (20 percent DV)
0.177 milligrams vitamin B1 (16 percent DV)
2.18 milligrams vitamin E (15 percent DV)
16 IUs vitamin D (3 percent DV)
How to Make a Chile Relleno Casserole
So how do you make this Mexican-inspired chile relleno casserole?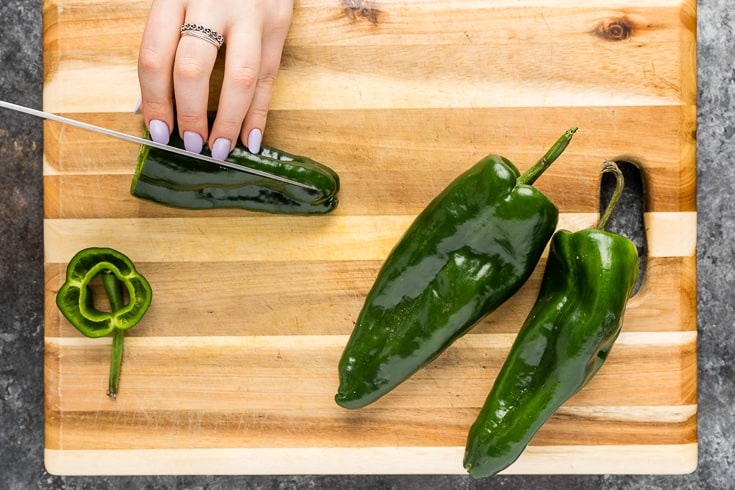 Start by turning on your oven to the high broil setting. This is how we'll "roast" our peppers.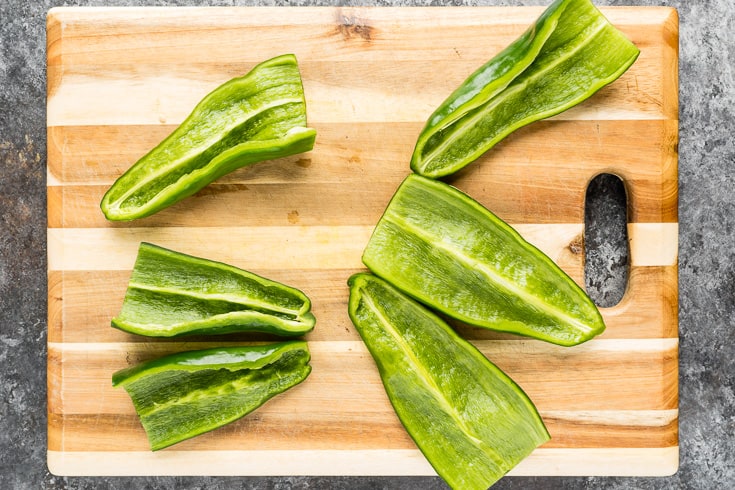 Slice the stems off the poblano peppers and discard. Then slice each pepper in half to remove the seeds and veins of the peppers. Poblano peppers aren't super spicy, especially once they're roasted, but they do have a little kick to them. If your family prefers really mild foods, you can substitute bell peppers for the poblanos, but you'd be missing out!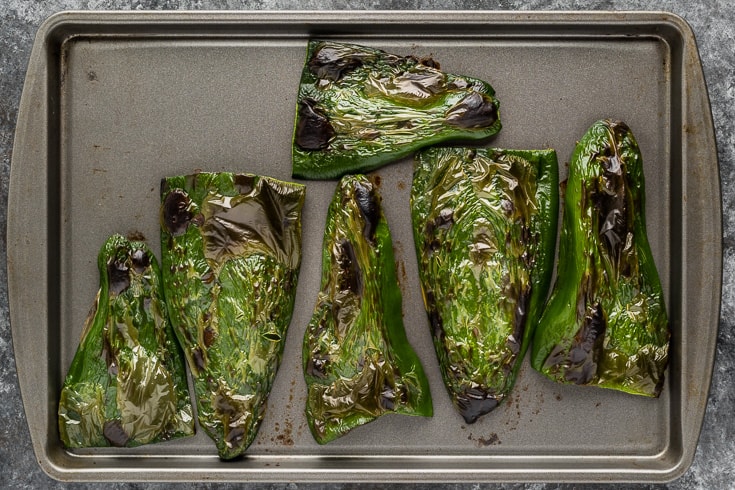 Place the peppers on a baking sheet. You want the insides of the peppers facing down here. Broil for 10 minutes, or until the peppers are nice and charred. Don't turn the oven off just yet, though … Preheat it to 350 degrees Fahrenheit.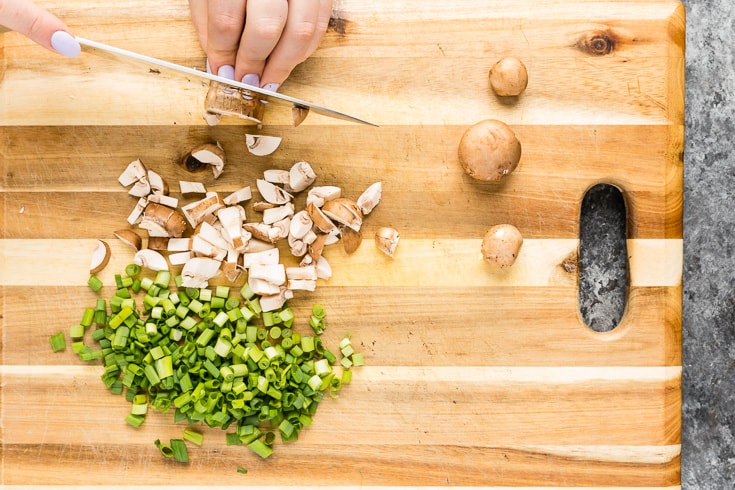 Once the peppers have cooled off, chop them up.
Place the peppers, along with all of the remaining ingredients, except the Pecorino and garnishes, into a large bowl.
Mix it all up until well-combined.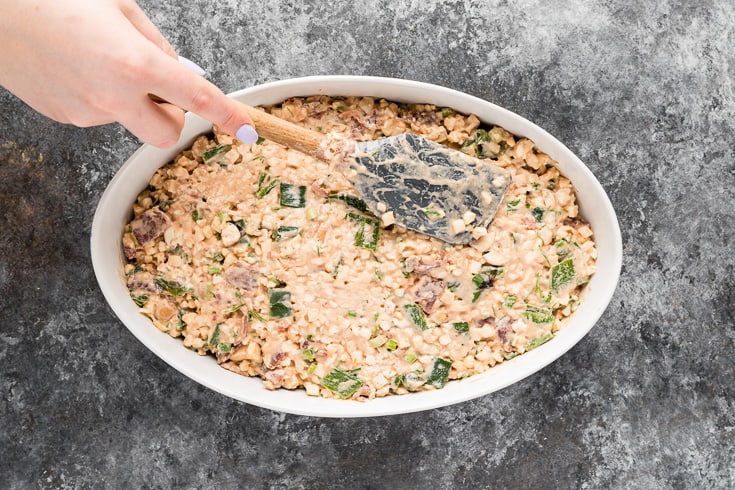 Next, pour the chile relleno mixture into a casserole dish.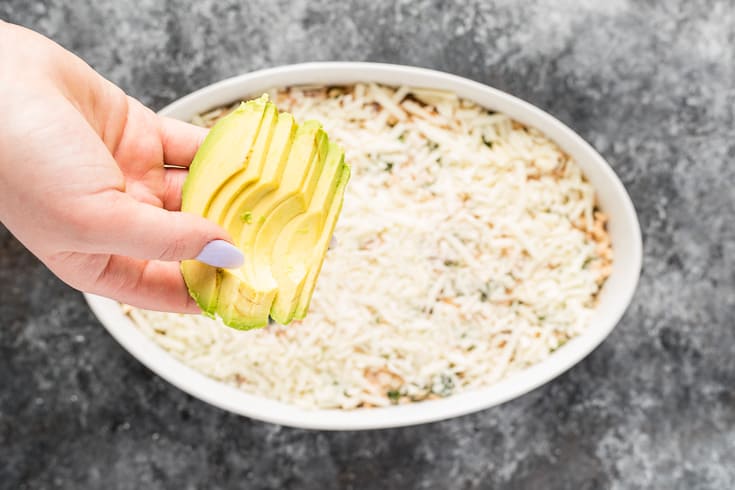 Top with the grated Pecorino and sliced avocado.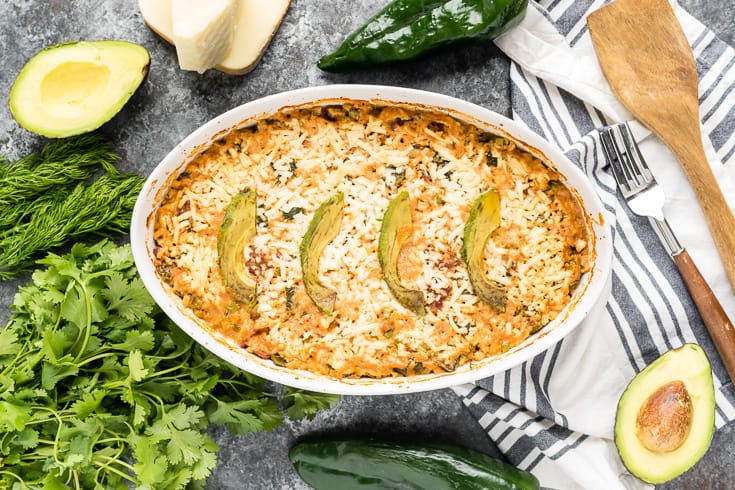 Bake the chile relleno recipe for 40 minutes.
Top the chile relleno casserole with cilantro and serve. Enjoy!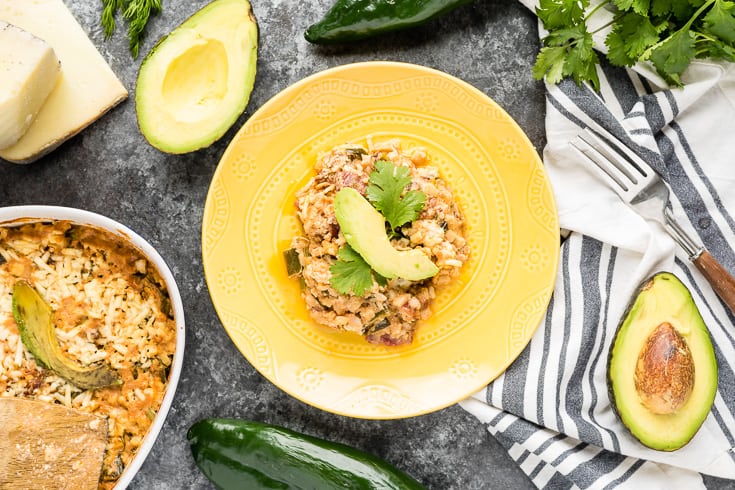 Ingredients:
3 poblanos peppers
6 ounces goat cheese crumbles
8 ounces beef bacon, chopped and cooked (save grease)
3 cups cauliflower, riced
¼ cup green onions, chopped
½ cup chicken bone broth
1 cup mushrooms, diced
1 cup tomato sauce
1 teaspoon garlic powder
1 teaspoon onion powder
1 teaspoon cumin
2 tablespoons fresh dill, chopped
1 teaspoon sea salt
1 teaspoon black pepper
1 cup Pecorino Romano, grated
Avocado, sliced for garnishing
Cilantro, for garnishing
Directions:
Preheat oven to a high broil setting.
Slice off the stems of the poblanos peppers and discard the stems. Slice the peppers in half to remove the seeds and veins of the peppers.
Place peppers (insides of peppers facing down) onto a baking sheet and broil for about 10 minutes, or until desired color is achieved.
Turn oven to 350 degrees F.
Chop peppers and place in a large bowl.
Add remaining ingredients except Pecorino and garnishes. Mix until well-combined.
Pour mixture into a casserole dish and top with grated Pecorino and some sliced avocado.
Bake for 40 minutes.
Top with cilantro and serve.