Easy Margherita Pizza Recipe (for Those Busy Weeknights)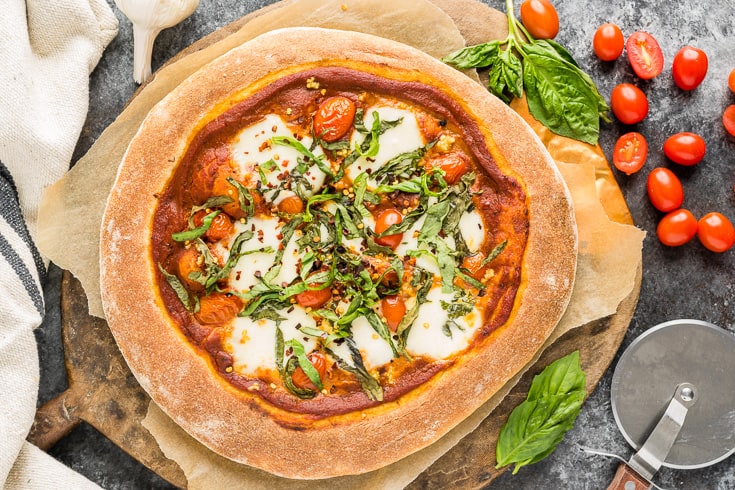 I love pizza night. It's an easy and filling dinner, but some people refrain from eating pizza because it typically contains a lot of calories without many nutrients. Well, when you prepare pizza at home and use my flatbread pizza crust recipe, you don't have to feel guilty about turning to this comforting classic.
I experiment with pizza toppings all the time — from my Florentine pizza recipe to my pizza casserole. But I also like to prepare the traditional styles you can find at any local pizza shop. My Margherita pizza recipe is super easy and completely gluten-free. Plus, it's made with fresh ingredients that will fill you with nutrients and curb your appetite.
What Is A Margherita Pizza?
Many of us are familiar with Margherita pizza but don't know where this style of pizza got its name. As the story goes, although the real origins of this pizza aren't completely clear, around 1890 an Italian pizza chef called his dish "pizza Margherita" in honor of the Queen of Italy, named Margherita of Savory. The pizza was supposed to represent Italian unification, which is why the toppings used are red, white and green — the colors of the Italian flag.
In an effort to make my version of Margherita pizza as healthy as possible, I switched a few things up — mainly by using a gluten-free crust. My flatbread pizza crust is made with gluten-free flours, including arrowroot starch and coconut flour. I also add grass-fed butter, coconut milk, raw garlic and egg. What you get is a crispy base for your favorite pizza toppings.
I love Margherita pizza because it's a simple classic that packs a lot of flavor. The combination of grape tomatoes, minced raw garlic, buffalo mozzarella and basil is fulfilling and downright tasty. Plus, the mix of textures, with the crunch of the dough and creaminess of the mozzarella, is really what makes flatbread pizzas so desirable.
Recipe Nutrition Facts
One serving of my Margherita pizza (including the crust) made using this recipe contains roughly the following: (1, 2, 3, 4, 5, 6)
238 calories
7.5 grams protein
15 grams fat
19.6 grams carbohydrates
2 grams fiber
2 grams sugar
0.6 micrograms vitamin B12 (26 percent DV)
574 IUs vitamin A (25 percent DV)
322 milligrams sodium (21 percent DV)
140 milligrams phosphorus (20 percent DV)
0.3 milligrams manganese (19 percent DV)
154 milligrams calcium (15 percent DV)
7.5 micrograms selenium (14 percent DV)
1 milligram zinc (13 percent DV)
0.09 milligrams copper (10 percent DV)
0.11 milligrams vitamin B2 (10 percent DV)
0.09 milligrams vitamin B6 (7 percent DV)
22 milligrams magnesium (7 percent DV)
4.6 milligrams vitamin C (6 percent DV)
0.8 milligrams iron (5 percent DV)
0.6 milligrams vitamin B3 (5 percent DV)
0.2 milligrams vitamin B5 (5 percent DV)
3.9 micrograms vitamin K (4 percent DV)
0.04 milligrams vitamin B1 (4 percent DV)
173 milligrams potassium (4 percent DV)
12 micrograms folate (3 percent DV)
0.3 milligrams vitamin E (3 percent DV)
How to Make Margherita Pizza
To prepare this Margherita pizza recipe, you first need to make your flatbread pizza crust. If you're in a hurry and need a quicker option, I suggest using Simple Mills Pizza Dough Mix, which is another gluten-free option.
Once your dough is ready, preheat your oven to 400 degrees Fahrenheit.
You'll need to chop 6 to 8 grape tomatoes for your pizza topping. I like to slice them in half lengthwise because they sit nicely on top of the pizza that way.
Next, spread about ½ cup of pizza sauce on top of your dough, leaving the edges empty for the crust. Then add 2 cloves of minced garlic.
Now you can add your sliced cherry tomatoes …
and then place your slices of buffalo mozzarella. I use one 8-ounce container of mozzarella, which is the perfect amount to cover the pizza.
Now it's time to add a little color — chiffonade fresh basil and place it right on top.
Alright, your pizza is ready for the oven; Bake it for 15 minutes.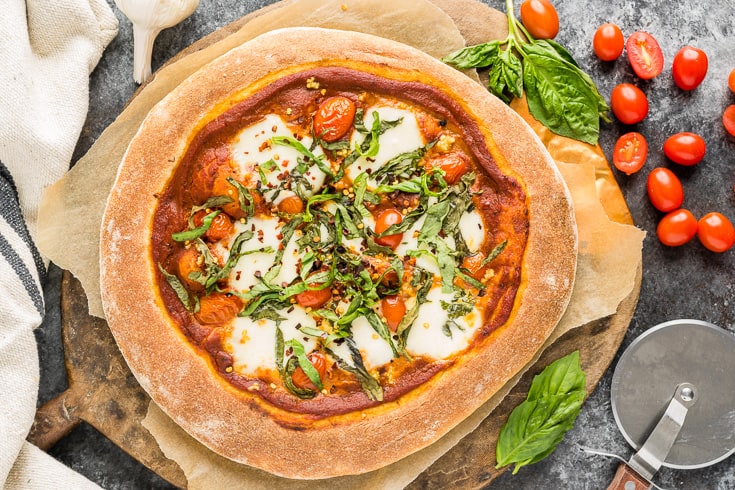 And if you want to add a little heat to your pizza, sprinkle on some red pepper flakes when it comes out of the oven.
How easy was that?
Now you have a vegetarian, gluten-free and delicious Margherita pizza that's ready to enjoy.
Ingredients:
⅓–½ cup pizza sauce
One 8-ounce container buffalo mozzarella
6–8 grape tomatoes, halved lengthwise
2 cloves garlic, minced
Fresh basil, chiffonade, for topping
Red pepper flakes, for topping (optional)
Directions:
Preheat oven to 400 F.
Place all toppings on the baked flatbread pizza crust and bake for 15 minutes.
Top with crushed red pepper.