Florentine Pizza: A Gut-Friendly Recipe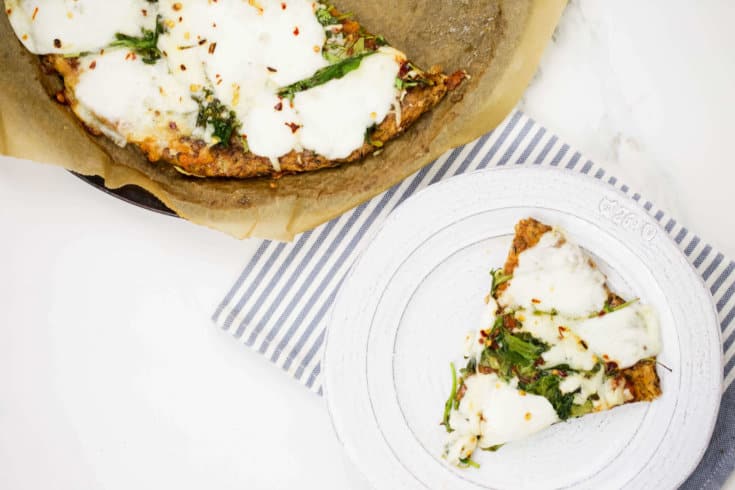 Have you ever had an egg on pizza? It may sound strange at first, but once you give it a try, you're likely to quickly become a fan. When cooked just right, egg pizza includes a mouth-watering burst of yolk, not to mention all the protein and other nutrients of eggs. Of course, this is assuming you like eggs and don't have an egg allergy or intolerance. If eggs aren't your thing, no worries because this Florentine pizza recipe makes eggs optional.
This Florentine pizza recipe combines a variety of really tasty, high-quality cheeses with tomato sauce, spinach, eggs and spice — so many tasty things in one place. That really is one of the best and most fun things about a homemade pizza, isn't it? There's no limit to what you can include. Maybe you're in the mood for chicken florentine pizza? No problem, you can still use this recipe and just add some chicken to your toppings lineup! Whether you add or subtract a bit from this Florentine pizza recipe, your final product is sure to be loaded with flavor as well nutrients.
What Is A Florentine?
Using the word "Florentine" can have several different meanings. If someone asks you "What is a Florentine?" Well, if they are using it as a noun then you should respond by saying that a Florentine is someone from Florence, the city in Italy. But if they ask you "What is a Florentine ____?" Perhaps the blank is filled with "omelette" or, in this case, "pizza". When florentine is used in this culinary fashion, it usually means that it is a dish that originates in Florence, Italy and/or that the dish features a bed of spinach as a main ingredient. When a dish is prepared à la Florentine, it will typically include spinach and often, it will also include eggs.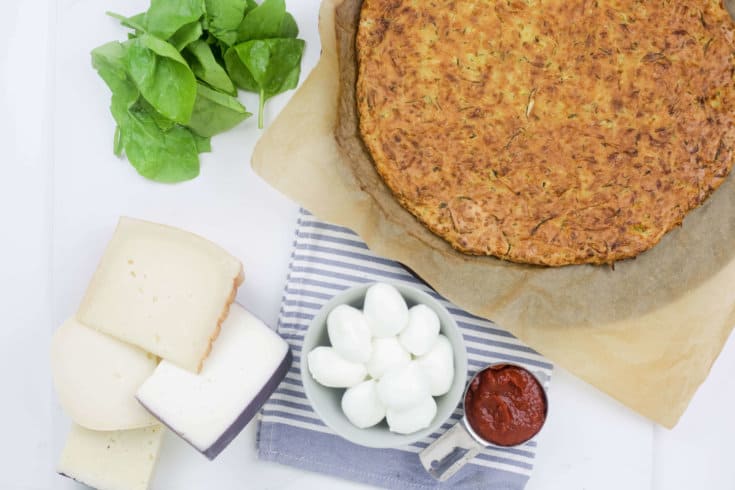 Nutrition Facts
This Florentine pizza recipe is loaded with nutrients. The valuable nutrition in this recipe comes from two parts: its crust and its toppings.
One serving of Florentine pizza (including the eggs and sauce) contains roughly the following:
270 calories
10.7 grams protein
16.6 grams fat
2.4 grams fiber
1.3 grams sugar
271 milligrams sodium
37 micrograms vitamin K (42 percent DV)
0.4 milligrams riboflavin (24 percent DV)
11 micrograms selenium (22 percent DV)
171 milligrams phosphorus (17 percent DV)
169 milligrams calcium (17 percent DV)
3 miligrams vitamin E (15 percent DV)
0.5 micrograms vitamin B12 (14 percent DV)
0.14 milligrams vitamin B2 (13 percent DV)
0.2 milligrams manganese (13 percent DV)
1.6 milligrams iron (13 percent DV)
508 IUs vitamin A (13 percent DV)
0.08 milligrams copper (10 percent DV)
34 milligrams magnesium (8.5 percent DV)
5 milligrams vitamin C (7 percent DV)
0.3 milligrams vitamin B5 (7 percent DV)
239 milligrams potassium (6.8 percent DV)
0.1 milligrams vitamin B6 (6 percent DV)
0.5 milligrams zinc (6 percent DV)
23 micrograms folate (6 percent DV)
So, as you can see, just a single serving of this Florentine pizza recipe contains 10 percent or more of at least 12 major nutrients! That's quite impressive. What are some of the ingredients making this pizza such a nutritional powerhouse? Well, just to name a few:
Spinach: This key Florentine ingredient is on superfood lists for very good reason. For starters, spinach is significantly high in vitamin K, vitamin A, vitamin C, iron and folate. In addition, spinach has a rich content of phytonutrients called carotenoids, which studies have linked to improved eye and immune system health as well as a reduced risk of cancer and cardiovascular disease. (9)
Eggs: An egg is an excellent source of protein and it uniquely comes with a full amino acid profile. Eggs are also a really affordable way to incorporate more protein into your diet. In terms of nutrients, eggs are especially high in heart healthy selenium, riboflavin and vitamin D.
Zucchini: The star of this pizza's crus is zucchini, which is has high amounts of potassium, vitamin C, vitamin B6 as well as fiber. The polysaccharide fibers, including pectin, found in zucchini are known for having a positive effect on blood sugar regulation. Zucchini crust is tasty and nutritious with less calories and carbs compared to a regular pizza crust.
How to Make Florentine Pizza
Once you have your crust made, you basically are throwing several ingredients on top to create a quick and easy Florentine pizza.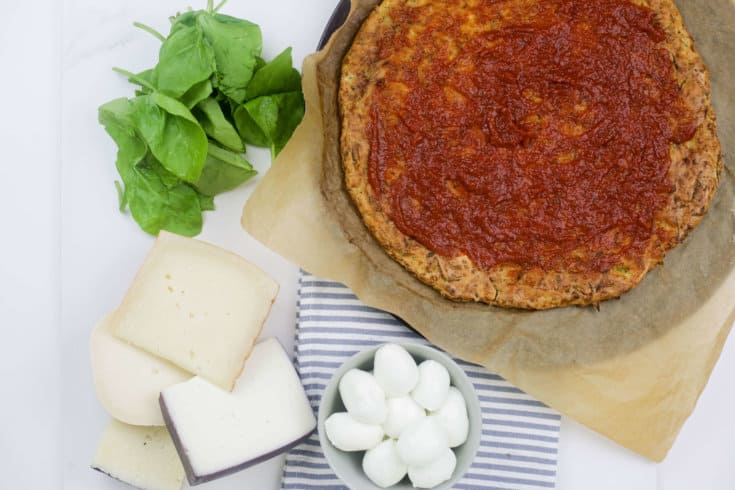 Once you remove the zucchini crust from the oven, you'll want to add your tomato sauce (if you are including it) so it covers the crust evenly, leaving a little room around the edges like a typical pizza.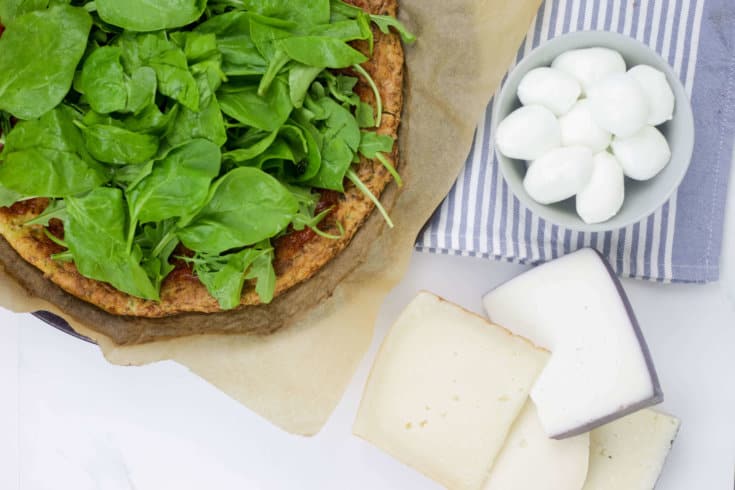 Next, add the fresh spinach and basil. Don't worry if it looks like you're putting way too much because both fresh greens will really shrink down once you cook them.
Now it's time to add all of the delicious cheeses as well as the salt, pepper and spices.
Crack the four eggs on top, making sure to crack each one in a different area so the four eggs will basically cover the entire pizza. If you're leaving the eggs out of your toppings, then simply skip this step.
It's time to put this delicious Florentine pizza into the oven. How long should you cook? It's actually up to you. If you're including eggs, then cook your Florentine egg pizza until the eggs are cooked to your desired level of doneness. If you're not including eggs, then cook it until all of the cheeses are melted and the crust is browned.
Let the pizza cool and cut into 8–10 slices before serving and enjoy!
Total Time
1 hour 10 minutes
Ingredients:
2–3 tablespoons tomato sauce (optional*)
1–2 cups spinach
¼–½ cup basil, chiffonaded
¼ cup sun-dried tomatoes
¼ cup pecorino romano
¼ cup raw sheep cheese
¼ cup crumbled goat cheese
¼ cup buffalo mozzarella
1–2 teaspoons red pepper flakes
1 teaspoon black pepper
2 teaspoons oregano
4 eggs (optional*)
Directions:
Preheat oven to 350 F.
Cook the zucchini pizza crust.
Remove crust from oven and add spinach, basil, sun-dried tomatoes, cheeses, spices and eggs.
Cook pizza until eggs are cooked to desired doneness.