Sweet & Savory Grape Jelly Meatballs (Slow Cooker Recipe)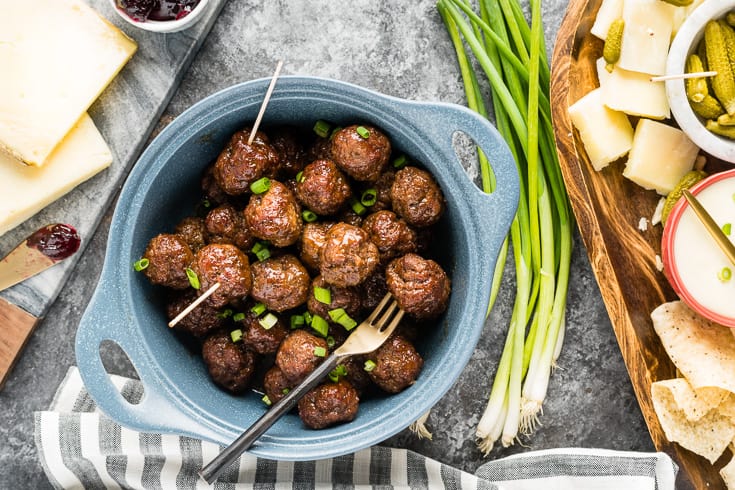 Meatballs with grape jelly. Does that sound good to you? Have you ever tried grape jelly meatballs? It's actually a very popular appetizer, but this recipe is going to be much healthier than most thanks to carefully chosen ingredients, including grass-fed beef and homemade barbecue sauce.
If you're looking for the perfect sweet and savory recipe for your next party or get-together, look no further than these incredible grape jelly meatballs. I know it may sound like a strange combo, but meatballs with grape jelly are actually really delicious and very satisfying. This recipe is definitely a must-try!
The Perfect No-Fuss Appetizer
Grape jelly meatballs are a perfect choice if you're looking for an appetizer that doesn't require a lot of time or effort. Once the meatballs are made, you simply toss them in the slow cooker with the jelly and barbecue sauce. Then you can sit back and relax (or get some things done) while they cook for several hours.
These grape jelly meatballs are uniquely rich and flavorful with ground grass-fed beef, lamb and bison. Add in some raw smoked goat cheese, fresh herbs, eggs and cassava flour and you have yourself some truly impressive meatballs that are totally gluten-free and delicious.
To ensure this grape jelly meatball recipe is a healthier take on the usual recipe, make sure to opt for a jelly that is organic (important since grapes make the Dirty Dozen list) and has under 10 grams of sugar per serving (with no added sugar!).
Like jellies, barbecue sauces are often loaded with sugar too, but if you use my homemade sweet and tangy barbecue sauce recipe, you'll ensure the sugar content per serving is much lower than the majority of store-bought versions.
Another take on this recipe is chili sauce and grape jelly meatballs. So instead of barbecue sauce, you could add some spicy chili sauce if you're looking to up the heat factor.
Recipe Nutrition Facts
One meatball with sauce contains about: (1, 2, 3, 4, 5, 6, 7, 8, 9, 10, 11, 12, 13, 14, 15, 16, 17, 18, 19, 20, 21, 23)
92 calories
4.8 grams protein
3.9 grams fat
9 grams carbohydrate
7.9 grams sugar
16 milligrams cholesterol
195 milligrams sodium
11 milligrams vitamin C (12 percent DV)
0.7 milligrams iron (3.9 percent DV)
113 IUs vitamin A (2.3 percent DV)
25 milligrams calcium (2 percent DV)
How to Make Grape Jelly Meatballs
To make this meatball recipe with grape jelly and barbecue sauce, it's truly as simple as making the meatballs, putting them into the slow cooker and adding the two sauce ingredients. That's it! Then you just need to allow for some low and slow cooking time, which results in some super flavorful meatballs.
This recipe is for grape jelly meatballs with my homemade tangy barbecue sauce. As I mentioned earlier, another popular and more spicy option to consider is meatballs with grape jelly and chili sauce.
Are you ready to make some grape jelly meatballs?
Combine all of the ingredients from my gluten-free meatball recipe in a large bowl and using your hands, mix until well-combined.
Roll the mixture into small meatballs.
Place the uncooked meatballs in a slow cooker.
Stir the barbecue sauce and grape jelly together.
Pour the sweet and tangy mixture over the meatballs. Gently stir to combine and cook covered on low for four to six hours.
Top with fresh green onions and serve.
Toothpicks can help to make serving and eating easier, especially with a large group. Enjoy!
Directions:
Place the uncooked meatballs in a slow cooker.
Stir together the barbecue sauce and jelly and pour the mixture over the meatballs.
Gently stir to combine
Cover and cook on low for 4-6 hours.
Top with green onions