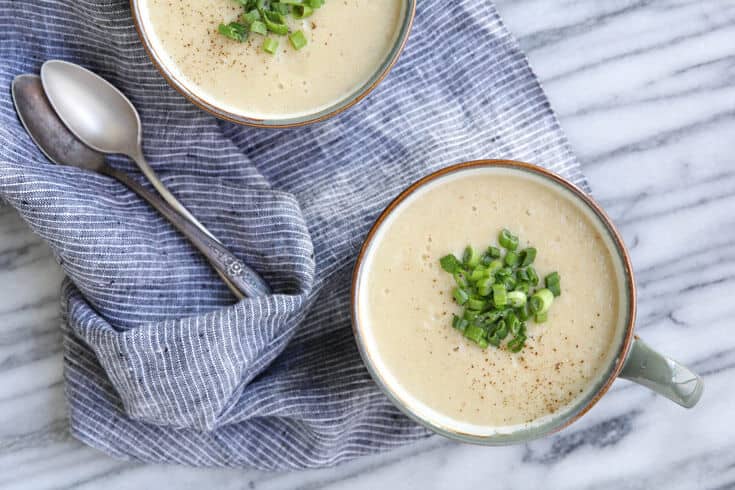 What's better than a hearty potato soup on a cold winter's night? Why, one that sneaks in extra veggies for a decadent-tasting soup that's packed with nutrients and flavor, of course.
This Potato Leek Soup is one of my favorites. Not only do you get a dose of the obvious ingredients, potatoes and leeks, but adding cauliflower and celery means this delicious soup has some surprising benefits — for instance, did you know one cup of cauliflower has 73 percent of your daily recommended vitamin C?
With just 15 minutes of prep time, you can create a restaurant-worthy soup you'll want to enjoy every last spoonful of. Let's do this!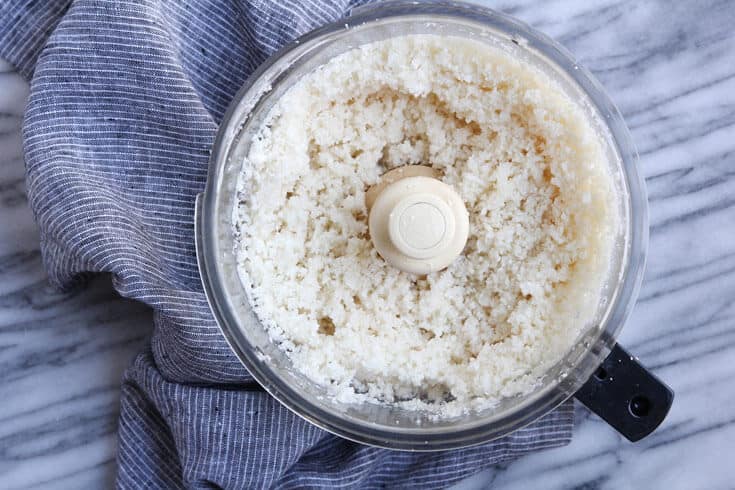 Start by roughly chopping up the two cauliflower heads and adding them to a food processor. Pulse until the cauliflower has reached a rice-like consistency and set aside.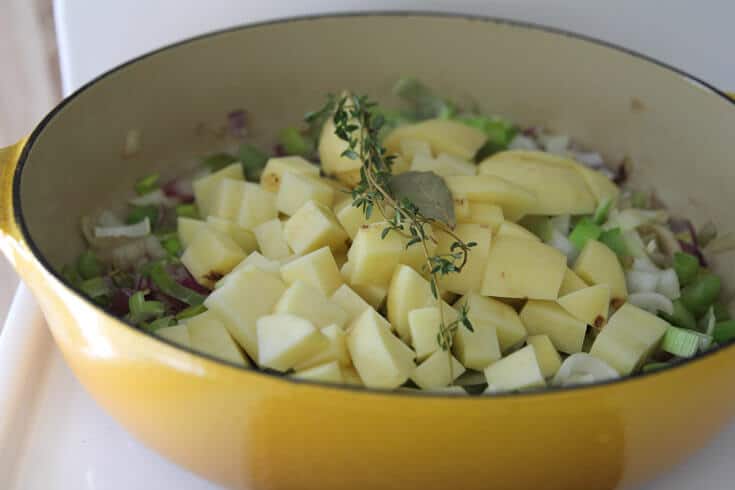 Grab a large saucepan and melt the butter because let's face it: everything tastes better with grass-fed butter. Once it's shiny and melted, add in the onions, leeks and celery, cover and let it all cook for 10 minutes. I love adding benefit-rich celery to meals because its high in antioxidants and vitamins but super low in calories.
Then, stir in the potatoes, bay leaf and thyme. You could skip the potatoes and add another 3–4 cups of cauliflower instead, but the potatoes give this soup a lovely texture and make it nice and filling.
Cook the potato leek soup for another 10 minutes then toss in the broth, turkey bacon and cauliflower. If you're vegetarian, you can easily eliminate the bacon to keep this potato leek soup meat-free.
Bring the mixture to a boil before reducing the heat. There's no need to pre-cook the bacon, either. As the soup will simmer for 30 minutes now, it'll cook right in the pot.
After 30 minutes, remove the potato leek soup from heat and remove the bay leaf and thyme. Use an immersion blender to puree the soup to your desired consistency right in the pot or, working in batches, puree it in a high-speed blender.
Let the soup rest for 5 minutes before adding salt and pepper to taste. Top the potato leek soup with diced onions and serve.
That's all there is to this easy soup. If you're feeling naughty, you could also top this with a little grated cheddar and get your cheese on. Pair my potato leek soup with a side salad and gluten-free coconut flour bread for a full meal or enjoy it as a starter.
Total Time
Prep: 15 minutes; Cook: 55 minutes
Ingredients:
1/2 medium head of cauliflower
1/2 cup unsalted grass-fed butter
1 small red onion, diced
1 small yellow onion, diced
2 leeks, sliced
3 stalks of celery, chopped
2 medium Yukon potatoes, peeled and diced
1 bay leaf
3 sprigs fresh thyme
A 32-ounce container of chicken broth
2 cups vegetable broth
1 package turkey bacon, small diced
sliced green onions
Directions:
Chop cauliflower then add to a food processor and pulse until rice-like consistency. Set aside.
In a large saucepan over medium heat, melt the butter. Add in the onions, leeks and celery. Cover and cook for 10 minutes.
Stir in potato, bay leaf and thyme. Cook for 10 minutes.
Add in broth, cauliflower and turkey bacon, bringing mixture to a boil.
Reduce heat and simmer for 30 minutes.
Remove from heat. Carefully remove the bay leaf and thyme.
Use an immersion hand blender to puree the soup in the pot (or puree in a high-speed blender). Allow soup to rest for 5 minutes. Add salt and pepper to taste.
Top with sliced green onions.