Strawberry Lime Mojito Cheesecake Recipe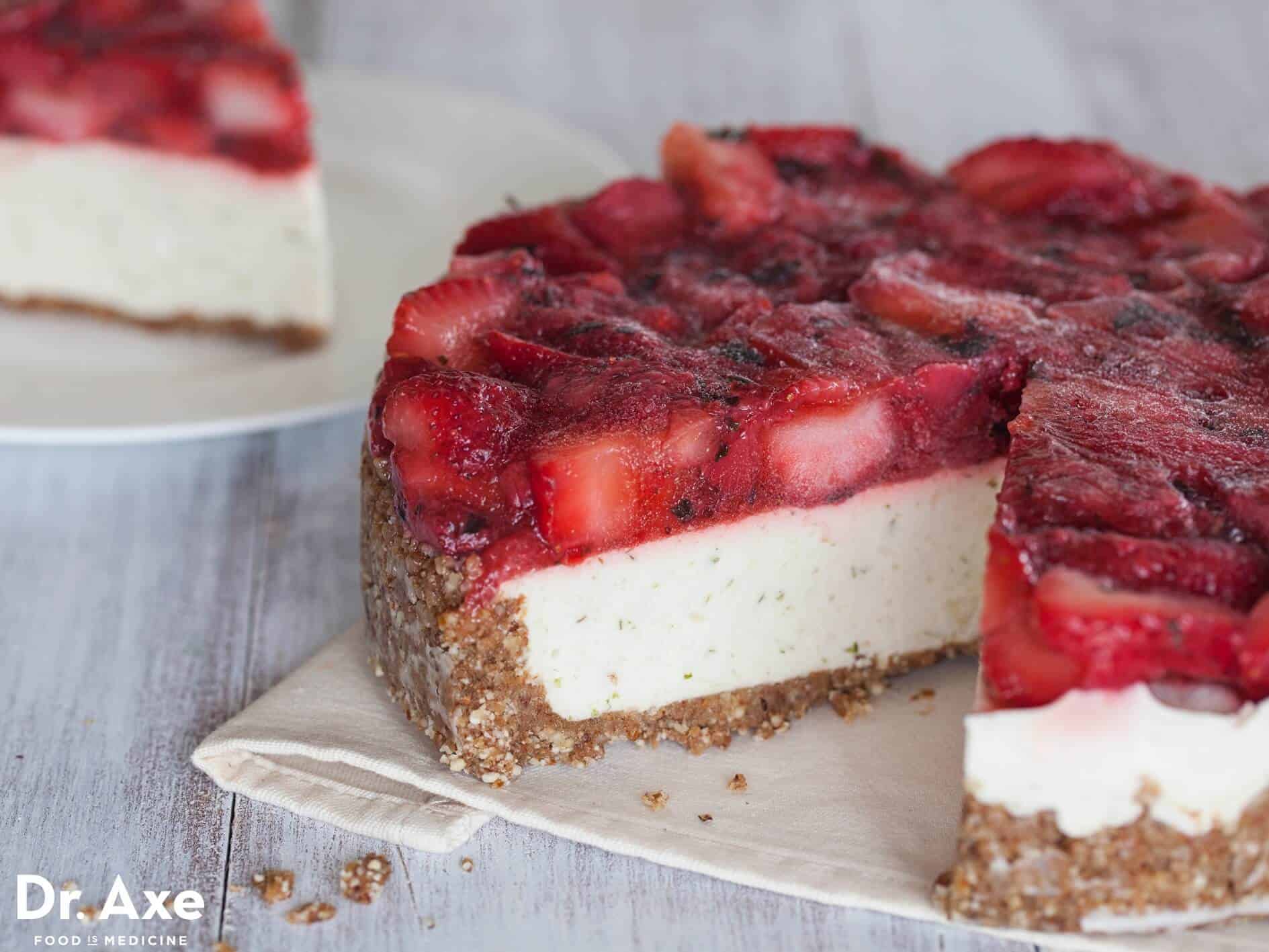 This raw Strawberry Lime Mojito Cheesecake recipe is healthy, delicious and sure to be a family favorite!
Ingredients:
2 cups almond flour
1 cup medjool dates
1 tsp vanilla extract
6 Tbsp unsalted grass-fed butter, softened
3/4 cup coconut sugar
1/2 cup honey
2 eggs
6 egg yolks
1 cup fresh squeezed lime juice
2 Tbsp tapioca starch
1/2 cup coconut cream
1/3 cup coconut oil
1-10 oz. pkg. frozen, whole strawberries
16 oz. fresh strawberries
1 tsp. fresh squeezed lime juice
1/4 cup honey
1 Tbsp tapioca starch
2 Tbsp fresh mint, finely chopped
Directions:
Put first 3 ingredients in food processor and blend until sticky. Lightly oil a nine inch cheesecake pan with coconut oil. Press the crust dough into the cheesecake pan. Place dough in freezer while you make the filling.
In mixing bowl beat the butter, coconut sugar, and honey with electric mixer. About two minutes or until well blended and mixed. Add eggs and yolks to the butter mixture and beat until well blended.
In separate bowl, add tapioca starch to the lime juice, stir well until tapioca starch is dissolved. Add the lime juice mixture to the butter mixture and continue to beat for about one minute.
Pour the mixture into a medium heavy saucepan and cook over low-medium heat, stirring constantly, until mixture thickens and looks smooth. When done, remove pan from stove to cool. Fold in coconut cream and coconut oil until totally blended.
Remove the crust from the freezer and pour the filling onto the crust. Return cheesecake to freezer and let freeze for about 5-6 hours or overnight.
Thaw frozen strawberries in a fine strainer over bowl. When thawed, press strawberries through the strainer to get the juice below until you get 1/2 cup of strawberry juice. Set strawberries that remain in strainer aside. You will use them later.
Add Tapioca starch to the 1/2 C of strawberry juice. Pour the mixture into a small saucepan over medium heat and bring to a boil, stirring occasionally. Reduce heat and simmer for approximately four minutes stirring occasionally until mixture is thickened.
Slice the fresh strawberries and gently mix them together with the remaining pulp saved in the strainer. Add honey and stir gently to coat the strawberries.
Let stand for about 10 minutes so sugar will dissolve.
Add lime juice and finely minced mint and stir. Add the cooled strawberry mixture. Spread strawberry mixture over entire cake top. Return to freezer for at least two hours.