Crockpot Collard Greens Recipe With Cajun Spices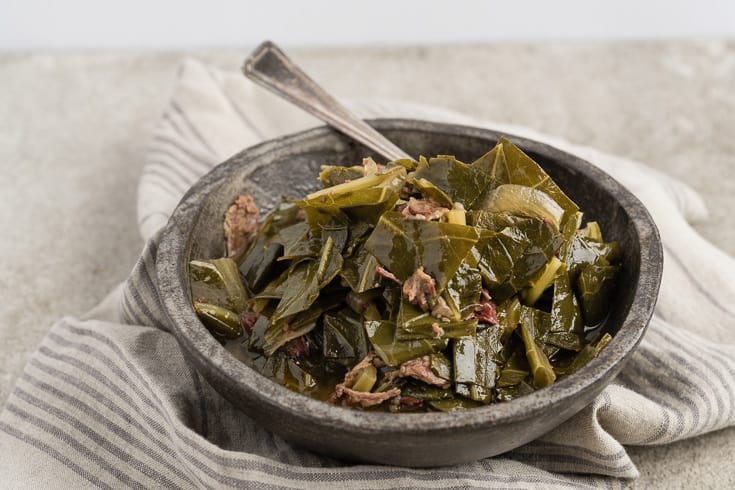 If you're wondering how to make collard greens taste absolutely delicious but still be healthy, look no further than this collard greens recipe. Instead of pork fat and ham, I'm using beef bacon and getting that delicious smokey flavor from antioxidant-rich paprika. This collard greens recipe includes chicken bone broth, providing all kinds of health benefits. And of course, the star of this side dish is collard greens, and just wait until you see all of the nutrients you get from those leafy greens.
Like mustard greens, collard greens have a delicious earthy flavor and are loaded with vitamins and minerals. Both of these greens are amongst the lesser known or less popular greens. Well actually, if you're into soul food recipes or come from the southern portion of the United States, then you'll likely know and maybe already love collards! Either way, get ready for a healthy yet just as tasty twist on a classic with this collard greens recipe.
What Are Collard Greens?
Collard greens may be a popular greens recipe in the South, but what are collard greens exactly? Collard greens, also called collards, are a plant belonging to the Brassicaceae family just like its cousins kale and mustard greens. Compared to kale, the collard plant has wide, flat leaves (the collard greens) that are not frilled at all. Collard greens are especially high in vitamin A and vitamin C as well as so many other vital nutrients. (1)
Recipe Nutrition Facts
One serving of this mouthwatering collard greens recipe contains about: (2, 3, 4, 5, 6, 7, 8, 9, 10, 11, 12, 13, 14)
148 calories
17.1 grams protein
4.6 grams fat
12.7 grams carbs
6 grams fiber
1.6 grams sugars
592 milligrams sodium
16.4 milligrams cholesterol
958 micrograms vitamin K (1,198 percent DV)
1,7648 international units vitamin A (353 percent DV)
40 milligrams vitamin C (67 percent DV)
203 micrograms folate (51 percent DV)
0.9 milligrams manganese (45 percent DV)
309 milligrams calcium (31 percent DV)
3.8 milligrams iron (21 percent DV)
0.2 milligrams riboflavin (12 percent DV)
45 milligrams magnesium (11 percent DV)
0.2 milligrams vitamin B6 (10 percent DV)
274 milligrams potassium (7.8 percent DV)
68 milligrams phosphorus (6.8 percent DV)
0.1 milligrams thiamin (6.7 percent DV)
1.3 milligrams niacin (6.5 percent DV)
1.9 milligrams vitamin E (6.3 percent DV)
0.5 milligrams pantothenic acid (5 percent DV)
0.1 milligrams copper (5 percent DV)
0.5 milligrams zinc (3.3 percent DV)
As you can see, this collard greens recipe is truly overflowing with so many nutrients! Just one serving provides well over 100 percent of average daily vitamin K and vitamin A needs. Vitamin K is essential to the proper clotting of blood while vitamin A is vital to the growth and health of the skin, teeth and bones. Vitamin A is also a powerful antioxidant that protects the body's cells from free radical damage. (15, 16)
Thanks to both the collard greens and the beef bacon (ideally opt for uncured), this recipe is high in iron in both forms: heme and non-heme iron. Heme iron is the most easily absorbable and comes from animal sources while non-heme is found in plant foods like dark leafy greens. Plus, this recipe provides over 50 percent of most people's vitamin C needs, and vitamin C is an antioxidant that helps the body to absorb iron. (17)
Overall, this collard greens recipe provides a wealth of nutrients from vitamin A to zinc, and with its hearty flavor, it's such a satisfying side dish or snack.
How to Make Collard Greens
How to cook collard greens varies, but cooking them low and slow is one of the best ways to get them tender and flavorful. This collard green recipe takes some time from beginning to end, but it's mainly effortless cooking time. To actually prep for this recipe only takes about five minutes or less. If you're looking for a mustard greens recipe, you could try substituting mustard greens for collard greens here.
Before you start following the simple steps of this collard greens recipe, make sure you have the collard leaves washed well and ready to go.
Then, begin by chopping up the collard greens.
Next, chop up the beef bacon.
Add the collard greens and beef bacon to a crockpot.
Start adding the smoked paprika and other spices.
Add in the herbs, salt and pepper.
Put the chicken bone broth into the crockpot.
Cook on low for 6-8 hours.
And that's all! Enjoy this collard greens recipe as a side with any of your favorite southern main dishes. One of my favorite combos it this recipe along with my corn-free cornbread recipe and salisbury steak recipe.
Ingredients:
8 cups collard greens
8 ounces beef bacon
3 cups chicken bone broth
2 tablespoons Dijon mustard
1 teaspoon garlic powder
¼ teaspoon onion powder
½ teaspoon oregano
½ teaspoon thyme
½ teaspoon smoked paprika
¼ teaspoon cayenne
1 teaspoon salt
1 teaspoon black pepper
Directions:
Chop collard greens and beef bacon.
Add all ingredients to a crockpot; cook on low for 6–8 hours.