The Best Lactation Cookies Recipe to Support Milk Supply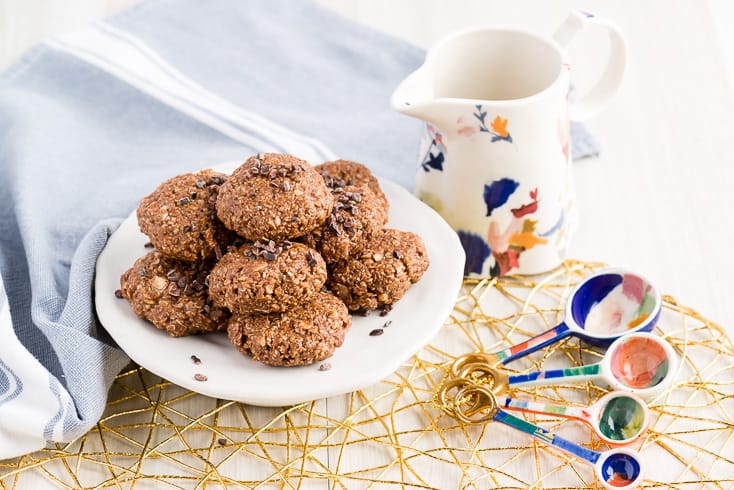 Have you ever heard of lactation cookies? Maybe you've seen them for sale in the baby food aisle and were curious about how a cookie can possibly improve your milk production. It turns out, many women turn to foods and herbs to help increase their milk supply. Fenugreek and blessed thistle are two of the most popular herbs new moms turn to, although more research is needed to determine the effectiveness of using these herbs to promote healthy lactation.
My lactation cookies are made with gluten-free oats, ground (or milled) flaxseed, almond butter, brewer's yeast, coconut oil and cacao powder — all nutrient-dense ingredients that promote the production of breast milk while strengthening your immune system, helping to fight depression and boosting your energy levels. There is absolutely zero flour in this no-bake recipe, but don't worry. Your cookies will still come out the perfect amount of crumbly and delicious!
It's reassuring to know you can turn to healthy lactation recipes like this one when you feel like you're not producing enough milk for your little one. Not only will these oatmeal lactation cookies, sometimes referred to as lactation bites, help to keep your baby well fed, but they are super easy to prepare, they taste great, they're filling and they are good for your digestion, too!
What Are Lactation Cookies?
You're probably wondering if lactation cookies really work. Although there's minimal research on the benefits of foods for breastfeeding women, anecdotal evidence and scientific surveys suggest that consuming foods like oats, flaxseeds, wheat germ and brewer's yeast can help to boost milk supply. These foods are called "galactagogues," and they are often used as an alternative therapy for mothers who feel like they aren't producing enough breast milk. (1)
The foods I use for my no-bake lactation cookies are rich in protein, fiber, healthy fats and important nutrients like B vitamins, manganese and iron. Together, these ingredients can not only promote increased breast milk supply, but they can help lower your cholesterol levels, boost your immune system and increase your energy levels — all issues that can alter your ability to produce enough milk for your child.
Lactation cookies are also full of comforting foods, like oats, almonds and cacao. When a mom is feeling relaxed and comfortable, it promotes let-down and can influence her milk supply. And the ingredients in these cookies may even help to combat the "baby blues" or symptoms of postpartum depression.
---
Nutrition Facts
One lactation cookie made using this recipe contains roughly the following: (2, 3, 4, 5)
244 calories
6.8 grams protein
14.7 grams fat
24 grams carbohydrates
5.3 grams fiber
8 grams sugar
1.5 milligrams manganese (88 percent DV)
0.3 milligrams copper (37 percent DV)
0.33 milligrams vitamin B1 (31 percent DV)
92 milligrams magnesium (30 percent DV)
0.32 milligrams vitamin B2 (29 percent DV)
196 milligrams phosphorus (28 percent DV)
1.6 milligrams zinc (20 percent DV)
2.8 milligrams vitamin E (19 percent DV)
41 micrograms folate (10 percent DV)
1.75 milligrams iron (10 percent DV)
0.4 milligrams vitamin B5 (9 percent DV)
1 milligram vitamin B3 (8 percent DV)
112 milligrams sodium (7 percent DV)
74 milligrams calcium (7 percent DV)
268 milligrams potassium (6 percent DV)
0.07 milligrams vitamin B6 (6 percent DV)
2.4 micrograms selenium (4 percent DV)
Here's a quick glance at some of the top health benefits associated with the ingredients in this lactation cookies recipe: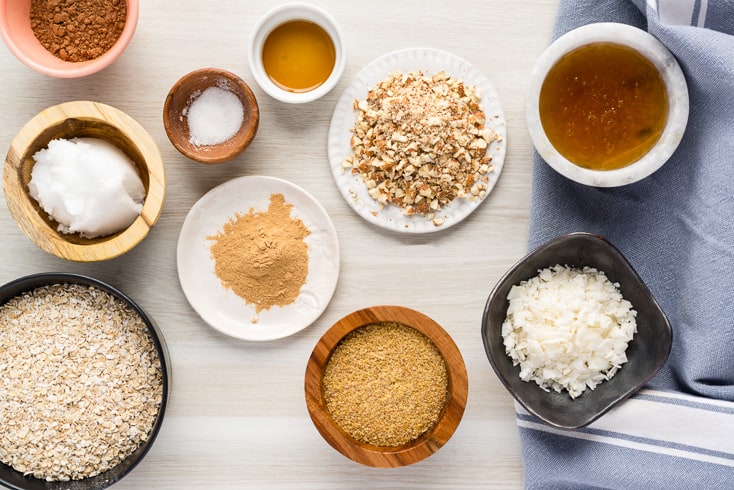 Steel cut oats: Steel cut oats have a chewy and nutty flavor, and because they are made by splitting the oat groat into pieces, they are less processed than other forms of oats on the market. Eating steel cut oats can improve your immunity, reduce inflammation, provide trace minerals like manganese and phosphorus, supply the body with plant-based protein and improve your digestion. Oats are a high fiber food, so they can also help you to feel full for a longer period of time, which can support weight loss and reduce cravings. (6)
Almond butter: Almonds nutrition is quite impressive because it contains disease-fighting antioxidants, unsaturated fatty acids, fiber and protein. Almonds and almond butter are also rich in vitamin E, riboflavin, manganese, magnesium and phosphorus. Eating almonds can help you to prevent heart disease, maintain healthy skin, support the health of your brain and control your blood sugar levels. (7)
Flaxseeds: Flaxseeds, which are high in fiber but low in carbohydrates, can help to lower your cholesterol levels, improve your digestion, support weight loss, boost your cognitive health and even potentially fight cancer. They contain powerful antioxidants (like antiviral and antibacterial lignans), omega-3 fatty acids and protein. (8)
Cacao powder: Cacao powder, which comes from ground cacao nibs, are packed with antioxidants like flavonoids, which makes it a powerful superfood. Consuming cacao powder can help you to maintain muscle and nerve function, aid your digestion, keep you satiated and reduce your risk of coronary heart disease. Plus, it boosts your mood by stimulating your brain to release neurotransmitters that trigger your emotions. (9)
How to Make Lactation Cookies
For these lactation cookies, you'll need a large bowl for mixing your ingredients as well as a lined baking sheet. You don't have to bake these cookies, so no need to preheat your oven.
Start by adding your ingredients to a large bowl. Begin with your dry ingredients, which includes 2 cups gluten-free steel cut oats, ½ cup ground flaxseeds, 3 tablespoons cacao powder, 1 tablespoon brewer's yeast and ½ teaspoon salt.
Then add in ¼ cup of finely chopped almonds and ¼ cup of unsweetened coconut flakes.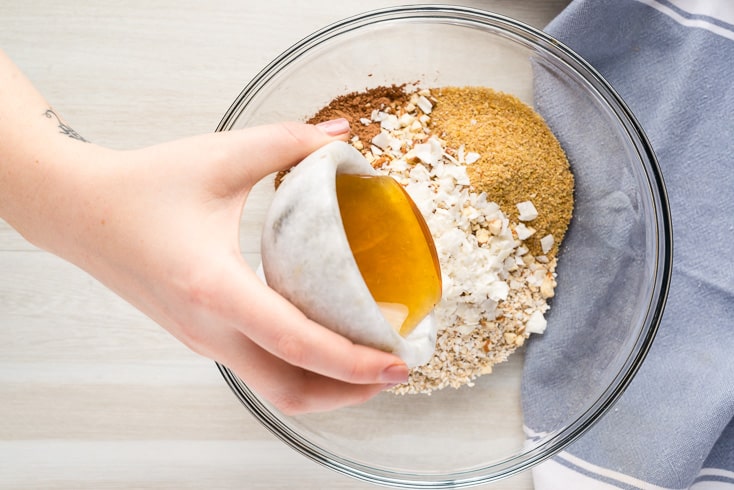 Now it's time to add in your wet ingredients, starting with ½ cup of either honey or maple syrup.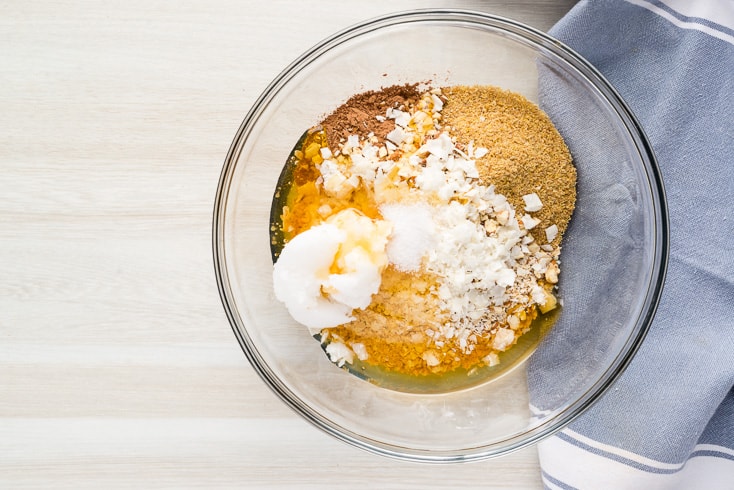 Then add ¼ cup coconut oil, ½ cup almond butter and 2 teaspoons black sesame oil.
Use a spatula to mix your ingredients together. Once everything is well-combined, take out your baking sheet and line it with parchment paper.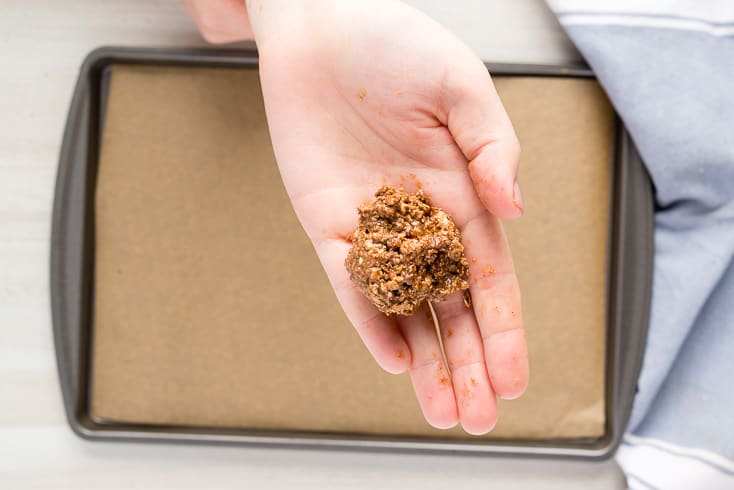 Form the dough of your lactation cookies into golf sized balls and then flatten them slightly when you place them on the baking sheet.
Since you aren't baking these cookies, they wont' expand, so you can place them pretty close together on your pan.
Your final step is to let the cookies sit in the refrigerator or freezer for at least 30 minutes so they can fully solidify.
How easy was that? You can top your cookies with cacao nibs if you'd like a little extra flavor.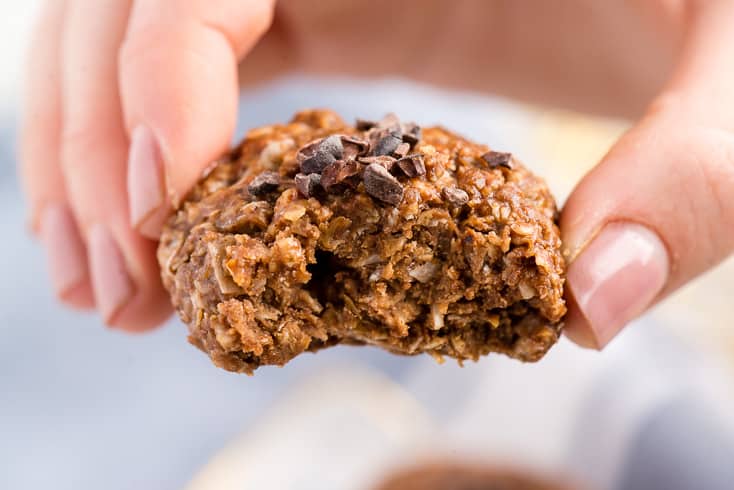 And your lactation cookies are ready to enjoy! I hope you notice your milk supply improving, and if you do, pass this recipe on to your friends and family who can use some help too!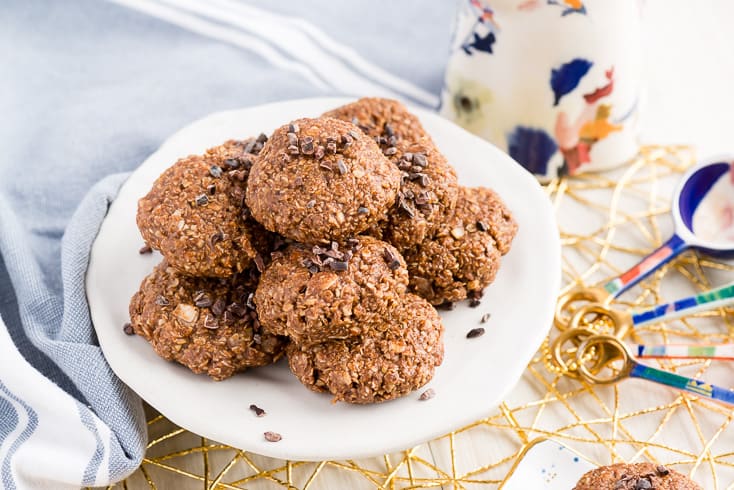 Ingredients:
2 cups gluten-free steel cut oats
½ cup almond butter
½ cup ground flaxseed
¼ cup almonds, finely chopped
3 tablespoons cacao powder
1 tablespoon brewer's yeast
¼ cup unsweetened coconut flakes
½ cup honey or maple syrup
¼ cup coconut oil
2 teaspoons black sesame oil
½ teaspoon salt
Directions:
Mix all ingredients in a large bowl.
Form dough into spheres the size of golf balls and then flatten slightly onto a lined baking sheet.
Let sit in fridge or freezer for at least 30 minutes to fully solidify.