Paleo Brownies Recipe with 7 Perfect Ingredients
Many people probably put brownies pretty high up there on their list of favorite desserts. Warm, gooey and chocolatey, there's a lot to love about brownies. But then again, there's a lot that can be problematic about a traditional brownie. Typically, brownies are made with gluten-rich flour. They're also usually loaded with inflammatory processed white sugar.
Nowadays, there are a lot of ways to up the health factor of brownies and still keep them tasty. For example, there's my sweet potato brownies recipe, which has a similar taste and nutrient boost as a pumpkin brownie recipe. You can also try an avocado brownies Paleo-friendly recipe or even beet brownies!
The healthy options keep on coming, but what if you really just want a healthier version of brownies minus the fruits and vegetables? Well then you're in luck because I'm about to reveal my rich and delicious Paleo brownies recipe to you.
Whether you're currently following a Paleo diet or close to it, looking for a flourless brownies recipe, or you're just wanting a healthier take on this classic recipe, these Paleo brownies are going to be perfect for you! Do you have a milk allergy or are you choosing to avoid dairy for health reasons? This recipe also has you covered since these are completely dairy-free brownies.
Paleo Brownie vs. Regular Brownie
While these aren't sugar-free brownies, they are brownies free of processed sugar. Instead of the usual stark white sweetener, this recipe contains maple sugar. This healthier sweetener comes from maple syrup, which is the sap of the maple tree. Unlike processed sugar that offers nothing nutritionally, maple syrup and maple sugar contain important antioxidants and minerals like manganese and zinc.
There are many versions of gluten-free brownies to choose from like coconut flour brownies and almond flour brownies. This Paleo brownie recipe is actually not just gluten-free, but also entirely flour-free. My recipe uses arrowroot starch, which is completely grain-free and ideal for gluten-free baking. Arrowroot starch comes from arrowroot, which has been shown to boost immune health in recent scientific studies. (1)
Chocolate frosting for brownies can be a way to make brownies even more chocolatey and decadent, but most frostings are just a sugar and fat trap. If you're looking to add frosting to these paleo brownies, you can try my Spiced Coconut Chocolate Frosting, which is actually a Paleo-friendly frosting recipe. Or, if you're okay with butter then you may also want use my healthier take on a more traditional chocolate frosting. Warning: these frostings may use healthier ingredients, but they will not disappoint your taste buds one bit!
Nutrition Facts
This recipe makes 12 servings of brownies. One Paleo brownie from this recipe using a half cup of maple sugar contains approximately: (2)
149 calories
9.6 grams fat
12.9 milligrams sodium
17 grams carbs
0.5 grams fiber
9 grams sugar
1.1 grams protein
0.41 milligrams manganese (20.3 percent DV)
0.75 zinc (5 percent DV)
0.36 milligrams iron (2 percent DV)
20 milligrams phosphorus (2 percent DV)
0.03 milligrams riboflavin (2 percent DV)
8 international units vitamin D (2 percent DV)
Percent daily values are based on a 2,000 calorie diet, so your daily values may be higher or lower depending on your specific needs. In terms of the sugar content, you can control it by the amount of maple sugar you choose to use plus the quality of the chocolate chips (the darker they are, the less sugar they will contain).
How to Make the Best Paleo Brownies
Any dessert is only as tasty and healthy as the ingredients that go into it. This is certainly true for brownies. This Paleo brownie recipe uses high quality ingredients with a focus on avoiding common food allergens like wheat, gluten and dairy. As I said earlier, I'm also skipping the common health hazardous ingredient of processed white sugar. The healthy substitutions in this recipe increase nutrient levels and possible health benefits.
Do you know what else? This Paleo brownie recipe is no harder or more time consuming than a traditional brownie recipe. Plus, you loose nothing in the flavor department. This recipe includes dark chocolate chips, Himalayan pink salt, vanilla extract, coconut oil … is your mouth watering yet?
Before you start making your delicious Paleo brownies, you'll need to preheat your oven to 350 F.
Next, in a small pot, after melting the coconut oil, add chocolate chips over medium heat.
Now you can start combining all of your other ingredients into a large mixing bowl, starting with sea salt and maple sugar …
then the arrowroot starch …
then the vanilla extract.
Using a hand mixer, mix all the other ingredients together until the batter is thick.
Bake for 30 minutes.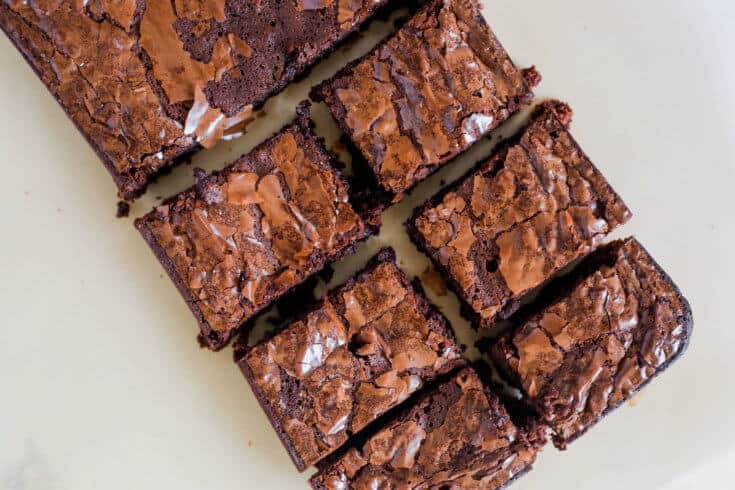 I know it's hard to wait, but allow these delicious brownies to cool for 15 minutes before digging your teeth into one.
Ingredients:
½ cup coconut oil
2 eggs
⅓ cup dark chocolate chips
½–¾ cup maple sugar
¾ teaspoon Himalayan pink salt
3 tablespoons arrowroot starch
¼-½ cup cocoa or cacao powder
2 teaspoons vanilla
Directions:
Preheat oven to 350 F.
Melt the coconut oil and chocolate chips in a small pot over medium heat.
Using a hand mixer, mix all the other ingredients together until the batter is thick.
Pour contents into a 8.5" X 4.5" X 2.75" loaf pan.
Bake for 30 minutes.
Allow to cool for 15 minutes.