Tangy and Sweet Pickled Beets Recipe
If you are a big fan of beets, you've probably already tried and love pickled beets. What if you're someone that normally doesn't enjoy the taste of beets? I would highly recommend trying this root vegetable in pickled form. First off, pickled beets are not eaten hot. They also spend time bathing in vinegar and salt — make that apple cider vinegar and mineral-rich Himalayan sea salt in this case. This pickled beet recipe gives you beets that taste noticeably different from a steamed or roasted beet. These pickled beets are still naturally sweet and delicious, but they have an added pop of flavor and tang.
Canning beets requires specific supplies you may or may not not have on hand. Canning pickled beets also equates to a good amount of time and effort. Of course, if you already know how to can beets, then you can go that route with this recipe and your final product can last longer. But this pickled beets recipe is meant to be quick and easy.
So just in case you're thinking how to pickle beets must be hard, let me tell you — it's not! This recipe for pickled beets is seriously simple yet packed with flavor and nutrients. So are you ready to find out how to make beets into a pickled delight that you can eat as a healthy snack or side dish?
Health Benefits of Beets
Of course, this delicious pickled beet recipe also provides you with impressive beet health benefits. Beets are obviously the star of any pickled beets recipe.  It's no surprise that beets and beet greens make my Healing Food Shopping List. What's so great about this vibrantly colored vegetable? For starters, beets are are a rich source of disease-fighting antioxidants, phytonutrients, vitamins and trace minerals.
Beets also contain nitrate compounds, which have been shown in studies to positively affect blood pressure levels (1). Research has shown that regularly consuming nitrate-rich vegetables like beets in moderation may protect heart health in multiple ways. (2)
In addition to supporting heart health, beets can help to reduce bodily inflammation, which we know is huge since inflammation is a root cause of so many health problems today. The peels and flesh of beets also contain phytonutrients called betalains that are not just anti-inflammatory, but encourage healthy detoxification as well. (3)
Nutrition Facts
Beet nutrition is very impressive. Beets are high in manganese, potassium, folate and magnesium just to name a few nutrients. Pickled beets are not typically eaten in large quantities. With the serving size of this recipe, you'll only be consuming a sixth to an eighth of just one beet. So the calories are very low, but the nutrients are also on the lower side since it's such a small serving size. If you have two helpings, which wouldn't be so crazy, then these nutrient numbers will all double.
One serving of this pickled beets recipe contains about: (4, 5, 7, 8)
22 calories
​< 1 gram protein
​< 1 gram fat​
​< 1 gram fiber​
4.9 grams sugar​
5.3 grams carbohydrates​
1,823 milligrams ​sodium
0.22 milligrams manganese (11 percent DV)
86 milligrams potassium (2.5 percent DV)
0.33 milligrams zinc​ (2.2 percent DV)
5.7 micrograms folate​ (1.4 percent DV)
0.14 milligram iron​ (1 percent DV)
.7 milligrams magnesium​ (1 percent DV)
How to Make Pickled Beets
How to can beets the proper way can take a lot more time, effort and tools, but how to make pickled beets is a lot easier than you might guess with this recipe. This pickled beets how-to allows you to make pickled beets quickly and easily. So let's get started!
First, you'll need to take the skin off of your beet and either slice it or chop it. Before you start cooking your beets, you'll want to make the pickling liquid. In a medium bowl, combine vinegar, maple sugar and salt, whisking until salt is dissolved.
Add your sliced or chopped beets to a medium sized pot.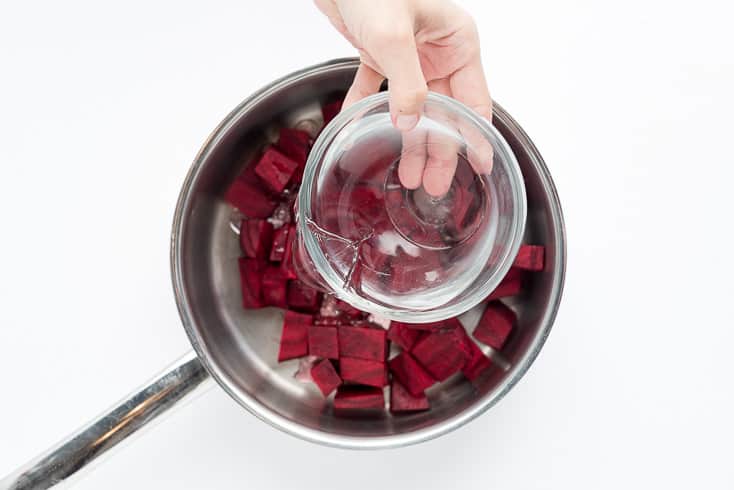 Cover them with 2 cups of water.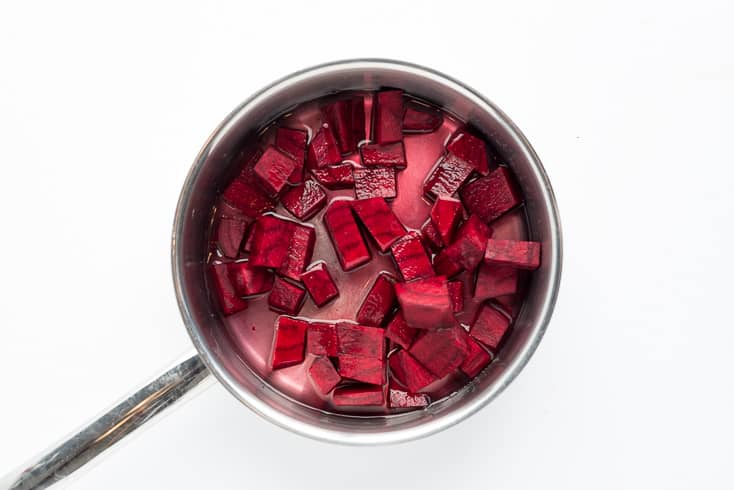 Bring the beets to a boil and then remove from heat.
Put the cooked beets into a jar.
Combine the hot water from cooking the beets with the pre-made vinegar mixture.
Pour the liquid into the jar.
Allow the mixture to set at room temperature for 1 to 2 hours.
Tightly cover the jar and place it in the refrigerator.
Your homemade pickled beets should last for a few weeks if stored in the refrigerator. Enjoy!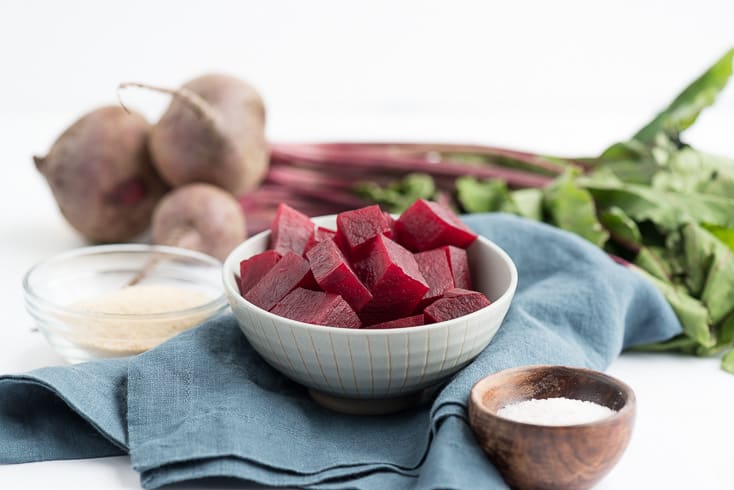 Total Time
Prep: 30 minutes; Total: 2 hours, 30 minutes
Ingredients:
4-6 medium beets, roughly chopped
2 cups apple cider vinegar
2 cups water
¼ cup maple sugar
2 tablespoons Himilayan pink kosher salt
Directions:
In a medium pot, add the beets and cover with 2 cups of water.
Bring to a boil.
Remove from heat.
In a medium bowl, combine vinegar, maple sugar and salt, whisking until salt is dissolved.
Place the beets in a jar and pour the hot water from the pan into the jar, along with the vinegar mixture over the beets.
Allow mixture to set at room temperature for 1–2 hours.
Tightly cover the jar and place in the refrigerator.
Will last for a few weeks if stored in the refrigerator*