Pickled Red Onions Recipe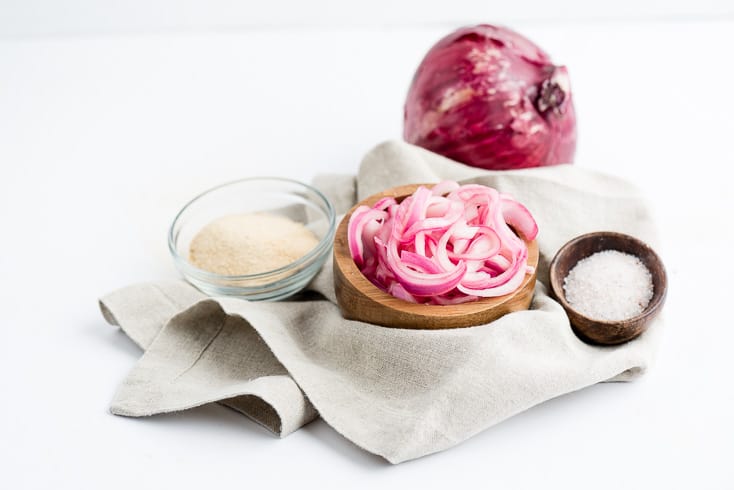 If you haven't had the pleasure of eating tacos with pickled red onions, you need to try some right away. These little veggies pack a huge flavor punch, turning a run-of-the-mill taco into something sweet, salty and thoroughly delicious.
Usually, pickling can take days, if not weeks. But what if I told you that it's easy to make homemade pickled onions — that you could have them ready to gobble down in just an hour? That, my friends, is the beauty of this easy and fast pickled onions recipe.
Why Pickle Foods?
Aside from being tasty, what's the benefit of pickling foods? When it comes to your gut, there are quite a few. Pickling is a form of fermentation, a process that turns the sugar and carbs naturally found in foods into friendly bacteria. These bacteria help to break down ingredients in the food when you eat them, improving digestion.
Eating enough pickled and fermented foods can also boost your immunity and help your gut steels itself against harmful bacteria. The good bacteria found in these foods creates a protective line of defense that protect against pathogens like salmonella and E. coli.
Another pickling bonus? The process helps food last longer. In fact, pickling came about as a way to preserve food back in times when refrigeration wasn't an option.
Nutrition Facts
Now, let's talk about the nutrition in these pickled red onions. One serving contains: (1)
17 calories
2 percent DV vitamin C
1 percent DV vitamin B5
3.5 grams carbohydrates
33 percent DV sodium
4 percent DV manganese
2 percent DV fiber
2 percent DV vitamin B6
1 percent DV folate
These pickled red onions are an easy way to add a little pizzazz to any meal without piling on the calories. The ingredients list is so simple, too. The apple cider vinegar is a kitchen staple responsible for the pickling process here. It's one of my favorite natural ingredients, as it has so many beneficial uses.
From balancing your body's pH levels to alleviating heartburn and encouraging the growth of good bacteria (they strike again!), apple cider vinegar is an ingredient that needs to be in your cabinets.
I like sweetening these pickled red onions with maple sugar instead of table sugar. Not only is it natural — the sugar is derived from the sap of maple trees —  but it doesn't spike your blood sugar. Combine the onions, sugar, vinegar, salt and water and you've got yourself a super simple recipe for pickled onions! Let's get these going.
How to Make Pickled Red Onions
In a medium bowl, combine all of the ingredients except for the onions. Whisk away until the salt has dissolved in the liquid.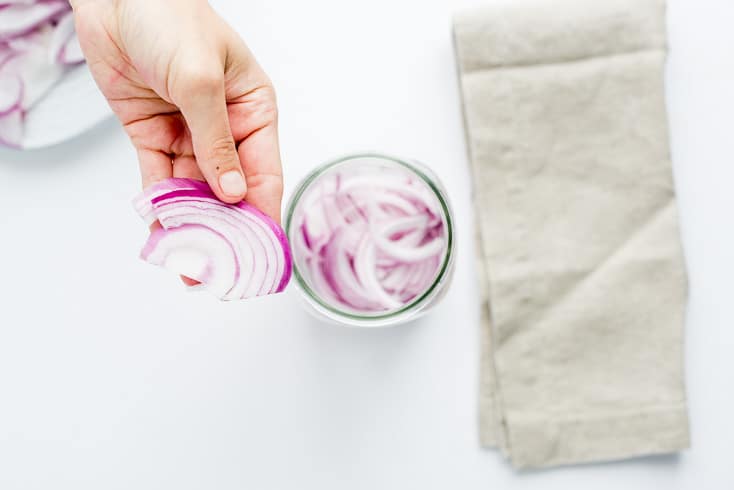 Next, add the red onions to a tall jar.
Then pour the vinegar mixture over the onions, making sure they're immersed in the liquid. Let the pickled onions mixture set for 1–2 hours at room temperature. At this point, you can either eat the onions or cover the jar and place in the refrigerator. They'll last for several weeks in the fridge.
As mentioned, these pickled onions are terrific on tacos, but you can use them in other ways, too.
Try adding them to sandwiches and wraps for extra flavor, or including them in your guacamole. They also work well as a burger topping.
Total Time
Prep: 15 minutes; Total: 2 hours 15 minutes
Ingredients:
1–2 medium red onions, thinly sliced
½–1 cup apple cider vinegar
1 cup warm water
1 tablespoon maple sugar
1½ teaspoons kosher salt
Directions:
In a medium bowl, combine vinegar, maple sugar, water and salt, whisking until salt is dissolved.
Place the onion in a jar and pour the vinegar mixture over the onions.
Allow mixture to set at room temperature for 1–2 hours.
Tightly cover the jar and place in the refrigerator.
Will last for a few weeks if stored in the refrigerator*