Dr. Axe

>

Recipes

>

Gluten-Free
Roasted Beet Salad Recipe
Ingredients:
3 medium beets with tops trimmed to 1"
¼ cup fresh orange juice
2 teaspoons honey
2 teaspoons balsamic vinegar
1 teaspoon grated orange zest
1 teaspoon Dijon mustard
½ teaspoon extra virgin olive oil
1 pear, cored and sliced
½ cup thinly sliced onion
¼ cup crumbled goat cheese
2 tablespoons sliced almonds, toasted
salt and pepper
Directions:
Preheat oven to 400 degrees Fahrenheit. Wrap beets tightly in heavy-duty foil.
Roast beets until tender, 50 to 60 minutes. Cool, peel and cut into cubes.
In a large bowl, whisk together orange juice, honey, vinegar, orange zest, mustard and olive oil. Season with salt and pepper to taste. Add pear, onion and roasted beets and toss to coat.
Divide salad evenly among 4 plates and serve topped with cheese and almonds.
Beets are some of the healthiest vegetables around. Did you know that the benefits of beets include being high in antioxidants, reducing disease-causing inflammation, detoxing the blood and even reduce high blood pressure? But perhaps the most surprising fact about beets is how few people know what to do with them.
Whether you're someone who routinely skips beets when purchasing produce or have already embraced them into your diet, you will love this roasted beet salad. While it takes an hour from start to finish, there's very little hands-on time required — and it just might turn you into a beet fanatic!
Let's start by preheating the oven to and wrapping up the beets in thick aluminum foil. Make it easier to pull them out later by placing the wrapped beets on a baking pan. When the oven is nice and toasty, slide the beets in and let the oven work its magic for the next hour or so.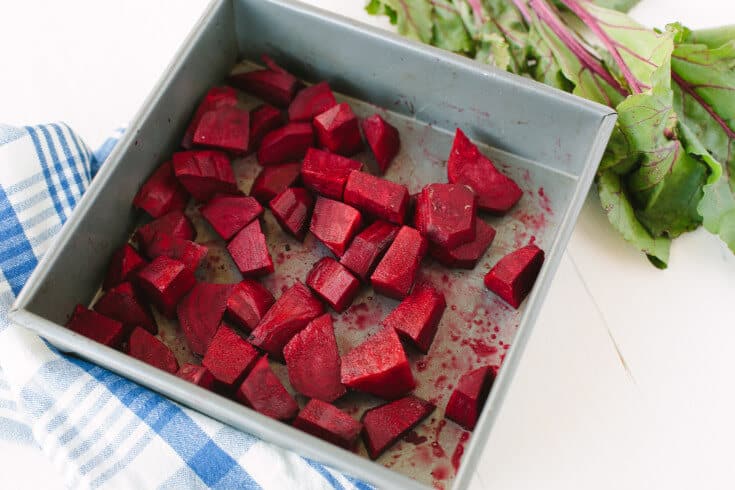 Once the beets are tender, pull them out. Give them some time to cool off, then peel and cube 'em. Look at that color!
While the beets are returning to a temperature where you can handle them without scalding yourself, whisk together your dressing, also known as the orange juice, honey, vinegar, orange zest, mustard and oil. Then add in some nutritious onion, pear and cubed beets. You're almost there!
Divvy up the salad among four plates (or take an extra helping). Top each portion with goat milk cheese and heart-healthy almonds. Now that is a salad!
I love how fancy this salad looks but also how easy it is to whip up for lunch or a light dinner. It's a great way to introduce a new veggie to your family's menu. You could even add grilled chicken or fish to make this more hearty.
Get FREE Access!
Dr. Josh Axe is on a mission to provide you and your family with the highest quality nutrition tips and healthy recipes in the world...Sign up to get VIP access to his eBooks and valuable weekly health tips for FREE!
Free eBook to boost
metabolism & healing
30 Gluten-Free Recipes
& detox juicing guide
Shopping Guide &
premium newsletter