Nondairy Homemade Coffee Creamer Recipe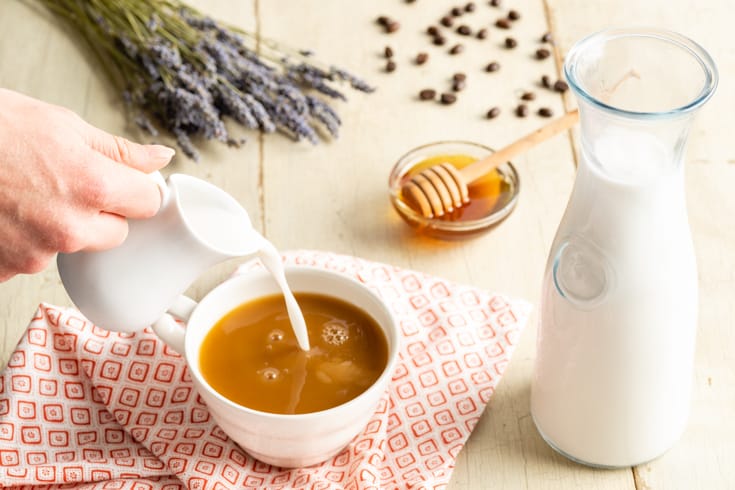 Whether you have a milk allergy, love coconut milk or simply think you feel better on a dairy-free diet, this coconut milk coffee creamer recipe is for you!
Coconut milk and coconut oil contain medium chain fatty acids, or MCTs, which are easily digested and converted to energy. Start your day off right by adding this delicious coconut milk coffee creamer recipe into your morning cup of joe.
This nondairy homemade creamer for coffee or tea is incredibly tasty and so simple to make in less than five minutes.
Nondairy Coffee Creamers
A coconut-flavored coffee creamer may be agreeable to your taste buds, but is it natural? Unfortunately, you can't assume a nondairy coffee creamer is healthy just because it doesn't contain dairy or because it contains coconut. Reading the labels of dairy-free coffee creamer options today can be really eye opening. It's actually quite hard to find a simple creamer option that only contains whole-food ingredients and tastes good.
Can you find a coffee creamer with coconut milk or a coconut creamer powder in your local grocery store? Quite likely, yes. The problem is that many of these dairy-free coffee creamers are loaded with questionable ingredients such as dipotassium phosphate and gellan gum. Conventional coffee creamers are also notorious for their trans fat content. (1)
Almond milk homemade coffee creamer is a dairy-free option that can be healthy, but many people prefer the way that coconut milk mixes into coffee or tea. Plus, it adds a delicious richness, especially if you use a full-fat coconut milk.
Why Use Coconut Coffee Creamer?
I highly recommend using a homemade nondairy coffee creamer like this one because not only is it loaded with energizing fats and delicious flavor, but it also guarantees that you leave out any unhealthy and questionable ingredients.
Is coconut milk creamer good for you? It certainly can be if you use healthy, whole-food ingredients like this recipe, which is Paleo diet-friendly. This homemade coffee creamer is also an option for anyone following a vegan diet.
While on the subject of coconut milk, I'll answer a few other common questions:
Is coconut milk good for your heart? The debate over coconut oil and coconut milk's healthiness will likely continue, but recent research points toward coconut milk as a healthy source of coconut fat, which was shown to decrease LDL "bad" cholesterol while increasing HDL "good" cholesterol, which is believed to protect against heart attack and stroke.
Can you use coconut milk as coffee creamer? Yes, you can certainly use pure coconut milk as a single ingredient, dairy-free creamer for coffee and tea.
Can you steam coconut milk? Yes, you can steam it just like cow's milk.
What is a coconut milk latte? It's typically a hot drink made with espresso and coconut milk as the base liquid. I also love using full-fat coconut milk as the base for my Turmeric Latte Recipe.
Nutrition Facts
One serving of this nondairy coffee creamer recipe contains about: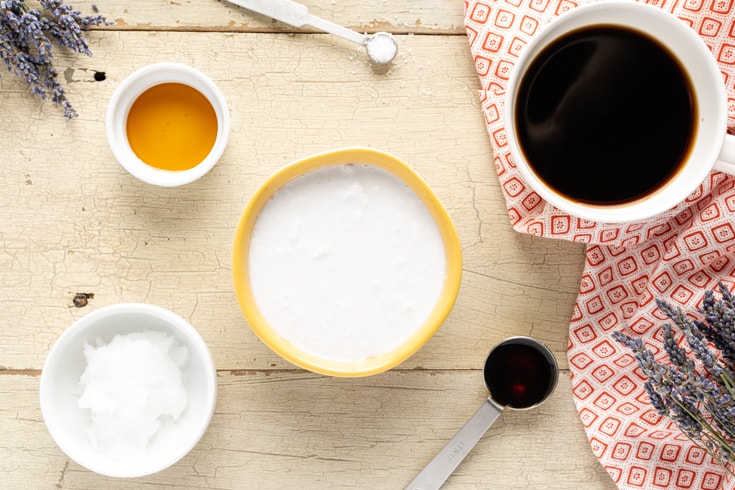 66 calories
<1 gram protein
7 grams fat
<1 gram carbohydrate
0 grams fiber
0 grams sugar (unless you choose to add honey)
6 milligrams sodium (with no sea salt added)
How to Make
First melt the coconut oil with a small saucepan. Using a high-powered blender, add in the coconut milk, vanilla, stevia and salt before adding the melted coconut oil. Blend!
This coconut milk coffee creamer only takes about two minutes to make and should last in your refrigerator for up to a week.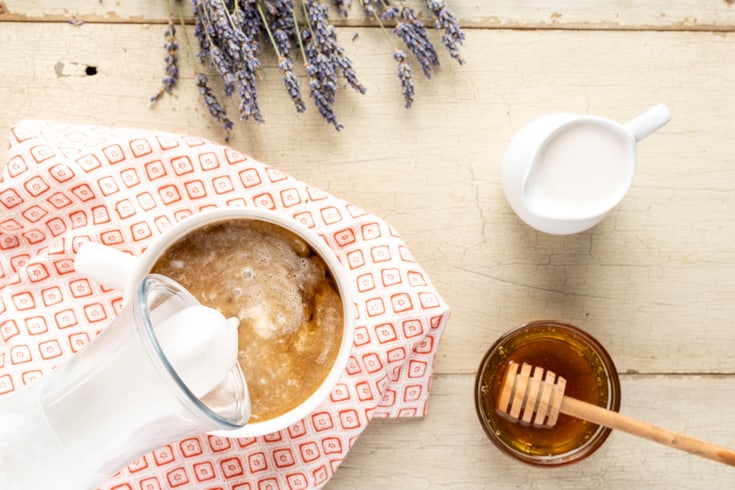 Print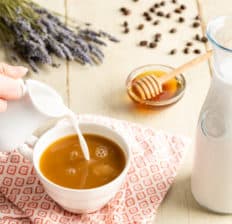 Coconut Milk Coffee Creamer Recipe
---
Author:

Total Time:

2 minutes

Yield:

1

2

1

x

Diet:

Low Lactose
Description
Whether you have a milk allergy, love coconut milk or simply think you feel better on a dairy-free diet, this coconut milk coffee creamer recipe is for you!
---
One 13.5 ounce can coconut milk
1 tablespoon vanilla extract
2 tablespoons coconut oil, melted
Honey or vanilla stevia, to taste
Sea salt, to taste (optional)
---
Instructions
Melt the coconut oil in a saucepan.
Put all ingredients in a blender and mix until well-combined. Use in coffee as desired.
Add sea salt to taste.
Notes
For the stevia, liquid stevia is what I most recommend. Use half a dropper for one cup of coffee.
Prep Time:

2 min

Category:

Beverages

Method:

Blending

Cuisine:

American
Nutrition
Serving Size:

1.2 oz

Calories:

85

Sugar:

0.1g

Sodium:

4mg

Fat:

9g

Saturated Fat:

7.9g

Unsaturated Fat:

0.5g

Carbohydrates:

1g

Protein:

0.6g
Keywords: coconut milk coffee creamer, non dairy creamer, homemade coffee creamer, vegan coffee creamer