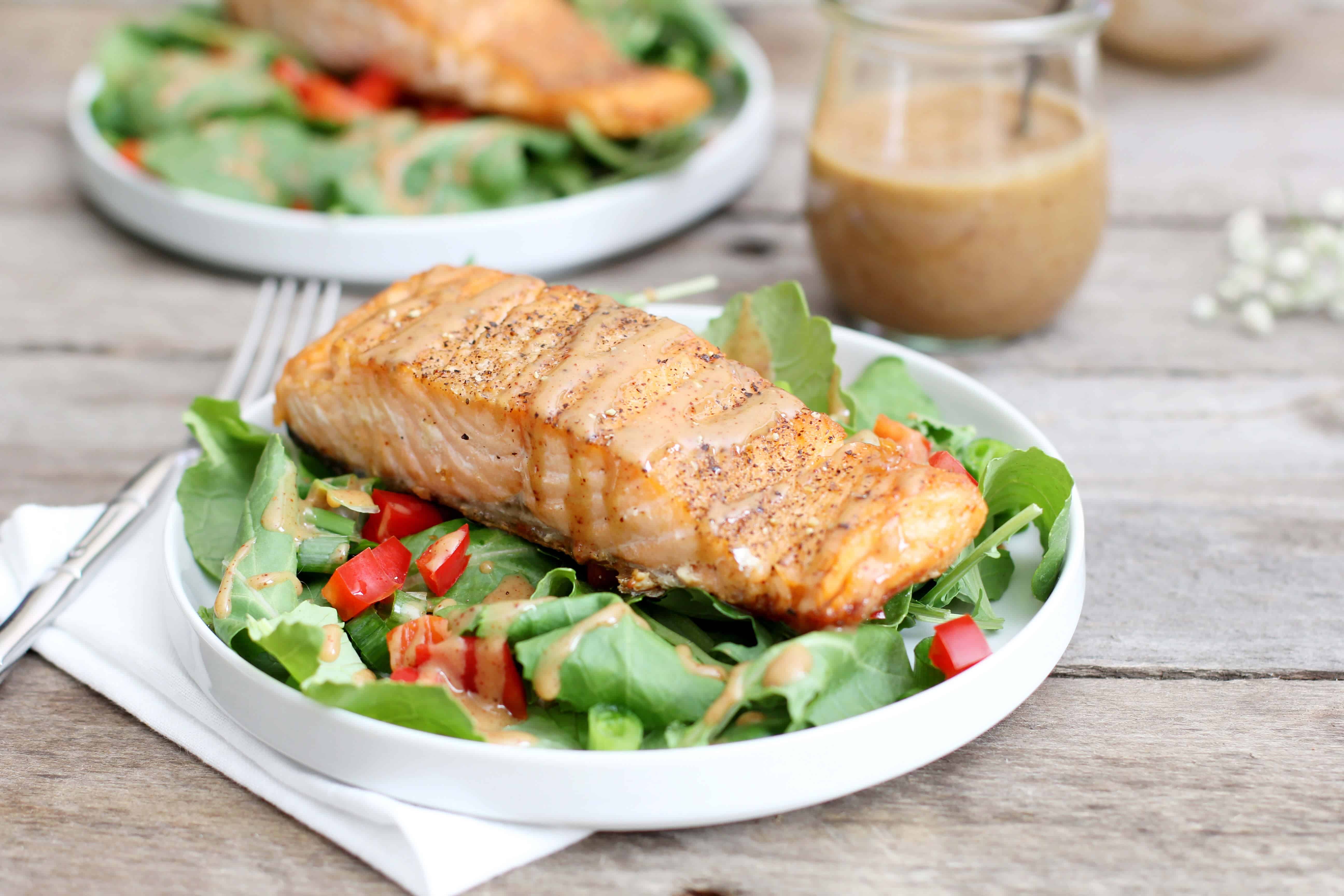 What could be better than a quick lunch or dinner made with not one, but two superfoods? Enter this Salmon Kale Salad. This recipe takes less than 20 minutes to make and is packed with flavor and nutrients. You've got the outstanding amounts of vitamins B12 and D and omega-3 fatty acids in the salmon and all the health benefits of kale, which include off-the-charts amounts of vitamins K, A and C along with numerous other vitamins and minerals. A homemade Chipotle Honey Mustard (dairy-free!) tops it off with tang and a bit of spice.
You'll start this recipe by heating your oven to 400 and heating an all-metal skillet over medium-high heat. Then pat your salmon fillets dry and lightly salt and pepper them on both sides. Once the skillet is hot, add some grapeseed oil and then add the salmon fillets, skin side up. Sear the salmon for 3 minutes, then flip it and sear the other side for 3 minutes. Once it's seared, turn off the heat and transfer your skillet to the oven. You're going to bake the salmon for 5 minutes to finish it off.
While the salmon is baking, let's make the Chipotle Honey Mustard dressing.
This dressing is super simple: it's just Dijon mustard, honey, a "dairy" component, chipotle powder, garlic powder, and salt. For the dairy component, you can use goat milk yogurt or, if you'd like the dairy-free version, soaked raw cashews.
If you use the cashews, you'll combine all the dressing ingredients in a blender, add 2–4 tablespoons of water, and blend until smooth. Cashews make a great substitute in recipes like this, because once soaked and puréed, they have a creamy texture and nutty flavor that's very cheese or yogurt-like. Trust me, you're going to be hooked on them!
If you're using the goat's milk yogurt, you can combine all the ingredients in a small bowl and whisk together. That's it! Set the dressing aside and remove the salmon from the oven.
Is there any easier and more delicious fish than salmon? Look at how beautiful it is with just some simple prep. Transfer the salmon fillets to a plate and sprinkle them with lemon juice. Allow them to rest while you prepare the rest of the salad.
Divide the baby kale evenly amongst 4 plates. Sprinkle each salad with the chopped green onions and red pepper. Then drizzle each salad with the Chipotle Honey Mustard. Finally, top each salad with a salmon fillet. Alternatively, you could massage the dressing into the kale before topping with the nutrition-rich onions, pepper and salmon.
Last but not least, enjoy the fresh flavors of this Salmon Kale Salad and feel your body thank you for feeding it a super-nutritious meal.
Like this recipe? You might also like my Kale Caesar Salad Recipe.
Other One-Bowl Meals
Ingredients:
Salmon:
4 salmon fillets, wild caught
salt and pepper
1 tablespoon grapeseed oil
2 teaspoons lemon juice
Dressing:
1/4 cup German or Dijon mustard, preferably with an apple cider vinegar base (as opposed to distilled white vinegar)
3 tablespoons raw, local honey
2 tablespoons goat's milk yogurt or soaked raw cashews
1 teaspoon chipotle powder
½ teaspoon garlic powder
dash of salt
Salad:
12 ounces baby kale
3 green onions, chopped
1 red pepper, chopped
Directions:
Heat the oven to 400 F.
Heat a large all-metal skillet over medium-high heat. Lightly salt and pepper both sides of the salmon fillets. Add the grapeseed oil, then the salmon fillets. Sear the salmon for 3 minutes. Flip the salmon and sear 3 minutes more.
Turn off the heat and put the skillet in the oven for 5 minutes to finish. While the salmon is baking, prepare the salad dressing.
In a small bowl, combine the mustard, honey, yogurt, chipotle powder, garlic powder and salt. Stir together until well incorporated. If using cashews instead of yogurt, place all ingredients in a blender, add 2–4 tablespoons water, and puree until smooth. Set aside.
Remove the salmon from the oven and transfer it to a plate. Sprinkle the fillets with the lemon juice and allow to rest while preparing the rest of the salad.
Divide the kale between 4 plates and top with the green onions and red pepper. Drizzle the salads with the dressing. Place 1 salmon fillet on top of each salad.