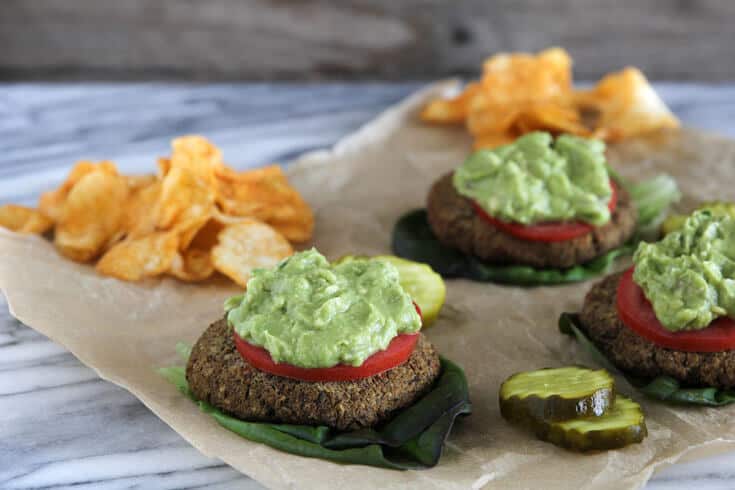 Burgers are one of my favorite meals, but if you're vegetarian or trying to cut back on your meat intake, your options are limited. They tend to be either over-processed soy patties or mushroom burgers.
That's not the case with this Black Bean Burger recipe. Because they're made with fiber-rich black beans, these burgers will keep you full for hours. They're also packed with quinoa, coconut and almond flours plus flaxseed meal, so they're gluten-free with no icky fillers.
These black bean burgers are also bursting with flavor, because they've got a variety of seasonings, plus jalapeno, onions, peppers and cilantro cooked right in the patty. Trust me when I say that you won't miss the beef in these burgers. Let's make them.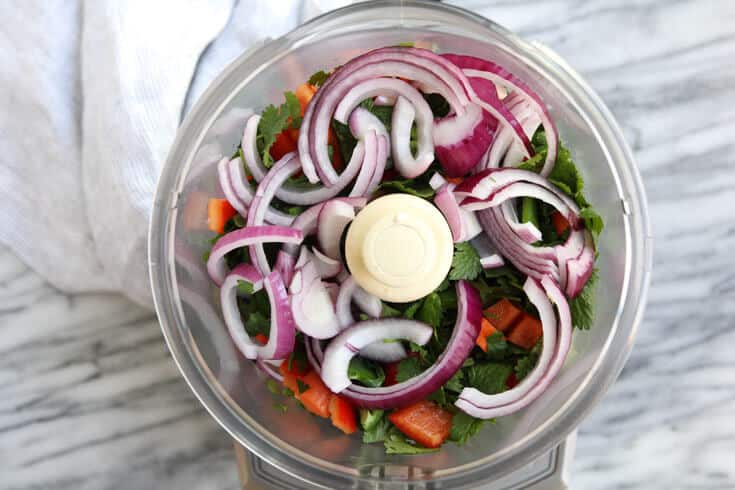 We'll start by preheating the oven for 350 F. In a food processor, add in the onions, carrots, bell peppers, jalapenos and cilantro and blend for 2–3 minutes. How good does that smell?
Next, add in the black beans, salt, pepper, spices, flax seed meal and the flours. Once the mix is smooth, transfer the black bean burger mix to a mixing bowl. Form round patties, around 1/8-inch thick and 3–4 inches wide. If you need to thicken the mix, slowly add in more almond flour.
Once the patties are formed, heat coconut oil in a medium skillet and cook the black bean burgers for 8 minutes on each side, until they're browned. Then place the burgers on a parchment paper-lined cookie sheet and bake for another 20 minutes, flipping them half way through.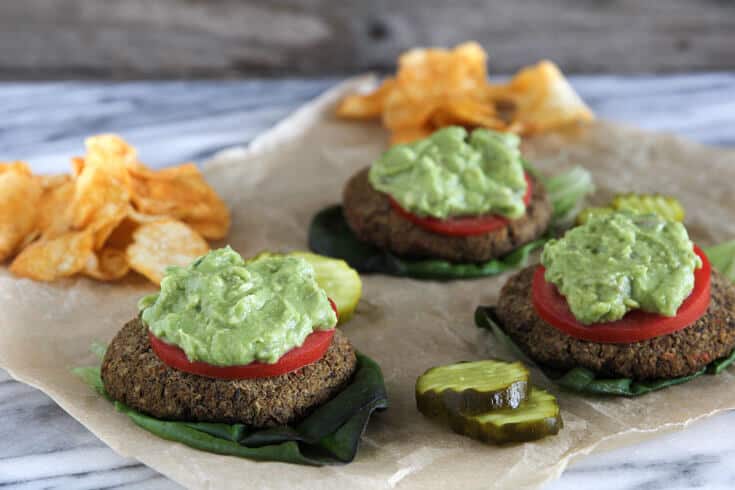 Finish off the burgers with your favorite toppings and serve on a gluten-free bun or in a lettuce wrap. I love these with sweet potato fries or turnip fries on the side. Whether you're meat-free or not, you will love these black bean burgers.
Ingredients:
28 ounces cooked black beans
½ red onion, sliced
2 carrots, chopped
1 red bell pepper, chopped
2 jalapeno peppers, sliced lengthwise
1 cup cilantro, chopped
1 teaspoon sea salt
1 teaspoon pepper
½ teaspoon chili powder
½ teaspoon cumin
⅛ teaspoon smoked paprika
¼ cup ground flaxseed meal
½ cup quinoa flour
¼ cup coconut flour
¼ cup almond flour
½ teaspoon coconut oil
Directions:
Preheat oven to 350 F.
In a food processor, blend the onion, carrots, bell pepper, jalapenos and cilantro on high for 2–3 minutes.
Add the black beans, salt, pepper, spices, flaxseed meal and flours and mix on high for another 2–3 minutes.
Transfer the mixture to a large mixing bowl.
With your hands, form round patties 1/8 inch thick and about 3–4 inches wide.
Add more almond flour to thicken if necessary.
In a medium-sized skillet over medium heat, melt the coconut oil.
Cook the burgers for 8 minutes on each side, until they are browned.
Transfer burgers to a baking sheet lined with parchment paper and bake for an additional 20 minutes, flipping the burgers at 10 minutes.
Top with your favorite burger toppings and enjoy on a gluten-free bun or lettuce wrap.