Borscht Recipe: A Hearty Vegan Beet Soup
During wintertime, there's nothing better than digging into a bowl of warm, nourishing soup. When I want one that's filling, easy to prepare and vegan, one of my favorites is this borscht recipe.
What Is Borscht?
If you ask someone from Eastern Europe, it's likely that they'll tell you borscht originated from their country. Poland, Russia and Ukraine all claim borscht, although most borscht scholars (that's totally a thing, right?) believe that borscht was "invented" in Ukraine, where it spread to surrounding Baltic and Slavic countries, most likely thanks to Russia's influence and presence in the region.
"Borscht" is a Yiddish word, but it's derived from an old Slavic word for a hogweed plant, bursci, which was the main ingredient in a soup that would've been the precursor to borscht. (1) That soup was made from pickled hogweeds. While beets later replaced hogweeds in borscht, the pickled aspect remains, as borscht is traditionally tart.
Borscht doesn't include fancy ingredients. It was never intended as a fancy dish; in fact, it was a poor man's soup — a way to make a hearty meal out of whatever was on hand. Beets grow freely and abundantly in Ukraine, so it makes sense that beets wound up being one of the main ingredients.
Borscht didn't take on outside of Eastern Europe until Russian emperors began hiring French chefs to cook for them. These chefs, who learned how to make borscht in order to prepare it for their employers, eventually took the dish back to France, where it was cautiously greeted by the public.
Stateside, borscht made its way over the Atlantic by way of Eastern European Jews, who brought their borscht soup recipes along with them. A region of Upstate New York even became known as "the Borscht Belt." Jewish-Americans would flock to the area, which had Jewish-owned resorts and restaurants, because many anti-Semitic establishments refused service to Jews. Borscht was one of the most popular dishes these places served, and offered a link to the home country. (2)
It's hard to pin down a "traditional" borscht recipe, because each country has its own spin and, in fact, each chef has their own way of mixing it up. Some borsht recipes have cabbage, while others contain potatoes. Some are vegetarian, while others are heavy on the meat. In a winter borscht, a flavorful broth, a sour taste and a lovely red color, thanks to the beets, are typical characteristics.
You'll notice I said "winter." There are versions of borscht that are meant to be served cool, as a refreshing respite from summer heat. Like I mentioned earlier — there's no "traditional" borscht!
Today, borscht continues to be a popular dish in Eastern Europe, and I think you'll enjoy this modern spin on it.
This easy borscht recipe uses beets, so the soup will have that gorgeous color associated with borscht. We'll also add parsnips and a heap of seasonings, including Dijon mustard, tarragon, garlic and red wine, for a deliciously flavorful vegetarian borscht.
This recipe doesn't have some of the heartier root veggies that other borscht recipes do, like potatoes. Instead, to give this borscht some staying power and nutrients, I'm using lentils and chickpeas. Not only do these ingredients keep the borscht true to its "poor man" roots — both ingredients are easy on the wallet — but they're full of fiber and other nutrients, making this borscht a seriously healthy recipe.
Nutrition Facts
Speaking of healthy, here's what's in one serving of this borscht:
123 calories
5.07 grams protein
3.3 grams fat
20.48 grams carbohydrates
567 milligrams sodium (38 percent DV)
849 IUs vitamin A (36 percent DV)
0.523 milligrams manganese (29 percent DV)
20.8 milligrams vitamin C (28 percent DV)
108 milligrams phosphorous (15 percent DV)
2.4 milligrams iron (13 percent DV)
0.175 milligrams vitamin B6 (13 percent DV)
2 milligrams vitamin E (13 percent DV)
39 milligrams magnesium (13 percent DV)
577 milligrams potassium (12 percent DV)
0.85 milligrams zinc (11 percent DV)
1.464 milligrams vitamin B3 (10 percent DV)
How to Make Borscht
Before getting started, there is a little prep that will make this borscht recipe even easier to make. Chop up the beets and parsnips, along with the fresh tarragon. Using dried? Substitute 1 teaspoon instead.
You'll need already cooked lentils for this recipe, so you can make those ahead of time or use some that are leftover from another recipe. Finally, you'll need a food processor to blend the veggies into a broth, so pull that out ahead of time. Now you're ready to make this beet borscht recipe!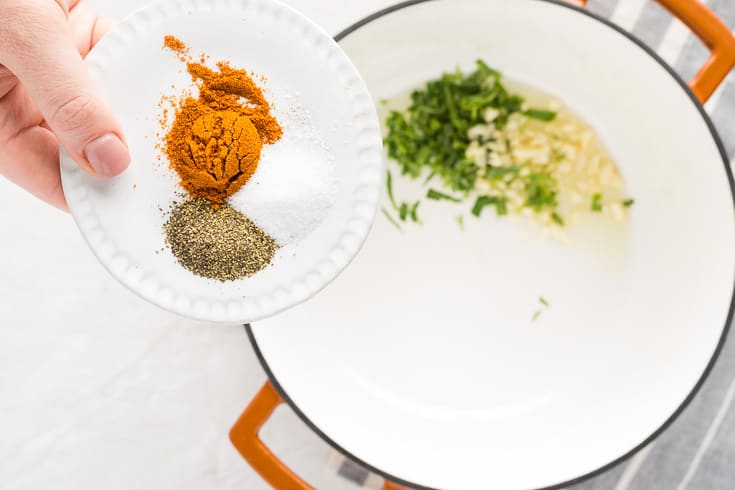 Start by heating a large pan over medium heat. Sauté the garlic, tarragon, cayenne, salt and pepper for about 5 minutes.
Add in the remaining ingredients, except the lentils and chickpeas, and bring to a boil.
Let the mixture simmer on a medium-low temperature for 20 minutes, or until the vegetables are softened. Discard the bay leaves here, and remove the pan from heat.
With a slotted spoon, scoop the veggies into a food processor.
Add the vegetable mixture back into the pot, then add in the chickpeas and lentils. Stir to combine the broth with the beans.
Serve this borscht recipe warm.
If you want, you can top your bowl off with a dollop of plain coconut yogurt or coconut cream.
Can't get enough of beets? Try this pickled beets recipe!
Ingredients:
6 cups vegetable broth
2 tablespoons avocado oil
3 beets, chopped
2 parsnips, chopped
1 tablespoon Dijon mustard
1 tablespoon tarragon, chopped
¼ teaspoon cayenne
1 tablespoon chopped garlic
½ cup dry red wine
One 12-ounce can tomato paste
¼ cup dill
1 cup cooked lentils
1 cup chickpeas
3 bay leaves
1 teaspoon sea salt
1 teaspoon pepper
Directions:
In a large pan over medium heat, sauté garlic, tarragon, cayenne, salt and pepper for about 5 minutes.
Add remaining ingredients except the lentils and chickpeas, bringing to a boil.
Let simmer on medium-low for 20 minutes, or until veggies are soft to cut.
Discard bay leaves and remove from heat.
With a slotted spoon, scoop all the veggies into a food processor.
Blend until smooth, then pour veggies back into pot.
Add chickpeas and lentils and stir to combine broth with veggies.
Serve warm.