"Fried" often gets a dirty rap. But there's a difference, of course, between using refined oils like canola and soybean to make deep-fried foods like potato chips and chowing down on healthy fried foods. And yes, these do exist!
These Fried Chickpeas are one of those healthy fried options. I love them because they're made wholly from chickpeas, coconut oil and seasonings. Nutrition-rich chickpeas are a terrific source of animal-free protein and full of fiber. And if you haven't tried them, they are delicious when cooked and crispy, like in this recipe.
Slip these fried chickpeas in a sealed plastic bag as an on-the-go snack or enjoy them while watching your favorite TV program. You'll never go back to those unhealthy chips again.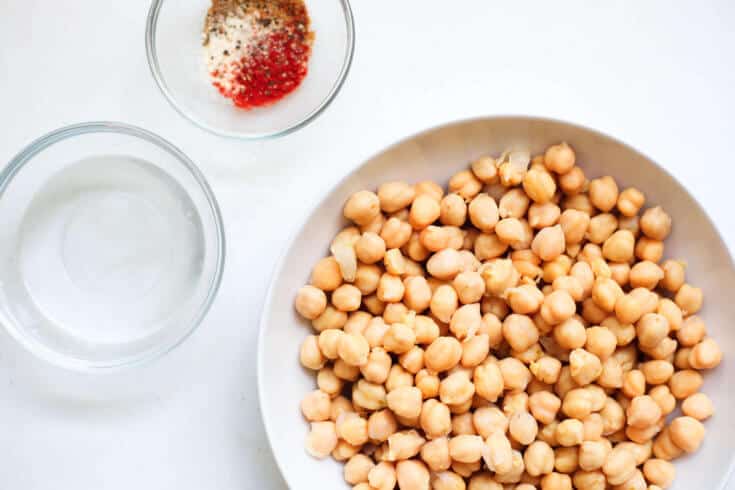 Start by heating the benefit-rich coconut oil in a large frying pan over low heat. While that happens, pat the chickpeas dry with a paper towel to blot out any excess moisture.
Next, add the chickpeas and spices to the pan and turn the heat up higher to medium.
Fry the chickpeas for 10–12 minutes until they've reached your desired crispiness level. Personally, I like mine pretty crunchy and toasty. Serve in bowls and eat!
These fried chickpeas are an easy-to-make snack and very customizable. Swapping out the spices can give these chickpeas a whole new tastes, too — make curry-flavored ones or Italian-spiced ones. However you choose to jazz these chickpeas up, they're going to taste great.
Ingredients:
2 cans of chickpeas, drained and rinsed
2 tablespoons coconut oil
2 teaspoons of each: cumin, chili powder, garlic, smoked paprika, sea salt, pepper
Directions:
Dry the chickpeas with a paper towel to remove excess moisture.
In a large frying pan over medium low heat melt the coconut oil.
Add the chickpeas and spices to the pan and turn the heat to medium. Fry for 10–12 minutes or until desired crispiness.
Serve and enjoy!
Get FREE Access!
Dr. Josh Axe is on a mission to provide you and your family with the highest quality nutrition tips and healthy recipes in the world...Sign up to get VIP access to his eBooks and valuable weekly health tips for FREE!
Free eBook to boost
metabolism & healing
30 Gluten-Free Recipes
& detox juicing guide
Shopping Guide &
premium newsletter