This Dr. Axe content is medically reviewed or fact checked to ensure factually accurate information.
With strict editorial sourcing guidelines, we only link to academic research institutions, reputable media sites and, when research is available, medically peer-reviewed studies. Note that the numbers in parentheses (1, 2, etc.) are clickable links to these studies.
The information in our articles is NOT intended to replace a one-on-one relationship with a qualified health care professional and is not intended as medical advice.
This article is based on scientific evidence, written by experts and fact checked by our trained editorial staff. Note that the numbers in parentheses (1, 2, etc.) are clickable links to medically peer-reviewed studies.
Our team includes licensed nutritionists and dietitians, certified health education specialists, as well as certified strength and conditioning specialists, personal trainers and corrective exercise specialists. Our team aims to be not only thorough with its research, but also objective and unbiased.
The information in our articles is NOT intended to replace a one-on-one relationship with a qualified health care professional and is not intended as medical advice.
34 Green Smoothie Recipes to Boost Your Health Today!
June 21, 2017
Short on time, but still want to sneak plenty of healthy foods into your day? Then these green smoothie recipes are your answer! It seems that no matter what your ailment is — low energy, headaches, muscle and joint pain, or easing menstrual cramps — green smoothies are your solution for all of these problems, and more.
Making a green smoothie is one of the fastest ways to get an array of healthy ingredients into one meal, with little preparation or cleanup required. While a power blender will give you the best results in terms of breaking down the vegetables that these green, healthy smoothie recipes call for — making them silky smooth and hardly detectable in terms of texture — any blender will do.
The sky is truly the limit when it comes to the possibilities of different ingredient combinations, but here is a list of 20 of my favorite green smoothie recipes that can be enjoyed any time of day: for a quick breakfast, light lunch or as a filling snack.
IMPORTANT NOTE:
For all of these recipes, if you are going to be adding any additional sweeteners, we always recommend using sugar substitutes like raw honey (which works very well in smoothies). Also, use coconut milk, almond milk, kefir, or organic grass-fed goat milk and yogurt in place of regular cow's milk and yogurt.
34 Greatest Green Smoothie Recipes
The avocado in this recipe is considered a true "brain booster" because of its healthy fats and wide range of nutrients that help to improve concentration, memory and mood. The creamy, blended avocado gives this green smoothie plenty of filling essential fatty acids, plus loads of other health benefits, too — like vitamins A, E ,K ,B and C — plus plenty of fiber too.
On top of all this, this green smoothie recipe contains an array of important trace minerals like magnesium, potassium, iron and copper. What better way to start out your day before a busy day of decision making and hard work?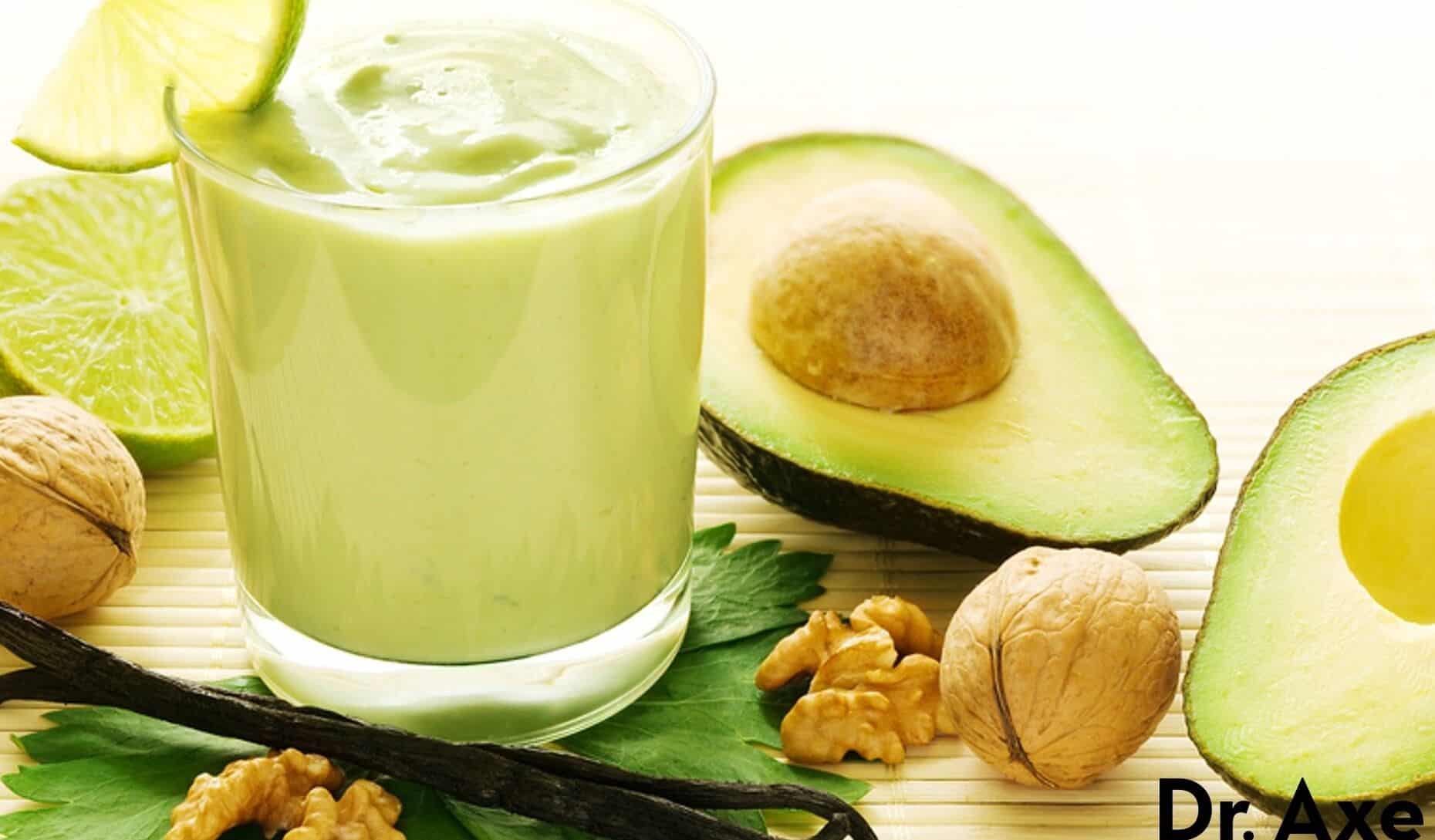 Cilantro, apple, ginger, kale and orange juice work together to give this smoothie a strong, but just sweet enough taste. The star ingredient in this smoothie is, of course, the leafy greens! Leafy greens are more nutritious (when we look at nutrients per gram) than pretty much any other vegetable on earth.
Leafy greens are packed with important minerals and vitamins including: iron, calcium, magnesium, potassium, and folic acid. This green "machine" will keep you going thanks to its energizing B vitamins (which the body uses partially to gain energy from food) as well as being a fiber-rich food, keeping you nice and full until your next meal.
If you'd like to keep the sugar count low, consider squeezing just a bit of fresh squeeze OJ into any of your green smoothie recipes, leaving out commercially made juices which are higher in sugar.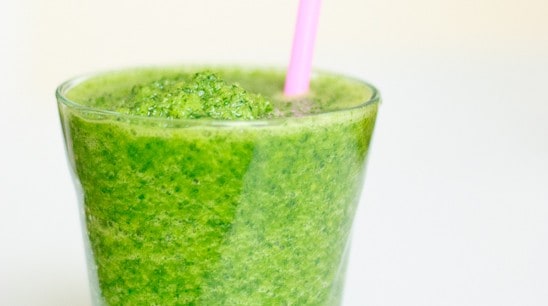 While apples are one of the most popular ingredients in green smoothie recipes (especially tart green apples), don't forget about how nutritious pears can be, too! This particular recipe uses Asian pears, but any pear will make a nice addition to your smoothie — adding bulk, fiber and important vitamins.
Pears, lemon and basil make a unique flavor combination that is a nice change to your usual green smoothie. The lemon helps to add some vitamin C and has an immune boosting and anti-inflammatory effect on the body.
In fact, subbing out regular lemon juice for a touch of lemon essential oil would make this smoothie even more beneficial. Basil is an herb that is actually packed with antioxidants too, plus it adds a bit of a surprising flavor kick to this smoothie.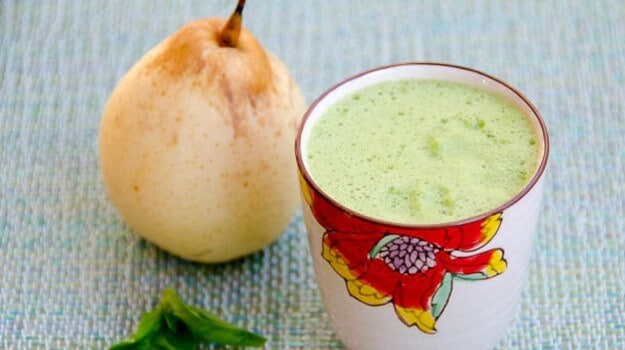 The author of this smoothie loves this particular green smoothie recipe because it's low carb but high in protein, and still has the creamy element she was looking for. Green tea, one of the start ingredients here, is loaded with antioxidants and can help every ailment from poor concentration to widespread inflammation.
Using green tea in a smoothie is a fantastic way to add even more antioxidants to any green smoothie recipe, juice or other beverage. Green tea has a particular kind of polyphenol compound called catechins, a type of antioxidant found in superfoods like cocoa and apples.
According to the National Cancer Institute (NCI), the catechins in green tea (EGCG, EGC, ECG, and EC) are so powerful that it is believed that they actually help prevent cancer. For this particular recipe. remember to use organic grass-fed yogurt and coconut palm sugar or honey, in order to get the most nutrients out of your smoothie.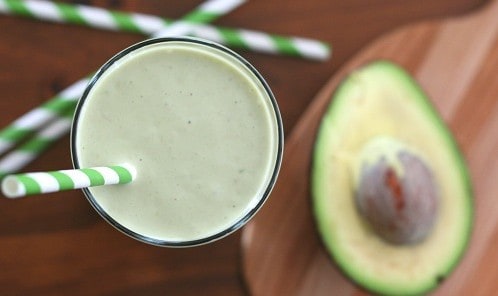 Coconut is a food that I recommend trying to eat everyday, in one form or another. Coconut helps to boost brain health, keep a healthy metabolism running strongly, balance cholesterol levels, boost hormonal health and more. This makes it an awesome addition to any green smoothie recipes.
This coconut smoothie also features protein-rich Greek yogurt (look for grass-fed and organic brands, but be aware that goat milk yogurt is best) along with filling and nutritious coconut milk. Look for coconut milk that is free of chemicals and additives — ideally the organic kinds that can be found in BPA-free cans — or consider using a fresh young coconut and adding your own fresh coconut water, milk and coconut "meat."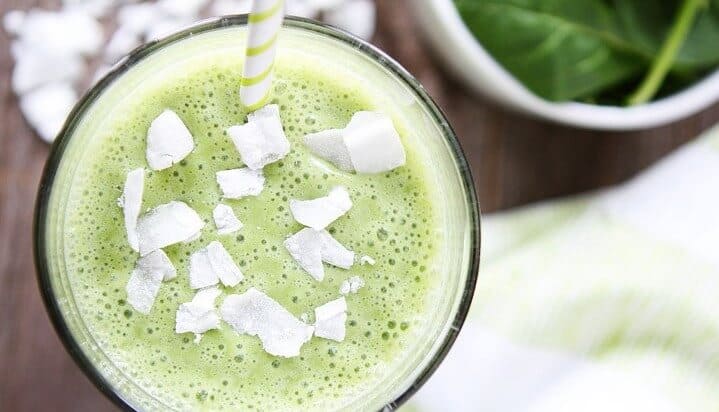 When a standard green smoothie, served in a tall glass with a straw, just doesn't seem like enough for you, why not make it into a whole green smoothie bowl, like those popular acai bowls!
Make a double batch of any of your favorite green smoothie recipes — like this one which uses spinach, mango and banana — and then serve it the same way you would a bowl of oatmeal: with plenty of healthy toppings added like coconut flakes, cocoa nips, cinnamon or homemade grain-free granola.
To make green smoothie recipes more appealing to your children, try freezing your favorite smoothies into ice pops and serving them as healthy snacks or dessert.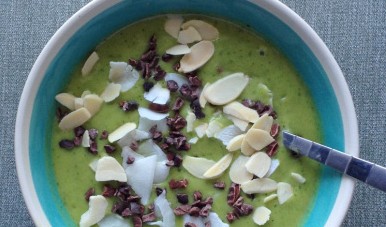 When peaches are in season, they are one of the true wonders of the fruit world, and a perfect way to satisfya sweet tooth the healthy way. Peaches are low in calories but high in flavor, so even one small pitted peach adds a lot to this smoothie.
Kale is one of my favorite ingredients to add to smoothies, because there is hardly anything that kale doesn't help with! Try this same recipe with other summer stone fruits when they are season, or consider buying organic kinds in the frozen section of your grocery store, in order to enjoy them year round.
Cilantro and ginger are both excellent ingredients to add to your green smoothie recipes for their powerful detoxifying effects. Cilantro, like other leafy greens, has the ability to help clean the blood and boost immunity.
Ginger has long been used as a natural digestive aid around the world. Skip the ginger ale and reach for this refreshing and stomach-soothing recipe next time you need an immunity boost or some digestive relief. And if cilantro isn't your thing, try using fresh mint or other beneficial herbs instead.
One of the keys to a good breakfast green smoothie recipe is using ingredients that will keep you full for a good amount of time after drinking them, so you aren't reaching for unhealthy snacks or feeling low in energy before lunch even rolls around.
This recipe fits the bill, with the additions of important fatty-acids from flaxseed oil and almond butter. Greens are included for even more energizing vitamins plus fiber, which both help to satisfy you until your next meal.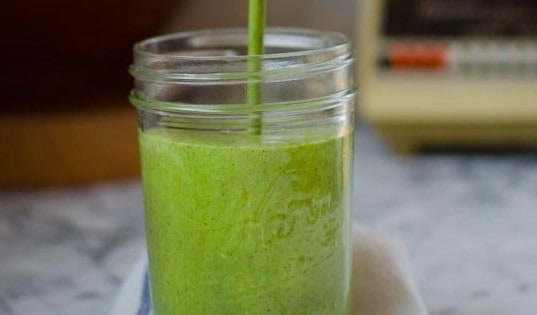 Something tells me that when you let your kids know that you're making a "tutti frutti smoothie," they are going to want to get in on the action! The avocado makes this smoothie extra creamy- you would almost swear there is some sort of dairy or ice cream involved (but hint, there isn't!).
Go with the author's advice and add in plenty of nutrient-dense superfoods — any of your choice. Options that would work well with the taste of the other ingredients in this green smoothie recipe, and that also pack some impressive health benefits, can include: flaxseeds, turmeric, spirulina, chlorella, maca powder, cocoa powder or acai powder.
Kale is often called the "king of vegetables" due to its extremely high nutrient content. It seems that no matter what help you're looking for when it comes to your health, kale is your answer!
Kale is a great source of vitamins A, C, K as well as manganese, copper, potasium and much more. If you are not a fan of eating kale salads or other forms of kale, consider adding it a smoothie instead. When you combine kale with other healthy ingredients, like red grapes, the taste becomes much less noticeable, but you still get all the vitamins, minerals and fiber that you're looking for.
This yummy smoothie will remind you of being away on vacation and sipping a cold drink poolside, thanks its tropical ingredients: pineapple, mango, vanilla and banana. Tropical fruits are great for athletes as a snack prior to exercising because of their quick-acting sugars.
Bananas in particular are a great source of potassium, magnesium and electrolytes — making it especially useful for those who are very active, and people who are training hard for endurance competitions. Adding tropical fruits to a green smoothie is usually one of the best ways to get children to drink some too, since the tastes of things like pineapple and banana cancel out any bitterness from the greens.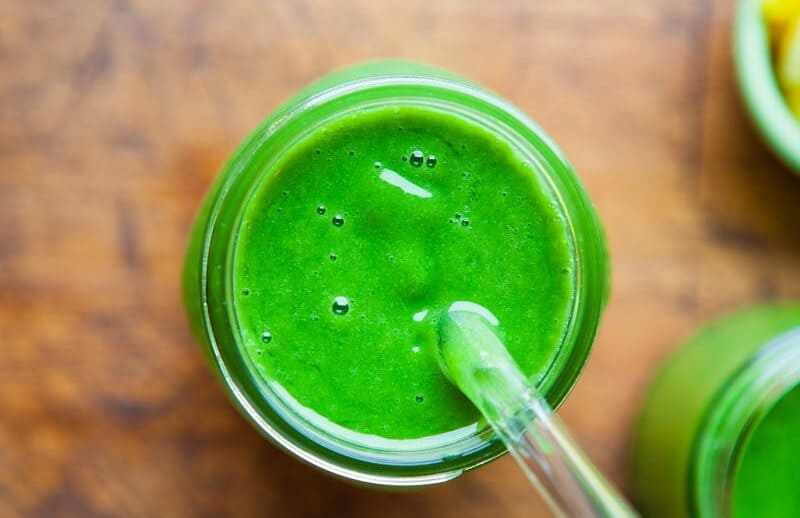 This straight-forward smoothie is one that you can always be prepared to make, even when time (and groceries) are tight. As the name tells you, it only contains four basic ingredients: dates, banana, almond milk and spinach. Spinach is a leafy green that is packed with more benefits than can be listed here!
How to give you an idea of a few: it contains  certain beneficial steroids called phytoecdysteroids, which are helpful in balancing blood sugar and reducing the impact of insulin (sometimes called the "fat-storing hormone"). Spinach helps to purify our blood, thanks to its high level of chlorophyll, and is also a great source of antioxidants, copper, zinc, selenium and more.
Matcha is a powdered form of concentrated green tea, and contains loads of health benefits. Green tea leaves, which are ground to make matcha powder, are extremely rich in antioxidants, which help your body to fight free radicals, ward off cellular damage and slow to aging process. Matcha powder is also a fantastic source of many vitamins, including vitamin A, B1, B2, B6, C, E and K as well as many more trace minerals.
Another benefit of adding green matcha powder to your smoothie? It's rich in fiber, which helps to regulate digestion, prevent constipation, and it also makes you feel full after your done drinking your smoothie. Matcha and mango make a great combination, with a perfect balance of sweet and slightly bitter tastes.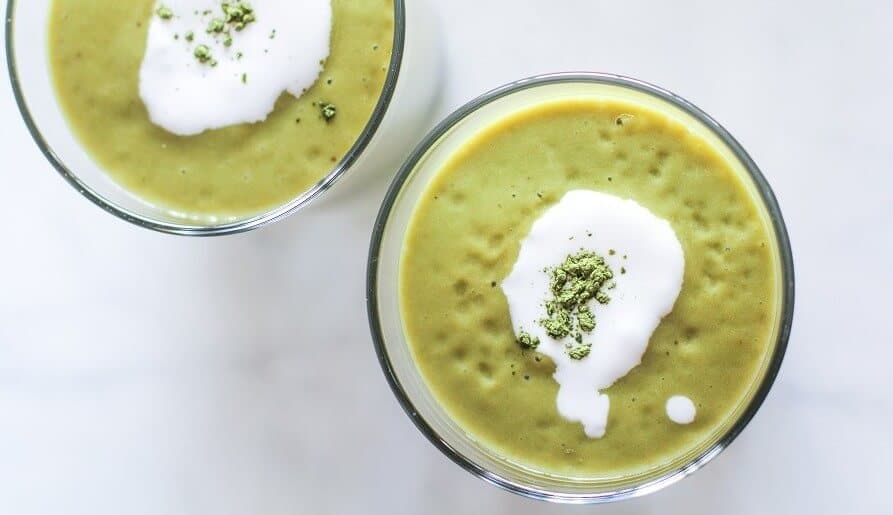 This green smoothie recipe is one that you should pass along to any pregnant woman or new mom in your life, who you know is in need of some fast, nutrient-dense recipes! This pregnancy diet food friendly recipe combines hemp seeds, dates and coconuts to create the ultra filling and super healthy combination, filled with essential fatty acids, trace minerals and protein, too.
Hemp seeds are a great source of important omega-3 fatty acids, which help with brain function, metabolism and keeping a positive mood. The greens in this recipe are high in phytoestrogens, which promote healthy breast tissue and lactation.
This green smoothie is more than just your typical tropical tasting drink — it also contains one of my favorite superfoods: maca. Maca is a powdered superfood that has been consumed for thousands of years in places like South America, for its various benefits related to regulating hormones, increasing energy, improving athletic performance and recovery from training, and much more.
Tropical fruits are great additions to any healthy diet for their ability to help prevent cancer. Pineapple in particular contains special compounds that have been linked to a reduced risk for certain cancers — plus pineapple just tastes great in everything!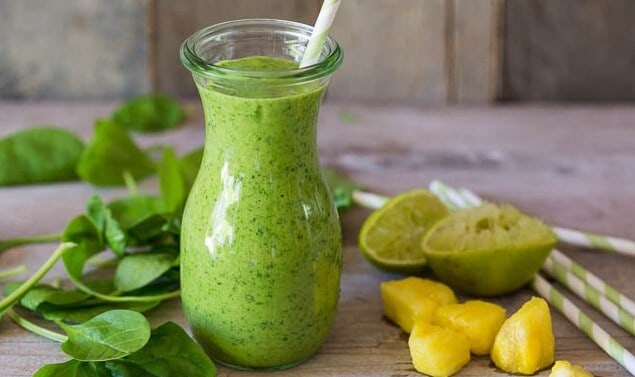 Of course, I love the kale in the green smoothie recipe, but the cashews are what really make me excited about this one. Cashews and all nuts are excellent sources of healthy fats and play a part in helping to keep numerous body systems functioning properly.
They help balance cholesterol levels and boost heart health, aid in nutrient absorption (thanks to their essential fatty acids, which fat-soluble vitamins must be eaten with for the most benefits to occur), help to keep blood sugar levels balanced, and they contain protein and fiber that make this smoothie more satisfying.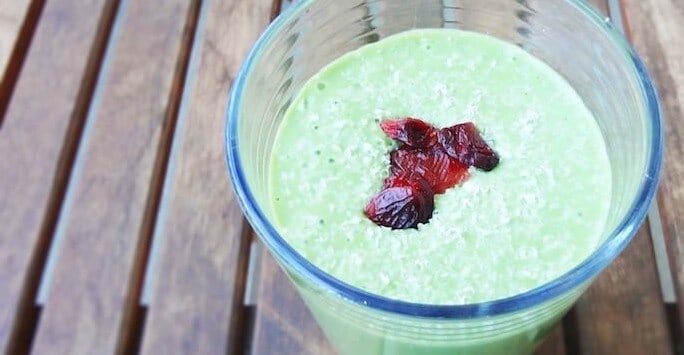 Strawberries are one of the best ingredients to add to green smoothie recipes because they really cut the taste of ingredients like spinach or kale. This simple smoothie is one you can make over and over again using frozen berries, which are an excellent source of fiber and antioxidants, including powerful resveratrol.
Try this same recipe with any berries you like, which are always going to be available at good prices year round when frozen (especially organic berries).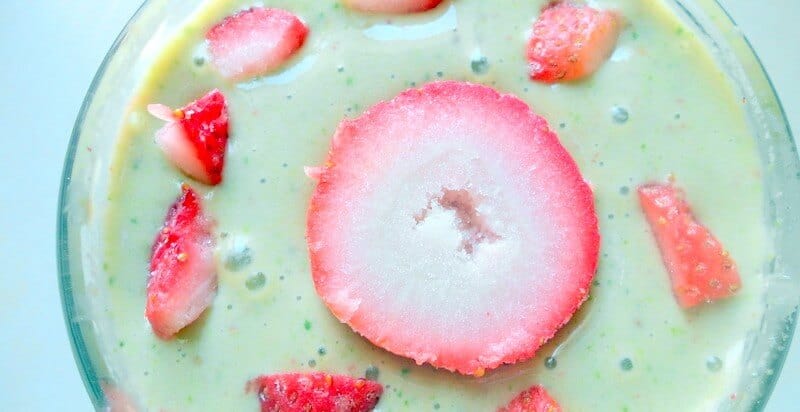 With ingredients like kiwi, pear and kale, this simple but "super" smoothie is filled with flavor and nutrients, too. Kiwi is one of the top sources of top sources of vitamin C, which boosts immunity and acts as a powerful antioxidant. The author of this green smoothie recipe recommends smoothies for new moms who are busy and in need of a filling but fast breakfast.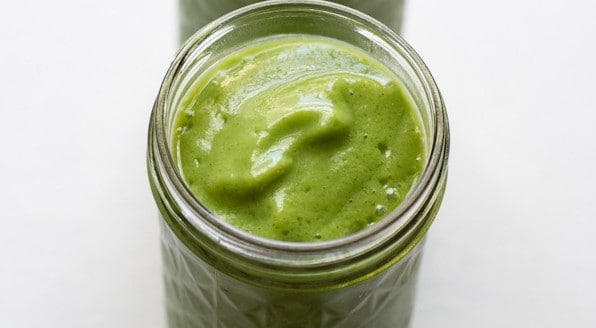 There are truly countless things to love about all seeds, but especially chia seeds! They truly make the perfect addition to green smoothie recipes, with their high fiber, protein and anti-inflammatory properties. Having chia seeds in the morning in your smoothie is a great way to fill up and keep your blood sugar stable until lunch time, giving you lasting energy and freeing you from junk food cravings while you're out and about.
This yummy smoothie incorporates leafy green nutrition-rich spinach, known for its high levels of antioxidants, with inflammation-busting ginger for a fresh drink. I love the addition of flaxseeds — these little seeds add a ton of fiber to this drink.
This fruity smoothie is packed with balances the flavor of spinach with grapes, peaches and a banana. Tossing in a 3/4 cup of Greek yogurt (go with goat milk yogurt for more nutrition) adds extra protein, great for refueling after a workout. You can add the suggested tablespoon of maple syrup to sweeten things up, but it tastes great without.
This green smoothie uses a whopping two cups of spinach per serving — you'll be well on your way to getting those veggies in! But don't worry. The addition of clementines, pineapples and banana mask any "green" flavor.
Healthy fats, carbs, protein, tasty — this drink has it all. It's super creamy without any dairy, thanks to coconut oil. Using vanilla almond milk and vanilla-flavored protein powder mean the smoothie tastes more like dessert than a healthy meal.
When you need a reset from a few days of healthy eating (or the entire holiday season), this detox drink has you covered. Bananas and yogurt lend creaminess, while the spinach and fruits mean tons of vitamins. This green smoothie recipe is super flexible; you an add a scoop of protein powder, cucumber for extra "fresh" flavor or lime juice for a little citrus zest.
Why sip a smoothie when you can eat it from a bowl? This bowl is brimming with nutrients like matcha powder, which gives an incredible energy boost. Top with your favorite ingredients like shredded coconut, chia seeds and honey for a much better alternative to a bowl of cereal.
These aren't your mama's pancakes. No, these tasty little cakes add all your favorite smoothie ingredients — we're talking spinach or kale, bananas and even flax seed — into some of the healthiest pancakes around. Use gluten-free pancake mix to keep these Paleo-friendly and your favorite nut butter. Yum!
Looking for a drink the kiddos will love? Give them the Hulkbuster. They'll love a smoothie that will make them big and strong like their favorite action heroes. You'll love the nutrients they'll get from two cups of leafy greens, yogurt and their favorite fruits. It's a win-win!
You could serve this green smoothie as a dessert and no one would be the wiser — that's how delicious it is. Don't be put off by the avocado. It gives this drink a silky smooth texture and adds healthy fats without changing the taste. Throw in a little peppermint extract, kale and vanilla protein powder, and you can say bye to those Girl Scout Thin Mints and hello to your new favorite "treat."
With just four ingredients, there's no reason not to make this fruity green smoothie. Honey and pineapple chunks add just the right amount of sweetness, while two cups of spinach mean you'll get in almost double your recommended serving of bone-building vitamin K.
Craving snickerdoodles? Blend this smoothie instead. Spinach, avocado and banana load it with vitamins and healthy nutrients, but adding a splash of vanilla extract and cinnamon means it tastes like your favorite cookies. Bottoms up!
Not only is this two-layer smoothie gorgeous to look at, it tastes great, too. Plus, it uses pomegranate seeds, a surefire way to reduce arthritis and joint pain. It's a great way to eat these flavorful little nutrient pods.
With a variety of fruit, greens and milk, this smoothie tastes more like a pina colada than something healthy — except this drink won't leave you with a hangover. Add a little cocktail umbrella to really feel like you're in the tropics.
This cleansing smoothie uses the natural healing powers of turmeric, a powerful anti-inflammatory and antiseptic agent, to help detox the body. Two cups of kale along with ginger make this a drink you'll want to sip on regularly.
And there you have it, 34 awesome green smoothie recipes that you can prepare in no time at home. Save yourself some money and the trip to the store each morning, and make your own green smoothie instead. Use whatever fruit and vegetables you have on hand, in these healthy, easy-to-make recipes that are wide open for interpretations to suit different needs and tastes.