Cajun Blackened Chicken Recipe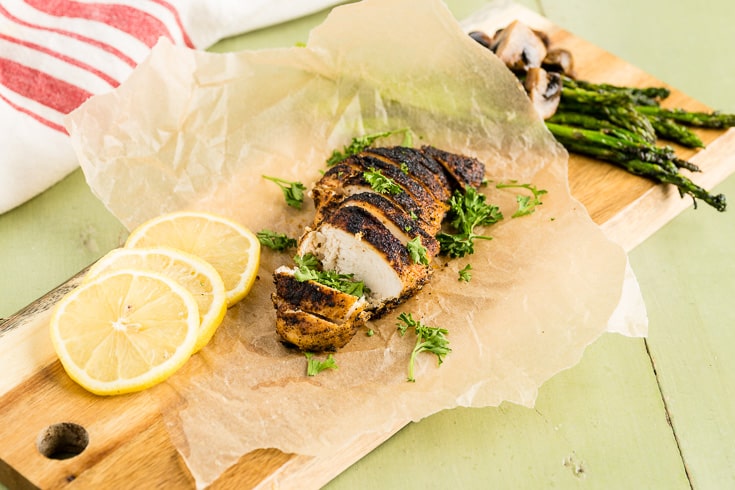 I'm always looking for new ways to prepare chicken. While I love more exotic recipes like my chicken tikka masala, sometimes you need a chicken recipe that's more than just plain grilled chicken, but that doesn't require tons of time. On those evenings, I turn to this blackened chicken recipe.
Ready in under 30 minutes, blackened chicken is a recipe you can whip up in minutes with ingredients already in the pantry. Best of all, the whole family will enjoy it.
What Is Blackened Chicken?
Let's clear up some confusion first. Is blackened chicken burnt? No! Blackened chicken is just chicken that's been coated in seasonings and pan-fried. Some people might know it better as Cajun chicken. The spices used in blackened chicken give the breast a nice darkened crust that's absolutely packed with flavor.
In fact, that's what makes blackened chicken so special. With seasonings like garlic powder, oregano, smoked paprika and cayenne, you get a chicken breast that's bursting with Cajun spice in each bite. It gives food made on the stovetop a smoky taste, like you'd get on the grill, without all the hassle and cleanup.
Blackened chicken is incredibly versatile. Seriously, I love using it in a variety of ways.
How to Use Blackened Chicken
Slice it and pile onto a big salad.
Add it to a hamburger bun, top with goat cheese cheese and your favorite burger fixings and serve with sweet potato rosemary fries.
Stuff it into a whole-grain pita with veggies and hummus.
Add it into a sprouted grain salad.
Serve it with a side of veggies.
Use it for the chicken in this alfredo chicken and broccoli casserole.
Shred it and use it in tacos.
Serve with brown rice and a side of fried plantains.
The possibilities are endless! In fact, you may want to double, triple or even quadruple this recipe, and use the chicken throughout the week, lightening your cooking load during those busy weeknights.
Recipe Nutrition Facts
Here's what a serving of blackened chicken looks like nutritionally (1)(2):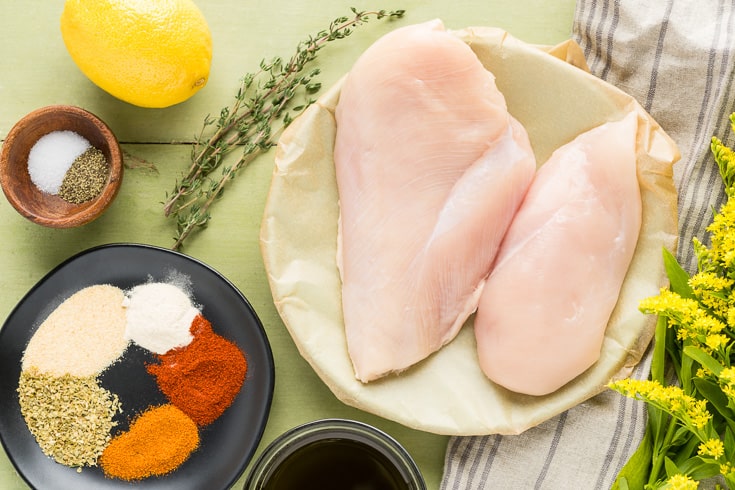 424 calories
53.8 grams protein
20.4 grams fat
3.86 grams carbohydrates
22.798 milligrams vitamin B3 (163 percent DV)
1.977 milligrams vitamin B6 (152 percent DV)
3.589 milligrams vitamin B5 (72 percent DV)
0.437 milligrams vitamin B2 (40 percent DV)
3.67 milligrams vitamin E (24 percent DV)
0.239 milligrams vitamin B1 (22 percent DV)
484 IUs vitamin A (21 percent DV)
0.5 micrograms vitamin B12 (21 percent DV)
As you can tell, this chicken is chock-full of protein and healthy B vitamins and low in carbs.
How to Make Blackened Chicken
Ready to make this easy chicken recipe?
Warm the avocado oil in a large pan over medium heat.
In the meantime, add the seasonings to a small bowl. Mix well until they're combined.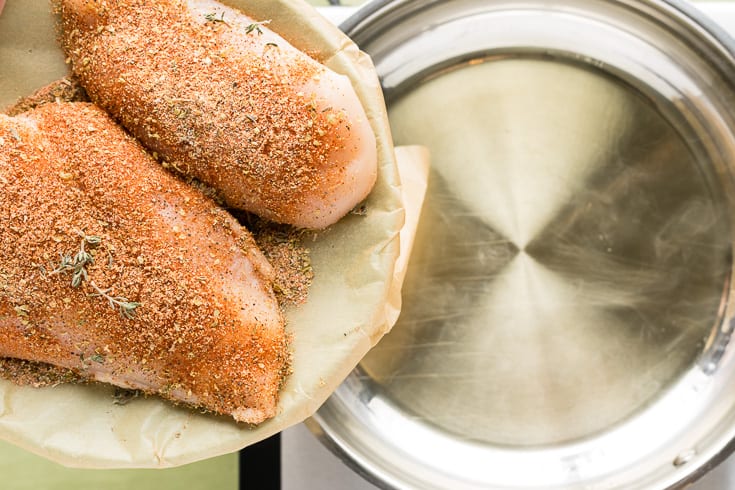 Coat each chicken breast with the seasonings.
Use tongs to place the chicken in the heated oil. Cover and fry for about 10 minutes on each side, until the internal temperature of the chicken is 165 degrees Fahrenheit.
Serve with vegetables or whatever you'd like! A drizzle of fresh lemon juice is delicious with this blackened chicken recipe.
How can you resist that crust?
Other Great Chicken Dishes from Different Cultures
Ingredients:
2 tablespoons avocado oil
2 boneless, skinless chicken breasts
1 teaspoon garlic powder
1 teaspoon onion powder
1 teaspoon dried oregano
½ teaspoon thyme
½ teaspoon smoked paprika
¼ teaspoon cayenne
1 teaspoon sea salt
1 teaspoon black pepper
Directions:
In a large pan over medium heat, warm oil.
In a small bowl, combine garlic, onion, oregano, thyme, paprika, cayenne, salt and pepper, mixing until well-combined.
Coat each side of chicken evenly with seasonings.
With tongs, place the chicken in the heated oil.
Cover and fry each side for about 10 minutes until the internal temperature reaches 165 F.