Chicken Gumbo Recipe (with Chicken Andouille Sausage)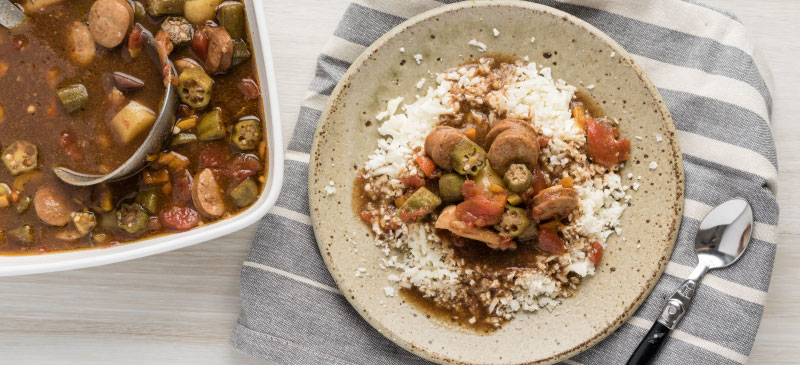 Have you ever tried making your own chicken gumbo? It may seem a little intimidating because of the mix of ingredients and need for a thickener to give it that traditional gumbo taste and texture, but making gumbo is actually really easy, especially when it's a slow cooker recipe.
For my chicken gumbo, I use some traditional gumbo ingredients, like okra and a roux (except mine is made from avocado oil and cassava flour). I also use chicken andouille sausage, chicken breast, chicken bone broth and a mix of veggies and spices.
What you're left with is a gluten-free, Paleo-friendly meal that's filling and delicious. And the best part is that it takes very little effort — just prep your ingredients and throw them in a slow cooker!
What Is Gumbo?
Gumbo is a type of stew that originated in Louisiana during the 18th century. The dish combines ingredients from many cultures and culinary practices. Really, you can add just about any vegetables, meat, stock and spices to a thickener and make your own gumbo. But traditionally, gumbo was based on West African dishes.
Did you know that the name "gumbo" is said to derive from a West African name for okra? This suggests that in the original gumbo recipes, okra was used as a staple ingredient that served as the thickening agent.
Gumbo is also traditionally made with a roux, which originated in French cuisine. The roux serves as the base and gives gumbo its unique nutty flavor and smell. The longer you cook your roux, the darker and more flavorful it will become.
Nutrition Facts
One serving of chicken gumbo made using this recipe contains roughly the following:
345 calories
20.6 grams protein
20.3 grams fat
21.2 grams carbohydrates
3.2 grams fiber
5.2 grams sugar
48.9 milligrams vitamin C (65 percent DV*)
0.8 milligrams vitamin B6 (62 percent DV*)
7.8 milligrams vitamin B3 (56 percent DV*)
464 milligrams sodium (43 percent DV*)
20.7 micrograms selenium (38 percent DV*)
226 milligrams phosphorus (32 percent DV)
637 IUs vitamin A (27 percent DV*)
0.44 milligrams manganese (25 percent DV*)
*Daily Value: Percentages are based on a diet of 2,000 calories a day.
As you can see, it's a perfectly balanced macronutrient meal, with almost the same amount of carbs, protein and fat.
Here's a quick glance at some of the top health benefits associated with the ingredients in this chicken gumbo recipe:
How to Make Gumbo
The first step to making this chicken gumbo recipe is the roux. Combine avocado oil and cassava flour in a medium saucepan.
On medium heat, whisk the flour and oil to create a dark roux, which will take about 15 minutes. This will be used to thicken your gumbo and add a silky smooth texture.
Next, start chopping your chicken gumbo ingredients and adding them to the slow cooker.
This includes the mini peppers, okra and potatoes. Then chop the three chicken andouille sausages and the two boneless, skinless chicken breasts.
Now all of your ingredients are ready to be added to the slow cooker.
Add your roux first. Then add your chopped veggies, sausage and chopped chicken breast.
Next add in the diced tomatoes, baby carrots and your spices and herbs.
Finally, add in the chicken bone broth.
Set your slow cooker on low for 6 to 8 hours. (You can also make this in a big stockpot.)
When your chicken gumbo is ready, serve it over riced cauliflower or brown rice to make this meal even more filling. Enjoy!
Other Great Chicken Dishes from Different Cultures
Here are some main dishes from other cultures that also feature chicken:
Print
Chicken Gumbo Recipe
---
Author:

Total Time:

6 hours 10 minutes

Yield:

8

1

x

Diet:

Gluten Free
Description
Standard New Orleans gumbo is made with a dark roux, vegetables, chicken, sausage, and shrimp. Here we removed the shrimp and go with a chicken andouille sausage. The dark roux and chicken bone broth are two powerhouse secret ingredients that make this recipe sing.
---
½ cup

avocado oil

½ cup

cassava root flour

3

chicken andouille sausages, chopped

2

boneless, skinless chicken breasts, chopped

4 cups

chicken bone broth

2 cups

chopped okra

2 cups

diced tomatoes

4

mini peppers, diced

½ cup

baby carrots

1½ cups

potatoes, chopped

1 teaspoon

garlic powder

¼ teaspoon

onion powder

½ teaspoon

oregano, dried

½ teaspoon

thyme, dried

½ teaspoon

smoked paprika

¼ teaspoon

cayenne

3

bay leaves

½ teaspoon

sea salt

1 teaspoon

pepper
---
Instructions
In a medium saucepan on medium, combine flour and oil. Whisk often to create a dark roux. About 15 minutes.
Combine all ingredients in a slow cooker, starting with the roux. Cook on low for 6–8 hours.
You can also use a Dutch oven to make this dish. Make the roux first and set aside. Then sauté the meat for a few minutes over medium heat with some oil, before adding the roux, broth, veggies and spices. Stir well and bring to a high heat before covering. Cook at low heat for 15 minutes, or until vegetables are cooked and chicken breast measures 160 degrees.
Serve over riced cauliflower or brown rice. (Optional.)
Prep Time:

10 min

Cook Time:

6 hours

Category:

Main Dishes

Method:

Slow Cooker

Cuisine:

Cajun
Nutrition
Serving Size:

1 serving (273g)

Calories:

337

Sugar:

4.6g

Sodium:

646mg

Fat:

20g

Saturated Fat:

3.5g

Unsaturated Fat:

14.7g

Trans Fat:

0g

Carbohydrates:

20.7g

Fiber:

3.2g

Protein:

19.8g

Cholesterol:

81mg
Keywords: chicken gumbo recipe, gumbo recipe