Chocolate Chip Scones Recipe
Not a cookie or muffin. Not quite a bread or a cake. Yes, the scone is in a category of its own. A staple in Britain for years, scones are most similar to biscuits. They're wonderful served alongside tea, as an after-dinner dessert or when you want to knock the socks off guests without slaving away in the kitchen.
We love scones in my house, and these healthy chocolate chip scones are always a favorite. As far as working with dough goes, this chocolate chip scones recipe is pretty straightforward and easy to make; even if you're a baking novice, you shouldn't have trouble with these scones. I love the hint of sweetness from the chocolate chips, but you could also add in your favorite dried fruits along with them; for example, dried cherries would complement the dark chocolate well!
Ready to put on your apron and make the best chocolate chip scones with wholesome ingredients? Let's get started!
Begin by preheating the oven and lining a baking sheet with parchment paper. You'll be thankful for this step later, as the paper will prevent the scones from sticking to your pan.
Mix up your gluten-free flour (yep, those avoiding gluten can enjoy this recipe, too!), coconut sugar, baking powder, cinnamon and sea salt. Grate the cold butter into the flour mixture until the whole mix is coarse and your butter is the size of peas.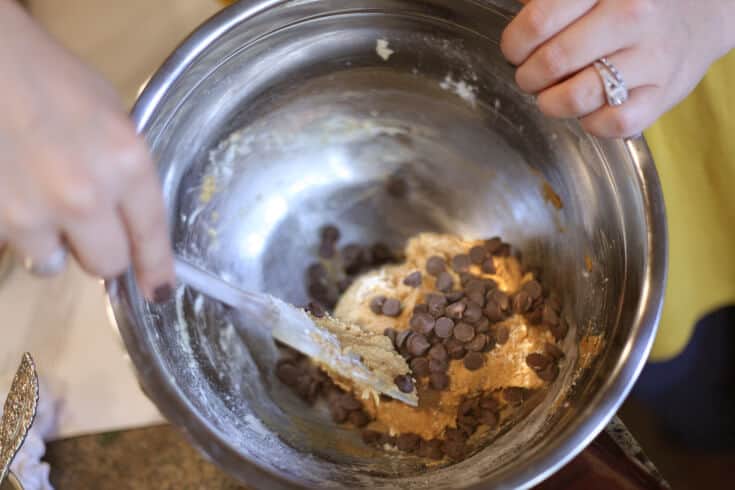 Now we're getting to the good stuff: Add in your dark chocolate chips. I suggest using one cup but a few extra wouldn't hurt either! Be careful not to overwork the dough here, or you'll wind up with dry scones. Instead, just gently fold in the chocolate chips, making sure they're evenly dispersed throughout the dough.
Next, turn your dough out onto the countertop and press it into a large disc shape. If you're crafty, you can try a different shape. For the rest of us, the disc shape will work just fine. Transfer the dough-disc to a baking sheet and, using a knife or a pizza cutter, cut the disc into equal-sized wedges.
It's action time! Slide your baking sheet into the oven and bake for about 20 to 25 minutes, until your scones are cooked through and golden on top. Let them cool and serve. You're going to love digging into these!
Ingredients:
2 cups gluten-free flour
½ cup coconut sugar
2½ teaspoons baking powder
1 teaspoon cinnamon
½ teaspoon sea salt
8 tablespoons cold butter
½ cup kefir
1 egg
1 teaspoon vanilla extract
1 cup dark chocolate chips
Directions:
Preheat oven to 400 degrees Fahrenheit and line baking sheet with parchment paper.
In a bowl, mix flour, coconut sugar, baking powder, cinnamon and salt.
Grate the butter and toss into flour mixture until mixture is coarse and the butter is the size of peas.
In a separate bowl, mix kefir, egg and vanilla. Pour slowly over flour mixture and toss the mixture together until everything is just moistened.
Fold in chocolate chips, being careful not to overwork the dough.
Press into a disc shape and cut into equal wedges. Place on baking sheet and bake for 20–25 minutes until cooked through and golden.
Get FREE Access!
Dr. Josh Axe is on a mission to provide you and your family with the highest quality nutrition tips and healthy recipes in the world...Sign up to get VIP access to his eBooks and valuable weekly health tips for FREE!
Free eBook to boost
metabolism & healing
30 Gluten-Free Recipes
& detox juicing guide
Shopping Guide &
premium newsletter