Dr. Axe

>

Recipes

>

Gluten-Free
Salmon Patties Recipe With Almond Flour Crackers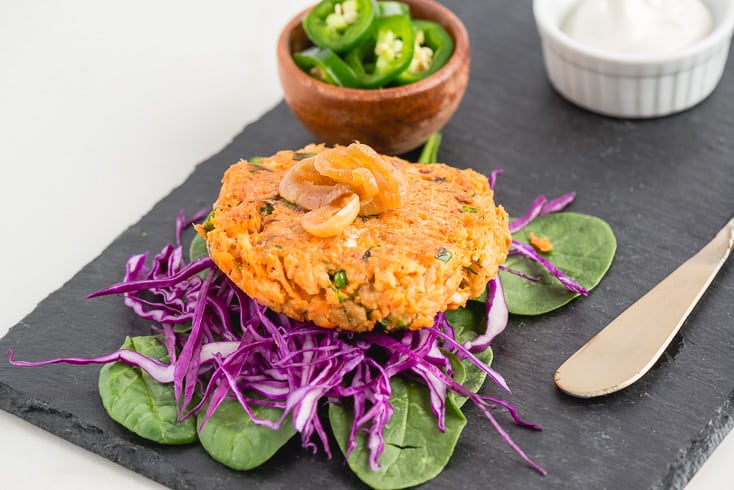 Ingredients:
2 tablespoons avocado oil
1 cup Simple Mills crackers, finely ground
1 pound wild-caught salmon, cooked
3 tablespoons Paleo mayo
1 egg
1 green onion, chopped
¼ cup dill, finely chopped
1 teaspoon garlic powder
½ jalapeño, deseeded and minced
1 teaspoon salt
1 teaspoon pepper
Directions:
In a medium bowl, mix all ingredients, except oil, together until well-combined.
Mold mixture into patties.
In a large pan over medium heat, warm oil and fry patties until done, about 5 minutes each side.
Serve on top of your favorite veggies.
Have around 20 minutes to spare? That's all it will take to make this delicious and highly nutritious salmon patty recipe. My version is a healthier take on fried salmon patties using avocado oil rather than a highly-processed vegetable oil such as canola oil. This recipe for salmon patties is also completely gluten-free!
A salmon patty, also called a salmon burger, is basically a seafood version of the conventional hamburger. (1) How to make salmon patties is truly so easy that even the most novice of cooks shouldn't be afraid to try this recipe. This salmon patties recipe is the perfect protein-rich star of any meal and pairs so well with an array of tasty veggie-centric sides. I'll give you a bonus tip — to get the most out of this recipe, opt for wild-caught salmon.
---
What Do You Serve With Salmon Patties?
This recipe includes ingredients like fresh dill and jalapeño pepper that really make these patties extra flavorful. Salmon patties can make an awesome snack on their own, but if you want to make a meal out of them, let's talk about some healthy sides. There are definitely a lot of delicious options to serve with salmon patties ranging from cooked veggies to salad to rice and more. Of course, I recommend including more veggies alongside your salmon to up the nutrient and antioxidant content of your meal.
Some of my favorite options to pair with these patties include:
Are you wondering about the best sauce for salmon patties? It's totally up to you, but I highly recommend my homemade tarter sauce recipe.
---
Salmon Patties Nutrition Facts
One serving of these easy salmon patties contains about: (2, 3, 4, 5, 6, 7, 8, 9, 10, 11, 12, 13)
327 calories
26 grams protein
22 grams fat
5 grams carbohydrates
< 1 gram fiber
< 1 gram sugar
70 milligrams cholesterol
429 milligrams sodium
2.8 micrograms vitamin B12 (117 percent DV)
9.1 milligrams niacin (57 percent DV)
0.9 milligrams vitamin B6 (53 percent DV)
0.4 milligrams riboflavin (31 percent DV)
188 IUs vitamin A (21 percent DV)
236 milligrams phosphorus (19 percent DV)
0.2 milligrams thiamin (17 percent DV)
1.5 milligrams iron (8.3 percent DV)
35 milligrams magnesium (8.3 percent DV)
0.8 milligrams zinc (7.2 percent DV)
27 micrograms folate ( 6.8 percent DV)
4.5 micrograms vitamin K (3.8 percent DV)
162 milligrams potassium (3.4 percent DV)
3 milligrams vitamin C (3.3 percent DV)
---
How to Make Salmon Patties
Salmon patties are really easy to make. You basically just need to combine all of the ingredients into one bowl, mix them together, form patties and cook them up for a total of 10 minutes. When considering salmon patties recipes, it doesn't get much simpler than this! If you want, you could even use this patties recipe to make baked salmon patties, but they won't be as crispy on the outside. Let's get started: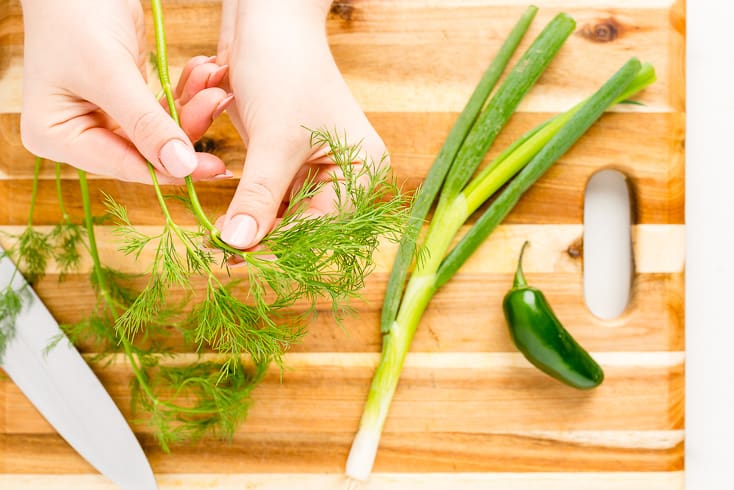 Remove the leaves of dill from the stems and chop them up pretty finely.
Dice the green onion. Next, take the seeds out of the jalapeño and mince half of it into tiny pieces.
Start adding all of the ingredients into a bowl. The salmon and crackers can go first.
Add the Paleo mayo.
Crack one egg into the mixture.
Add the sea salt and pepper.
Mix all of the ingredients, minus the oil.
Keep mixing until everything is well-combined.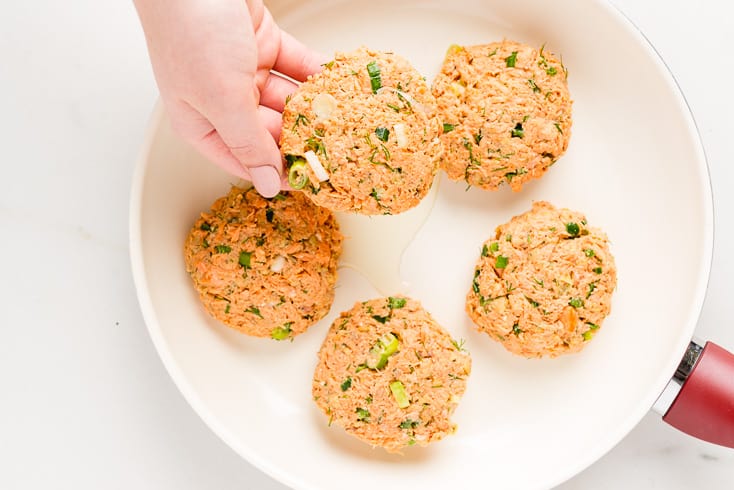 Now you can mold the mixture into salmon patties. In a large pan over medium heat, warm the oil and fry patties until done (about five minutes on each side).
Serve on top of your favorite veggies.
And enjoy this healthy Paleo salmon burger!
Get FREE Access!
Dr. Josh Axe is on a mission to provide you and your family with the highest quality nutrition tips and healthy recipes in the world...Sign up to get VIP access to his eBooks and valuable weekly health tips for FREE!
Free eBook to boost
metabolism & healing
30 Gluten-Free Recipes
& detox juicing guide
Shopping Guide &
premium newsletter