Sweet Potato Hash Browns Recipe
Ingredients:
1 onion, chopped
2 garlic cloves, chopped
2 pounds sweet potatoes, peeled and grated
Sea salt and black pepper to taste
Egg wash (1 egg beaten with a tablespoon of water)
2 tablespoons coconut oil or ghee
Directions:
In a large skillet over medium high heat, add the onions. Season with salt and pepper.
Add in the garlic and sweet potatoes.
Saute for 10-15 minutes until sweet potatoes are tender and onions are translucent.
Transfer the sweet potato mixture to a baking pan and brush with the egg wash.
Broil for 5 minutes or until potatoes have reached your desired crispiness. They should be just a little browned on top.
Though I tend to avoid starchy carbohydrates, sweet potatoes are one of my favorite exceptions. This orange root vegetable ranks low on the glycemic index, making it a viable option for diabetics and others watching their blood sugar levels. Not only that, but sweet potatoes are loaded with potassium, vitamins, and antioxidants — one sweet potato has more than 100 percent of your daily vitamin A value.
If your familiarity with sweet potatoes is limited to roasting them or eating them as a Thanksgiving side dish, you're in for a treat with my sweet potato hash browns recipe. A delicious, healthy alternative to traditional greasy potato hash browns, these sweet potato hash browns are an excellent breakfast dish. Served solo or alongside eggs and beef or turkey bacon, it's a tasty way to kick off your day with nutrients. Let's do it!
Start by peeling and grating 2 lbs. of sweet potatoes. If possible, check out your local farmer's market for fresh, organic varieties.
After peeling, grate up the potatoes into a large bowl. Look at that terrific orange color!Toss in your chopped onion and garlic cloves and, of course, those finely grated sweet potatoes into a heated skillet with 2 tablespoons of coconut oil or ghee. Don't forget to season to taste with sea salt and pepper.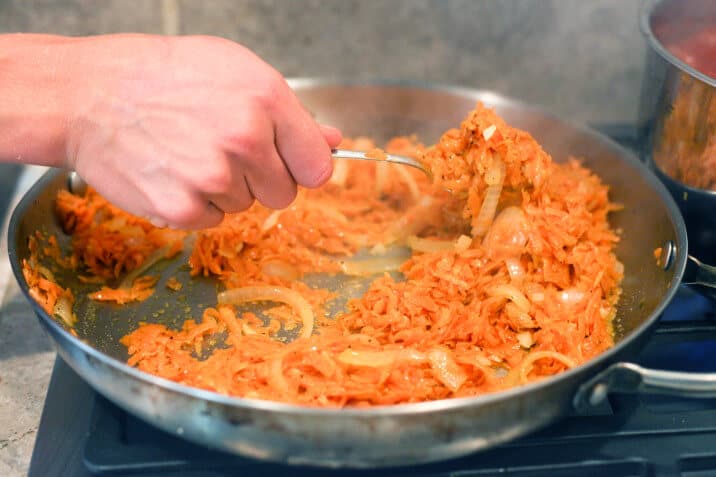 Saute all the fixings for 10 to 15 minutes, until the potatoes are tender and the onions are translucent.
Transfer the mixture to a baking pan and brush with an egg wash. Pop it in the broiler for about 5 minutes or until the potatoes have reached your desired crispiness.
While this recipe takes about 30 minutes to prepare, much of it is hands-off time. Try it on a leisurely weekend to enjoy with the family!
Need something to pair this sweet potato hash browns with?
---
TRY NEXT: Sage Chicken Breakfast Patties
---
From the sound of it, you might think leaky gut only affects the digestive system, but in reality it can affect more. Because Leaky Gut is so common, and such an enigma, I'm offering a free webinar on all things leaky gut. Click here to learn more about the webinar.
Get FREE Access!
Dr. Josh Axe is on a mission to provide you and your family with the highest quality nutrition tips and healthy recipes in the world...Sign up to get VIP access to his eBooks and valuable weekly health tips for FREE!
Free eBook to boost
metabolism & healing
30 Gluten-Free Recipes
& detox juicing guide
Shopping Guide &
premium newsletter