This Dr. Axe content is medically reviewed or fact checked to ensure factually accurate information.
With strict editorial sourcing guidelines, we only link to academic research institutions, reputable media sites and, when research is available, medically peer-reviewed studies. Note that the numbers in parentheses (1, 2, etc.) are clickable links to these studies.
The information in our articles is NOT intended to replace a one-on-one relationship with a qualified health care professional and is not intended as medical advice.
This article is based on scientific evidence, written by experts and fact checked by our trained editorial staff. Note that the numbers in parentheses (1, 2, etc.) are clickable links to medically peer-reviewed studies.
Our team includes licensed nutritionists and dietitians, certified health education specialists, as well as certified strength and conditioning specialists, personal trainers and corrective exercise specialists. Our team aims to be not only thorough with its research, but also objective and unbiased.
The information in our articles is NOT intended to replace a one-on-one relationship with a qualified health care professional and is not intended as medical advice.
101 Bone Broth Recipes — Soups, Smoothies, Baked Treats + More
April 28, 2021
Quite often, it's the simplest foods that can have the biggest impact on our health. I've certainly found that's the case with benefit-rich bone broth, which is why I love trying different bone broth recipes.
This nutritious liquid is one of my favorite ancient remedies and contains incredible stuff that can benefit just about anyone, but truthfully, it can be time-consuming to prepare, which often keeps people consuming it regularly.
Luckily, there are also supplements on the market that provide protein powder made from bone broth, a way to enjoy the benefits of bone broth without spending all your time in the kitchen. This type of protein powder can be a versatile way to harness bone broth's benefits in a huge number of recipes.
Benefits of Bone Broth
Our ancestors didn't waste any part of the animals they ate and figured out how to make a nutritious broth from the carcasses of the animals they prepared for meat. Luckily, we don't have to go hunting for food anymore.
Using protein powder made from bone broth makes it super easy to enjoy bone broth's benefits, hassle-free, if you don't have time to make it fresh each time. That's a good thing considering all it can do for your health.
It's packed with collagen.
Collagen is what gives young skin that soft, full look. As we age, our bodies produce less collagen, making wrinkles and lines more evident while making skin look looser.
Adding more collagen to your lifestyle has been found to be a pretty potent natural skin care product, with increased moisture and elasticity in just a few months.
Collagen is also necessary to keep our joints moving without pain or creakiness. Getting older means we need to up our collagen intake, which reduces the risk of our joints deteriorating and reduces aging pains.
It's great for your gut.
Leaky gut is an issue many people suffer from without even knowing. If you have leaky gut, there are essentially small holes in your digestive tract through which undigested food, toxins and bacteria pass, where normally they'd be blocked out.
Bone broth contains gelatin, which is super good for strengthening the gut lining. It also helps probiotics, or good bacteria, keep growing in the gut, keeps inflammation in the digestive tract at bay and supports intestinal health.
It's packed with amino acids.
Bone broth contains a range of conditional amino acids like glycine that all help support gut integrity, detox the body and keep our immune systems in top shape. Though they're classified as nonessential amino acids, conditional amino acids are essential under some conditions, including our Western lifestyle, which include diets heavy on processed carbs and low on quality animal products, while also packed with stress.
101 Bone Broth Recipes
What's the sense of trying protein powder made from bone broth if you'll just make the same one or two recipes all the time? Even the healthiest eaters are likely to get bored with that!
You're in luck, though. I've gathered 101 delicious recipes to use your favorite bone broth-derived protein in. From soups and smoothies to baked treats and even burgers, here's how to make it an exciting ingredient in your lifestyle with these bone broth recipes.
Baked Treats
For many of these items, there are specific flavors of protein powder that work best — most of the recipes will specify their protein powder recommendations, but in a pinch, a pure, "unflavored" version will work, too. Use just like you would a normal protein powder in these bone broth recipes.
1. Baked Chocolate Protein Donut Holes
These chocolate holes are more similar to a cake in texture than your average doughnut, but they taste so good, who cares? If you want more of a banana flavor, I recommend using mashed banana as your sweetener. If not, sub coconut sugar or applesauce to sweeten these up without refined sugar.
Photo: I Heart Vegetables
2. Banana Bread Protein Muffins
3. Blueberry Cheesecake Protein Bread
This cheesecake bread feels totally decadent, but with ingredients like almond meal flour, oat flour and almond milk, you can feel good about chowing down on this. I love that this high-protein, bone broth recipe is gluten-free, too!
Photo: Protein Treats
6. Baked Oatmeal Protein Muffins
7. Chocolate Chip Protein Banana Muffins
8. Cinnamon Roll Protein Muffin
9. Clean Eating Protein Donuts
Who knew that doughnuts would go so well with bone broth? I love the addition of honey and coconut oil in this version and all of the different flavor combos — who wouldn't love apple spice or chocolate coconut?
Photo: The Clean Eating Couple
10. Dark Chocolate Protein Truffles
11. Grain-Free Chocolate Chip Peanut Butter Zucchini Bread
12. Healthy Cinnamon Roll Waffles
13. High-Protein Double Chocolate Muffins
Not only are these muffins double chocolate, but they're gluten-free, made only with natural ingredients and just 86 calories each. These would make great mid-afternoon snacks or a light dessert.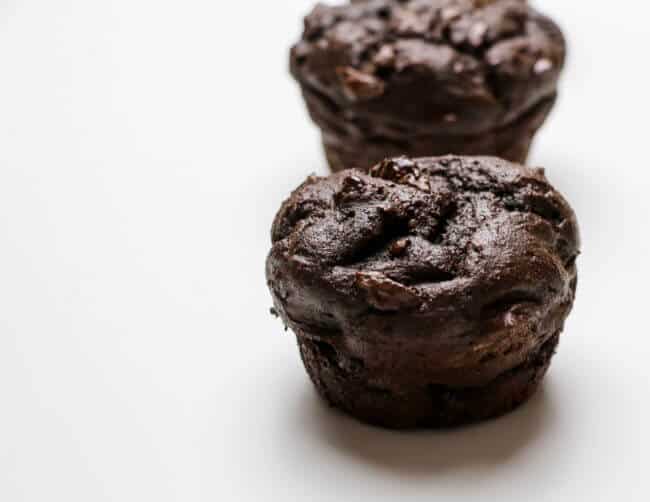 Photo: Foodie Fiasco
14. Low-Carb Waffles
15. No-Bake Brownie Batter Truffles
17. Pumpkin Chocolate Chip Oat Protein Muffins
You can never have too much pumpkin, right? These are spiced with the pumpkin flavor trifecta of cinnamon, ginger and cloves and made light and fluffy thanks to the Greek yogurt (even more protein!) and applesauce. Pack these for the children, or enjoy yourself.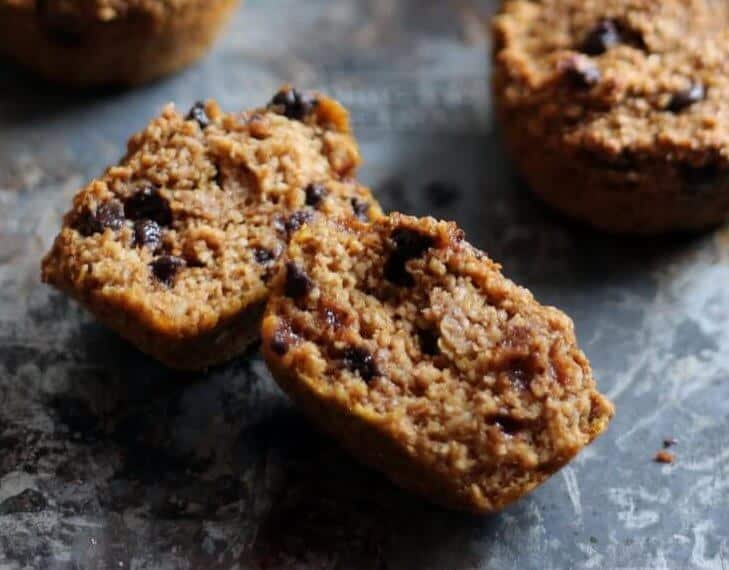 Photo: Ambitious Kitchen
19. Vanilla Chip Protein Snack Cake
20. Vanilla Protein Cupcakes with a Maple Protein Glaze
21. Vanilla Protein Pound Cake
22. Vegan Chocolate Orange Mini Protein Cheesecakes
Soaked cashews are the secret to these vegan-friendly cheesecakes. Pitted dates, cocoa powder and dark chocolate make up the chocolate base for extra yum. Topped with crushed pistachios and orange zest, you won't be able to have just one.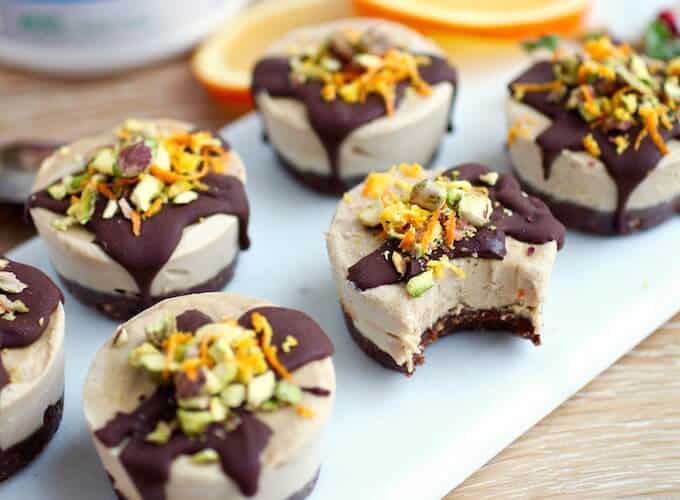 Photo: Nutritionist in the Kitchen
23. Zucchini Banana Bread with Protein
24. Zucchini Walnut Spice Muffins
Breakfast Items
Kick off your day with these tasty protein powder recipes (featuring bone broth!). Though they're all meant for breakfast, you'll love these anytime of the day.
25. Chocolate Chia Protein Pudding
With only four ingredients, you can whip up recipe in no time. Because the chia seeds need about 20 minutes to thicken up, this is a terrific breakfast to make the night before and stick in the refrigerator for a hassle-free morning.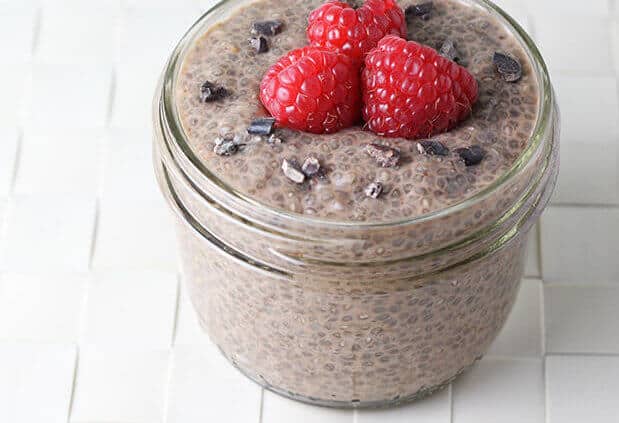 Photo: Protein Cakery
26. Chocolate Protein Overnight Oats

27. Chocolate Protein Pancakes
28. Protein Pancakes
29. Pumpkin Peanut Butter Oat Squares
30. Pumpkin Pie Overnight Oats
31. Strawberry Shortcake Protein Overnight Oatmeal
32. Veggie Frittata
Protein Bars
Protein bars might be the most obvious choice for a protein powder recipe, but these recipes are anything but ordinary. These portable foods are perfect for tossing into your gym bag and having as a post-workout snack or packing for road trips.
33. Almond Butter Banana Protein Bars
36. Chocolate Coconut Protein Bars
37. Cinnamon Vanilla Breakfast Protein Bites
39. Peanut Butter Protein Bars
These taste so much like dessert, you'd be forgiven for thinking they're unhealthy. Luckily, these taste great and are great for you as well.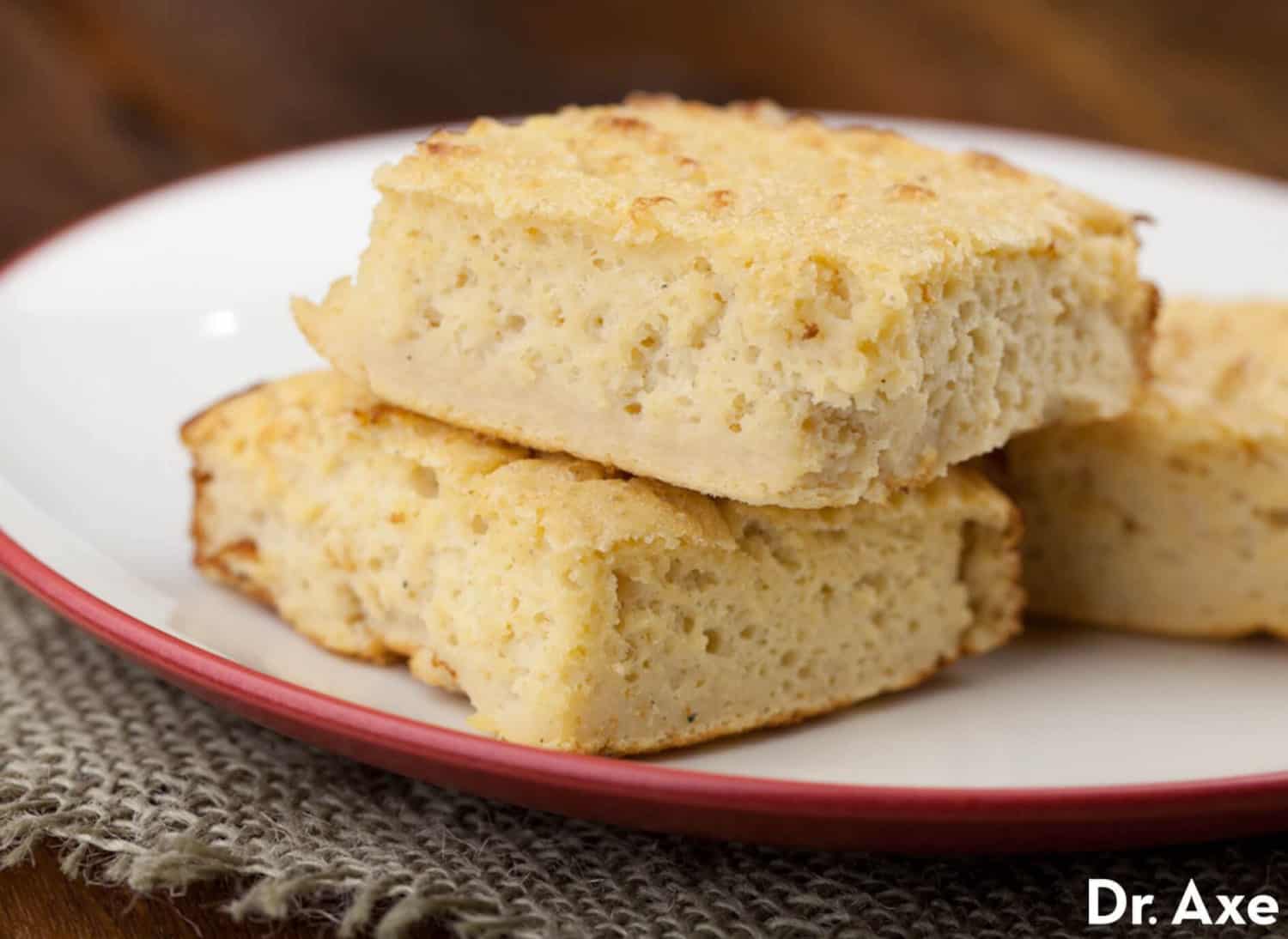 Photo: Dr. Axe
41. No-Bake Banana Bread Protein Bars
42. No-Bake Chocolate Peanut Butter Protein Bars
43. No-Bake Peanut Butter Cup Protein Bars
46. Pucker Up Lemon Coconut Protein Bars
These delightful little bars will help keep you full for hours. They're packed with coconut flour, almond meal, chia seeds and eggs, so you'll definitely feel satiated for longer. The vegan and Paleo options are a nice touch, too!
Photo: OmNomAlly
Smoothies and Shakes
Perhaps the most natural concept for bone broth recipes are smoothies and shakes. Often, you can simply replace your favorite whey protein or vegan protein for protein made from bone broth and have a very similar tasting smoothie/shake.
49. Almond Coconut Mocha Protein Smoothie
Add protein powder made from bone broth to your morning coffee for a real jolt of energy and health. I love that this drink sounds like something you'd pay big money for at a cafe, but you can blend it up right at home. I would just skip the sugar, however, or use a natural sweetener as a replacement. A coffee-flavored protein powder would work nicely here, too.
Photo: The Gold Lining Girl
51. Apple Pie Smoothie with Protein Boost
52. Chocolate Cake Batter Protein Smoothie
54. Blueberry Cheesecake Breakfast Protein Shake
This shake looks too good to eat — almost. Add a scoop of your favorite protein powder (I'd choose a vanilla-flavored one) to this tasty shake for a healthy treat anytime of day.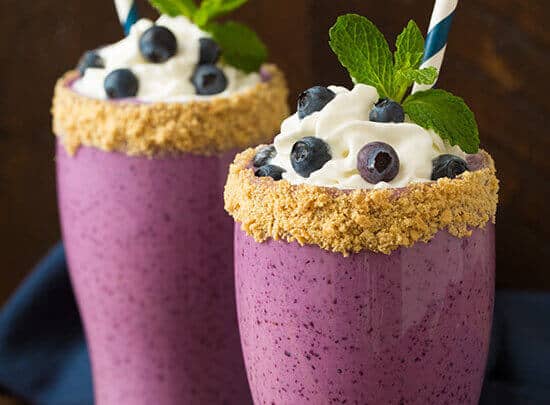 Photo: Cooking Classy
56. Brownie Batter Protein Shake
58. Chocolate Mocha Protein Shake
59. Coconut Cream Pie Protein Shake
63. Key Lime Pie Protein Smoothie
64. Low-Carb Mint Chip Protein Shake
Though it looks perfect for St. Patrick's Day, this shake is a good choice year-round. It's super creamy thanks to the avocado and gets that minty taste from peppermint extract. This shake is hearty enough to replace a meal.
Photo: Always Order Dessert
65. Orange Dream Protein Smoothie
67. Peaches and Cream Protein Smoothie
68. Peanut Butter Banana Smoothie
69. Peanut Butter Cup Protein Shake
70. Protein Mocha Fudge Smoothie
71. Strawberry Oatmeal Protein Smoothie
73. Pumpkin Spice Protein Shake
74. Smoothie Booster
75. Strawberry Coconut Protein Shake
Not only will this shake help you feel like you're in the tropics, but it's also deliciously easy to whip up. Frozen strawberries and bananas give this a frosty feel and make it easy to prepare whether or not you have fresh fruit in the house. Add a splash of coconut milk, protein powder and coconut flakes, and you have an easy, breezy protein-rich breakfast.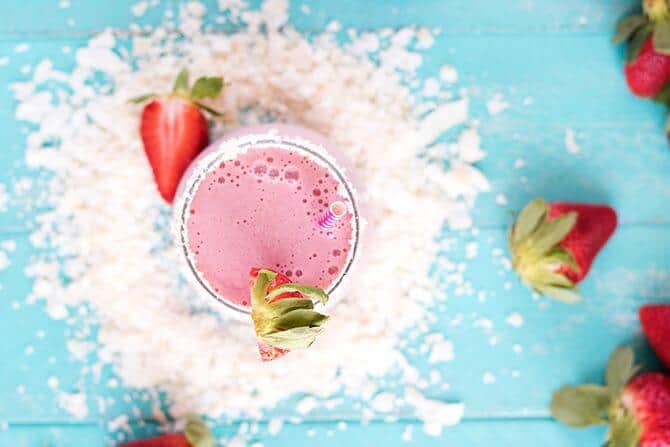 Photo: Jennifer Meyering
76. Superhuman Shake
77. Thin Mint Protein Smoothie
78. Vanilla Chai Protein Shake
I love that this chai-inspired shake provides all the flavors of that tasty spice without the added sugar and nasties that come with most coffee shop versions. Take this drink on the go for a portable pick-me-up.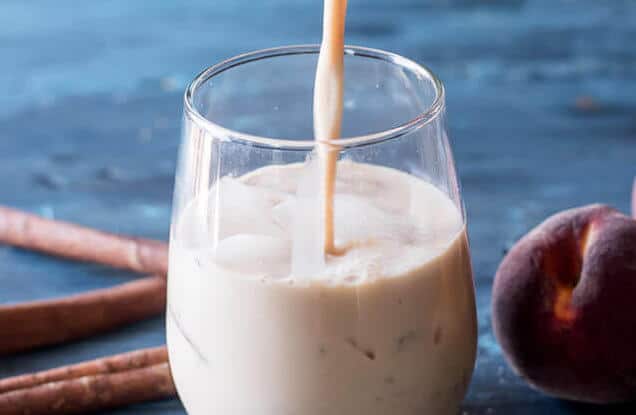 Photo: Tastes of Lizzy T's
Soups
Why yes, you can use protein powder made from bone broth in soups, too! Mix one scoop of the powder with 12 ounces of water to make up 1.5 cups of broth to use in your favorite soup recipes.
80. Anti-Inflammatory Sweet Potato Soup
81. Avgolemono Soup
82. Black Bean Soup
This black bean soup is crazy simple to make and packs a lot of flavor in each bowl. Throw all the ingredients in a blender, then heat on the stove — that's all there is to it. Along with protein, this bone broth-rich soup is also full of fiber, courtesy of the beans.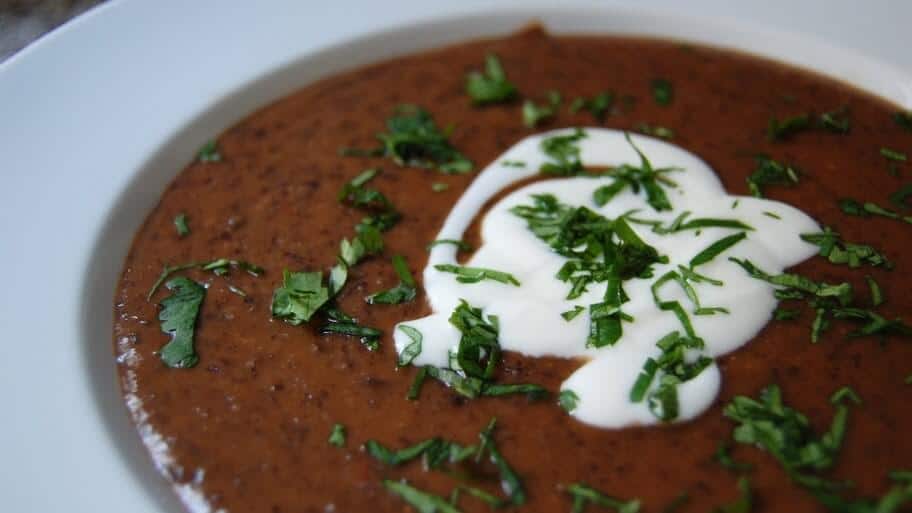 Photo: Bariatric Eating
83. Chickpea, Sweet Potato and Kale Soup
84. Coconut Curry Pumpkin Soup
By using kefir, not only is this soup rich in protein and super creamy, but it also gets an extra probiotics boost. I love the combo of broccoli and kale for extra green goodness and just enough cheddar to break it all up.
87. Lazy Thai Ginger Soup with Coconut Cream
88. Meatball Soup
Any recipe that includes meatballs is a winner in my book, and this soup is no different. I love the variety of ingredients, like chopped sweet potato and green beans, and that this soup is infused with flavor after just 20 minutes on the stove. It's a healthy, hearty bone broth recipe that's perfect for colder months.
Photo: Dr. Axe
89. Miso Soup
90. Mushroom Soup
91. Onion Soup
92. Pho Recipe
93. Potato Leek Soup
94. Split Pea Soup
This soup looks and tastes like a restaurant-quality dish, but it's actually quite easy to pull together. Ginger and lemongrass are steeped right into the broth, adding their medicinal properties to this soup, while coconut milk makes it nice and creamy. Serve this when you really want to wow someone!
Photo: Dr. Axe
98. Roasted Garlic and Sweet Potato Soup
Protein Burgers
You won't miss the meat in these protein-packed veggie burgers!
No more vegetarian burgers with ingredients you can't pronounce or haven't heard of. Made from only chickpeas, walnuts, leeks and sprouted flour, these veggie patties are satisfying and delicious.
Photo: Copy Me That